HISTORY
9 Surprising Facts About Harriet Tubman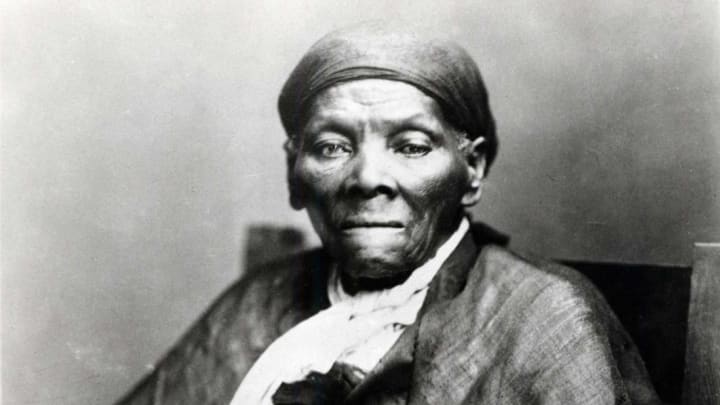 Harriet Tubman / Photos.com/iStock via Getty Images
Reverend Paul Carter, who has led tours of Harriet Tubman's longtime home in Auburn, New York, for more than 25 years, is often startled by how little people know of this escaped enslaved woman turned Underground Railroad guide and Civil War spy. He and the property's president and CEO, Karen Hill, are happy to educate people about Tubman's remarkable life. Carter leads visitors through part of the property Tubman owned for five decades, which is now part of the National Park system. "We absolutely think she is one of the all-time great Americans," Hill says. Here are nine facts Carter and Hill share that tend to stun visitors.
1. She wasn't born Harriet Tubman.
Not even close. Harriet Tubman's birth name was Araminta Ross, and her family called her "Minty" as a child. She changed her name to Harriet, in honor of her mother, when she was a teenager.
2. Harriet Tubman persevered despite significant health issues.
A weight thrown at another slave hit Tubman in the head when she was young. She nearly died, and for the rest of her life she suffered from headaches, seizures, and visions. She undertook journeys of hundreds and thousands of miles despite deep physical limitations.
3. Harriet Tubman rescued her own family.
After making her own escape from slavery, Tubman began her work as an Underground Railroad guide by going back to Maryland's Eastern Shore for her siblings. Ultimately she led more than 70 people to safety, many to St. Catharines, Ontario.
4. Harriet Tubman wasn't very tall.
Though she had a reputation for being forceful—she was said to threaten people who balked along the route to freedom with a gun—Tubman was tiny, standing just under 5 feet.
5. Harriet Tubman outlived her husbands.
While she was gone conducting along the Underground Railroad, her husband, John Tubman, took another wife. After he died, she also remarried. Her second husband, Nelson Davis, was much younger—at least 24 years—but he, too, predeceased her by many years.
6. Harriet Tubman was the first woman to lead a U.S. military raid.
Tubman was given $200 for three years as a cook, nurse, scout, and spy for the Union Army during the Civil War. Her service included leading a raid that freed 750 slaves in South Carolina—making her the first woman to lead an armed raid in enemy territory in the United States, according to Hill.
7. Harriet Tubman got some help from powerful friends—like William Seward.
She developed a friendship with one of the most powerful men of the time, William Seward, who later served as Lincoln's Secretary of State. It was his house in Auburn that she purchased as her family residence, for a very reasonable price, in 1859.
8. Harriet Tubman never stopped serving others.
When the war was over, her giving didn't stop. Tubman pushed tirelessly for women's suffrage. And though she always struggled financially, she was a woman of deep faith who shared what little she had, donating a piece of her property as a Home for the Aged serving elderly African Americans. She wound up living there during her own later years, too.
9. Harriet Tubman lived an extremely long life for her time.
She died when she was around 93 years old (she is believed to have been born in about 1820), which means she lived an astonishingly long life for the time period, especially considering the physical strains she'd endured.