10 Things You Should Never Buy at Full Price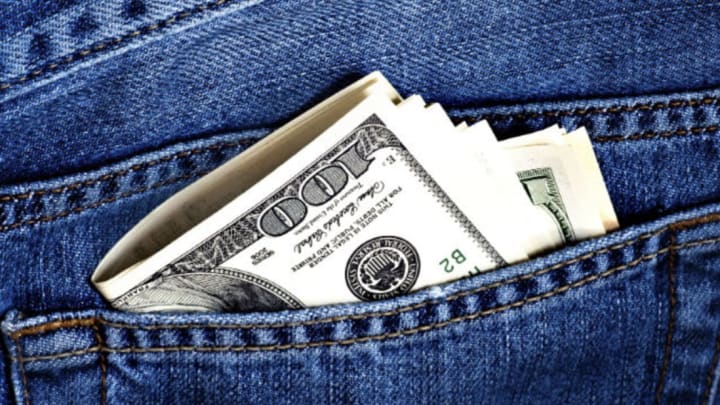 IStock / IStock
While major purchases like cars and homes are typically negotiated down to their lowest possible price, there's no reason smaller transactions need to squeeze every last cent out of your pocket. The next time you're shopping, keep in mind these 10 purchases can usually be found far below the ticketed price.
1. GIFT CARDS
If you're in a hurry, a store-bought gift card might be your only option. But if you can plan ahead, services that act as marketplaces for unwanted cards can actually wind up costing you less than the face value of the balance. The exchanges buy cards from sellers, verify they're still good, then sell them below retail price.
2. PRINTER INK
While printer companies caution against recycling old cartridges or using ink kits to replenish them, doing so instead of buying brand-new refills can save you a considerable amount of money. If printing quality begins to suffer, then consider splurging for a new cartridge. Until then, you'll save well over half the cost ($15 and up) of buying new.
3. CABLE AND INTERNET
If you've ever sulked at the rock-bottom offers your cable company offers to new customers, don't despair. You can often get the same deal by calling and discussing your current plan with a service representative; expressing dissatisfaction with inflated rates or inquiring about promotional offers can usually lead to a discount.
4. TEXTBOOKS
Next to tuition and moving expenses, budgeting for textbooks can be a college-bound student's biggest financial hassle. Try to ignore the sticker price on brand-new books and search for the ones you need online. Putting up with a few tears or stains can slash as much as $60 off a $70 volume.
5. THEATER TICKETS
Slapping down money at the box office for a New York theater show won't leave much left for other activities. If you're still uncertain about which performance you'd like to see, official city resources have marked-down tickets for same-day shows available. You can also join rewards programs for discounts and other benefits (unfortunately, you won't find Hamilton tickets for less than face value).
6. CONTACT LENSES
While lens manufacturers often set minimum price points for contacts that prevent eyewear retailers from discounting inventory, they also circulate coupons that can offer substantial savings. Make sure you ask your optometrist if they have any rebates or other offers in circulation.
7. CAR AND HOME INSURANCE
While many people gather price quotes from different insurance companies, not as many bother to ask if "package" discounts apply, or if they might qualify for a reduction not found elsewhere. Not all will volunteer that information, so it's always a good idea to talk to your insurance agent about possible savings opportunities without sacrificing coverage.
8. DINING OUT
So many discount offers exist from senior clubs, auto rewards, bulk coupon books, and community promotions that paying the full menu price for a meal is harder to do than ever. Check to see if your existing connections—credit cards, for example—offer promotions or consider signing up for memberships that do.
9. FITNESS EQUIPMENT
You can save more than 50 percent off the price of an expensive home fitness machine by finding a used dealer. While it takes a little inspection—you don't want a health club's worn out castoff—it's easy to find gently-used equipment that will look and perform like new.
10. MATTRESSES
If you ever find yourself walking out of a furniture dealer having paid full retail for a new bed, something has gone very wrong. Mattresses are high profit-margin items that are typically marked down substantially in order to draw in customers for the "savings," but you should be able to get even more off by negotiating the price. A mattress should have you sinking into comfort, not debt.
All images courtesy of iStock.