Burger King Tried to Settle McDonald's Beef with a McWhopper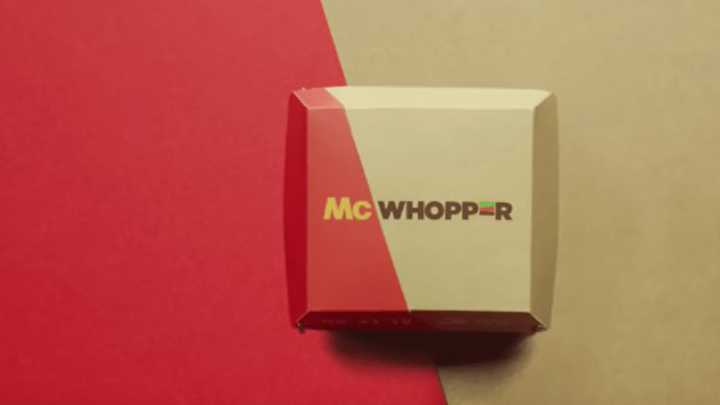 Burger King / Burger King
In the gastronomic battlefield of fast food, McDonald's remains on top. The restaurant chain recently ranked number nine on a Forbes list of the world's most valuable brands, with annual profits of nearly $5 billion.
As the undisputed king, there's little incentive to give rival Burger King the time of day. But last fall, the Home of the Whopper thought they had a compelling argument for a collaboration: world peace.
For Peace One Day on September 21, 2015, Burger King made an open plea for McDonald's to consider teaming up to peddle a "McWhopper," a sandwich combining ingredients from both of the franchises' signature burgers. The top bun, beef patty, cheese, lettuce, special sauce, and middle bun would be from a Big Mac; the tomato, onion, ketchup, pickles, flame-grilled patty, and bottom bun would be from a Whopper. Servers in custom uniforms would distribute the hybrid for free at a pop-up restaurant in Atlanta, Georgia—the halfway point between their respective corporate headquarters.
Burger King argued that the idea would help bring "global awareness" to warring entities and promote a message of peace. McDonald's, however, did not take the bait. In a Facebook response posted last August, CEO Steve Easterbrook called it a "great idea," but "let's acknowledge that between us there is simply a friendly business competition and certainly not the unequaled circumstances of the real pain and suffering of war."
While the McWhopper fizzled, it did earn Burger King some positive notices. At the D&AD Awards for advertising excellence in London this week, ad agency Y&R New Zealand won six Yellow Pencils, one Wood, and one Graphite for the idea.
Over at SeriousEats, bloggers attempted an unofficial version using the ingredients suggested by the proposal. They found "saucing issues" and observed that a Whopper is a full inch larger than a Big Mac, a disparity that threatened to compromise its structural integrity. World peace will have to wait.   
[h/t Ad Age]