Zalipie, Poland's Prettiest Painted Village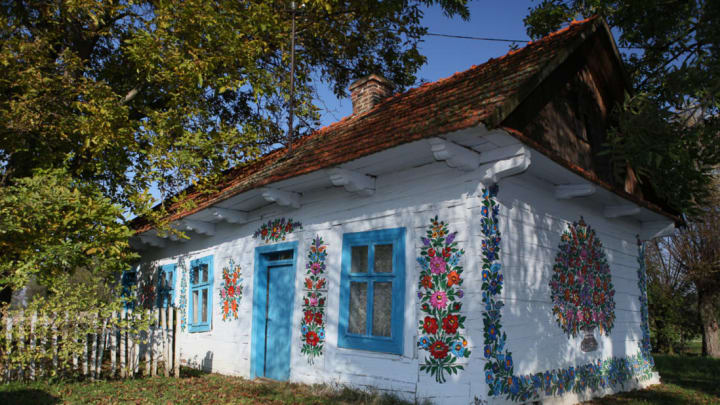 Ministry of Foreign Affairs of the Republic of Poland via Flickr // CC BY-ND 2.0 / Ministry of Foreign Affairs of the Republic of Poland via Flickr // CC BY-ND 2.0
The best part about Zalipie isn't that all the houses are covered in painted flowers. It's that the town is engaged in an ongoing painted-flower-house contest.
About an hour and a half by car from Poland's second-largest city, Krakow, you can follow the ornate floral-arrow signs to the vivid little village of Zalipie, where just about every home is festooned in flowers. The practice isn't relegated to just private homes, though: You'll also find barns, bridges, chicken coops, garbage cans, and even dog houses garnished with garlands. The town's school and church are embellished with blooms as well.
Simon Astor
The story goes that the trend started over a century ago, as part of the preparations for religious festivals. Village women would commonly whitewash the area around their chimneys and wood-burning stoves to hide soot marks and make their homes look beautiful for the holiday, but even after the whitewash, dark soot was sometimes still visible. Eventually, thanks to some unknown genius, it became fashionable to paint flowers on the fresh whitewash to disguise the soot even further. And the flowers began to travel, from the insides of the houses to the outside, and across town. As the designs sprawled and spread across the houses, they became increasingly elaborate.
Even though Zalipie's old-timey furnaces have long since been updated and concealing soot marks is no longer necessary, the flower-painting tradition has endured. It's even become a friendly town-wide competition. Every year following Corpus Christi, in late May or early June, the town's women—men only occasionally participate—face off in a house-flower-painting contest. (The time of year is said to have been chosen because it's when the farm work lets up a little.) The Zalipians also touch up the flowers painted the year before, another holdover from olden times, when their paint was made with cooking fat and needed to be repainted almost from scratch annually. Although the painting tradition started informally, the contest itself was introduced by the Polish government to cheer up its citizenry after World War II. Known as Malowana Chata (Painted Cottage) competition, it became an annual event in 1965.
Simon Astor
is largely credited for taking the flower fad to its current height. Although she didn't come up with the idea originally, the Zalipie resident was such an enthusiastic posy-painter that she adorned almost every surface of her three-bedroom cottage with flowers. After she died in 1974, her home was turned into a museum, where her designs can be seen today. Curyłowa pretty much went all out with it, painting everything from her spoons to her light bulbs, and her house is perhaps the most charming among the impressive contenders—if not, then certainly the most thoroughly saturated with blossoms.
Zalipie museum. Image credit: mksfca, Flickr // CC BY-NC-ND 2.0
It should be said that Zalipie is a bit of a chore to get to on the bus, and the homes themselves are somewhat scattered apart, so it's no good for travelers on foot, but it's worth it to drive out there if you have a car. Fortunately, you've probably got some time, as the delightful folk-art tradition is still in full swing and shows no sign of stopping. With any luck, this florescent little Polish community will stick around intact for many more years to come.
Ministry of Foreign Affairs of the Republic of Poland, Flickr // CC BY-ND 2.0