10 Things Made from Maple Syrup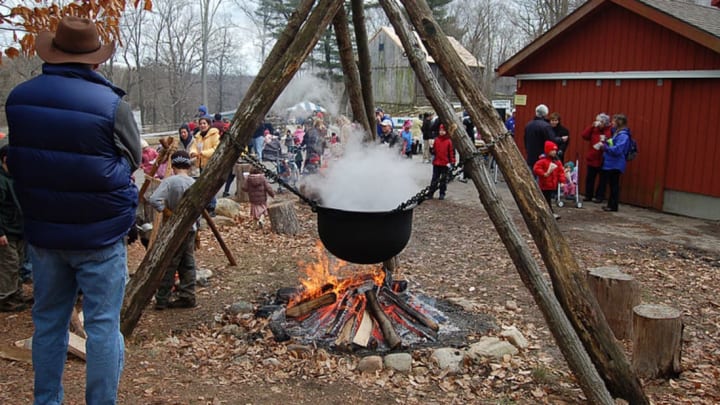 The most common use for maple syrup is, of course, on pancakes, but there are plenty of other ways to use the sweet stuff. It's a wonderful way to flavor and sweeten recipes, and maple syrup can be further refined to make other products. Many of Canada's most memorable souvenir items, whether it's candles or cookies, feature maple syrup flavors and themes. 
True maple syrup comes from the sap harvested from maple trees, and some communities even make a festival out of the sap harvesting season. Quebec is the world's leading producer—it's so large it hosts the Global Strategic Maple Syrup Reserve. This year, Canada produced 13.5 million gallons of sap. Here are some of the ways they used it.
1. MAPLE BUTTER
Maple butter, also called maple cream, is a spreadable maple product that's extremely sweet and cherished by maple fans. To make it, syrup is boiled until it reaches the soft ball stage, then cooled and stirred. The sugar will partially crystallize, and the result is syrup in a form that won't roll off your toast. Food52 has instructions for maple butter with a tiny bit of cream or oil added for consistency. You can also make it with no other ingredients at all.
2. MAPLE LIQUEUR
Pearl Pirie via Flickr // CC BY-NC-ND 2.0
Perhaps the most Canadian drink possible, maple liqueur is made by mixing Canadian whiskey with maple syrup. It's not normally found bottled in liquor stores because it's so easy to make at home, but more and more distillers are experimenting with it as word gets out in other countries. You can use it as flavoring for several beverages, like coffee, or in mixed drinks.
3. MAPLE SUGAR
Maple sugar is the granular result of boiling all the water out of maple syrup. Making it is tricky, as the syrup can burn when the water content gets low. First Nations people made maple sugar because it weighs less and lasts longer than maple syrup. Maple sugar can be used as a substitute for granulated cane sugar, and will give your recipe a little more flavor.  
4. MAPLE TAFFY
MartialArtsNomad.com via Wikimedia Commons // CC BY 2.0
In her book Little House in the Big Woods, Laura Ingalls Wilder told us how her Pa would gather maple sap, and when the syrup was ready, they'd drizzle it over a pan of snow and let it harden into candy. This is maple taffy, malleable enough to wrap around a stick and chewy enough to last a long time. If you aren't boiling down your own sap, you'll need to heat the maple syrup to make maple taffy at home. Here are some instructions. 
5. MAPLE BEER
Drmies via Wikimedia Commons // CC BY-SA 3.0
A number of craft brewers are now making beer with maple syrup. Despite what you may think, maple beer is not any sweeter than other beers. The yeast ferments away the sugar, while leaving just a bit of maple flavor, and brewers must work to play up the maple notes. Because maple syrup is relatively expensive, the beverage remains something of a niche product.
6. MAPLE BARBECUE SAUCE
shivery timbers via Wikimedia Commons // CC BY 2.0
Barbecue sauce is one of the many recipes that can be enhanced with maple sugar or maple syrup in place of cane sugar. There are plenty of different ways to make maple barbecue sauce, but here's one basic recipe to get you started.
7. MAPLE COOKIES
Maple leaf cream cookies, like these, are a Canadian favorite. In 2009, President Obama made local headlines when he purchased three maple leaf-shaped shortbread cookies at Le Moulin de Province bakery in Ottawa's ByWard Market. Despite their shape and royal red icing, the cookies contained no actual maple flavoring, which seems like a pity. Of course, you can make many maple syrup-sweetened cookies at home. This recipe, for Canadian Maple Cookies, contains three kinds of sugar: maple syrup, brown sugar, and granulated sugar. 
8. HOT MAPLE TODDY
Patrick Truby via Wikimedia Commons // CC BY-SA 2.0
This classic recipe for a hot toddy contains whiskey, lemon, butter, and maple syrup in place of the honey you may be more familiar with. If you want the evening to last longer, you might want to add some hot water or tea to the recipe.
9. MAPLE BARS
Danielle Chang via Flickr // CC BY-NC-ND 2.0
A maple bar is an oblong doughnut covered in maple icing or maple butter. A modern—and decadent—twist is to add a slice or two of bacon to the top. Although you'll find them at many bakeries, they are also fairly easy to make at home using canned biscuit dough, and the icing is even easier if you have maple butter on hand.
10. MAPLE SYRUP SOAP
Maple syrup is used in soaps for its scent, but to make sure yours is made with real maple syrup instead of an artificial scent, you can make it at home. The small amount of syrup added to a neutral soap base won't leave your skin sticky, but it is supposed to have some moisturizing effect.