8 Weird Baby Strollers Guaranteed to Get Attention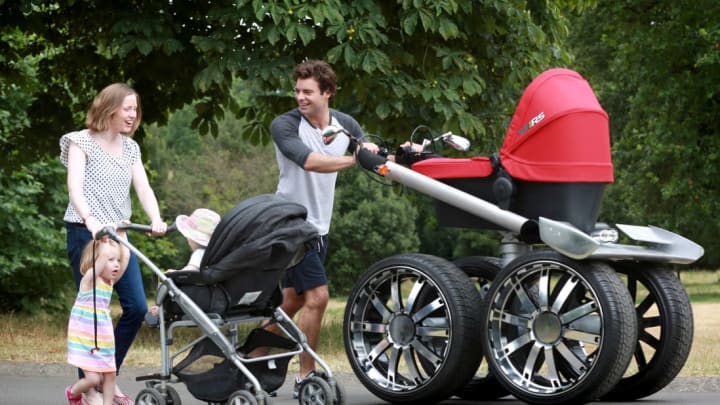 Forget traditional luxury models like Bugaboo—the latest concepts in baby transport involve streamlined avant-garde designs usually reserved for cars and high-tech gadgetry, as well as a dose of just plain weirdness.
1. MAN-PRAM
When Skoda surveyed 1000 British dads to find out what they wanted in a baby buggy, the car manufacturer discovered that traditional prams just wouldn't do: 33 percent said they felt embarrassed when pushing a traditional stroller, and a quarter even admitted to making their partners push the strollers when out on walks. Seventy-six percent of dads surveyed said they'd be more likely to push a stroller "if they had access to a stylish, high spec buggy." So Skoda came up with the Man-Pram, which has all the things British dads most wanted in a stroller: wing mirrors, hydraulic suspension, 20-inch alloy wheels, brakes and brake lights, and sports-style upholstery. Sadly, it doesn't seem that the stroller, which was featured in a TV ad for Skoda's Octavia VRS, was ever actually sold.
2. CYCLOPS
This leering one-eyed monster stroller, designed by Elmer Presslee, will probably leave you wishing you had one of these grotesque carriages as an infant. Luckily, if you dig the scary-cute cartoon aesthetic, your consumer options don't just limit you to baby strollers: Presslee also creates nightmarishly fun furniture and art you can spruce up your pad with.
3. EGG
Moms who want to make a meta statement about maternity will delight in this sleek, egg-shaped carriage that could also double as a Brancusi sculpture (but only in fall and winter). This eye-catching design is the product of artist John Knott, who has crafted a unique hybrid of antique baby stroller parts and hand-shaped aluminum panels for this piece. The only practical drawback to its design is that it probably turns into a toaster on a hot summer's day.
4. ROLLER BUGGY
Who said kids get to have all the fun? Not Valentin Vodev, of design trio Creative Industrial Objects (CIO). With a simple tug, this multi-functional baby carriage transforms into a scooter, providing the need for speed on various terrains, as well as some giggles for the parent. In terms of child safety, the Roller Buggy also includes a seat belt and a specially made hydraulic brake system.
5. 'O' PRAM
Probably the most futuristic baby stroller on this list, this Segway-based 'O' pram, designed by Meni Keinan, is a must-have for techie parents. Despite its precarious appearance, it actually ensures a safe, smooth, and easily controllable ride, due to its gyroscopic balance mechanism.
6. ZOMBIEKILLER
This isn't a medieval torture device but a heavily armed baby stroller that's apparently meant to take on the zombie apocalypse. Just in case you miss a direct kill shot to the head, four sets of spiked double wheels guarantee to take out any walking dead shambling your way.
7. BATMOBILE
This Batmobile buggy is a likely option for the new generation of stay-at-home dads who enjoy showing off their pop culture passion by making their kids play the role of Bruce Wayne for a day. Realized by web show AWE me's Super-Fan Builds, the initial idea was pitched by supermom Maressa Earl so that her husband and toddler son could have "something Dark Knight-related" to play with. You can't buy it—but you can attempt to make one yourself by following the video above (might be tough if you don't have a CNC machine, though!).
8. AT-AT IMPERIAL WALKER
Parents who also moonlight as hardcore sci-fi fans can channel some serious Star Wars nostalgia with this DIY AT-AT Imperial Walker baby stroller. The main magic is actually in the shell, whose foam body panels are connected with zip ties. It took daddy Rick Russo 30 to 40 hours to complete the stroller, using the designated cardboard template. Riding high in these Walkers, your babies will definitely be feeling the Force.