A Brief History of Evil Twins in Soap Operas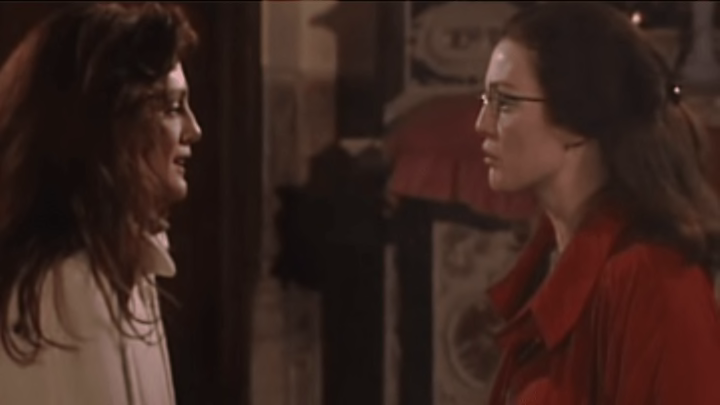 YouTube / YouTube
Seemingly since the dawn of television, evil twins and soap operas have been inextricably linked. And it's easy to see why. The evil twin trope encapsulates all the wild drama essential to any soap script. It comes out of nowhere, operates way outside the realm of reality, and gives long-time cast members the chance to wear a ridiculous goatee.
But soap operas didn't invent the evil twin. It actually took daytime TV quite a while to embrace this storyline, which already had roots in books, movies, and other television genres. Once soap operas hopped on the bandwagon, though, evil twins would come to rival amnesia and fake deaths as the genre's favorite plot twist.
The first ever soap opera was the radio serial Painted Dreams, which premiered on October 20, 1930. The show centered on a widow and her unmarried daughter who were mostly just trying to survive the Great Depression, so there wasn't much room for surprise scheming twins. But while radio soaps stuck to more conventional plot threads, movies were already getting in on the evil twin action. Audiences saw Boris Karloff as both the murderous tyrant Baron Gregor de Berghman and his sweet, crippled twin brother Anton in 1935's The Black Room. Just a few years later, in 1939, Louis Hayward took on the saga of King Louis XIV and his twin in the Alexander Dumas adaptation, The Man in the Iron Mask. The twin trope would continue into the 1940s with westerns like Wagons Westward (1940) and Olivia de Havilland thrillers like The Dark Mirror (1946). It would also appear in comic books such as Kid Eternity. But soap operas still weren't really biting, even as they made the move over to television.
The initial wave of TV soap operas followed much the same pattern as its radio predecessors. Faraway Hill was the first to premiere, in 1946, and followed a beautiful widow from the city as she fell in love with her cousin's farmer son. (It ran for just 10 episodes.) These Are My Children, which debuted in 1949, quite literally echoed Painted Dreams since it came from the same creator, Irma Phillips. (It lasted a month.) The soap opera was still in the incubation period as far as showrunners were concerned, and the only tropes they had really established were "family conflict" and "widows." But they'd get a push toward twisted sibling territory from the sitcoms and sci-fi shows of the 1960s.
In the 1960s, evil twins were what time jumps are today: the hot thing to do on TV. People were doing it on Bonanza (Jud vs. Rube), I Dream of Jeannie (Jeannie vs. Jeannie II), Star Trek (Spock vs. Goatee Spock), and even Gilligan's Island (Castaways vs. Crafty Doppelgängers). Clearly it made an impression, because in 1969, a soap opera called The Secret Storm introduced us to Dr. Ian Northcoate, whose identical twin Owen would later murder guest star Troy Donahue. Actor Gordon Rigsby played both men through the use of split-screen, a bold TV technique for the time.
Over the next decade, the soap opera evil twin or double would become such a recognizable type that the '70s comedy Soap spoofed it in a season three arc involving Burt's alien clone. But these characters really took off in the '80s, when daytime TV started pushing the Jekyll/Hyde dynamic all over the place.
In 1983, Brian Patrick Clarke began his run as nice married guy Grant Andrews and his Russian spy doppelgänger Grant Putnam on General Hospital. Ellen Wheeler picked up the dual roles of Marley and Vicky on Another World in 1984, eventually leaving the part to Anne Heche. David Canary would also start his decades-spanning work as ruthless businessman Adam Chandler and his gentle, artistic brother Stuart on All My Children that year. But perhaps most interesting was the case of Frannie and Sabrina Hughes; the half-sisters appeared on As the World Turns between 1985 and 1987, and the dual role was originated by a not-yet-famous Julianne Moore.
The mayhem wasn't limited to biological twins. In addition to toying with evil doppelgängers who just happened to resemble the main characters, soaps also introduced evil twin cousins. Beginning in 1984, Thaao Penghlis memorably played both Tony and his murderous mastermind cousin Andre DiMera on Days of Our Lives. If you were wondering how this could work, well, Andre got plastic surgery to look like his better-adjusted cousin, and used this resemblance to ruin Tony's life. Joel Crothers also played cousins Jack Lee and Jerry Cooper on Santa Barbara around the same time, and his dual roles were likewise chalked up to a hyper-realistic plastic surgery job. This plastic surgery excuse would eventually become an accepted explanation for all sorts of "evil twins," whether they were cousins or no relation at all.
Occasionally, evil twins got tangled in some meatier, even poignant plotlines. In 1987, Ellen Wheeler (the same actress from Another World) moved over to All My Children, where she portrayed Cindy Chandler. Cindy contracts AIDS, and her subsequent battle with the disease marked one of first times soap operas, or even television, addressed the HIV/AIDS crisis. As Cindy ails in the hospital, her estranged identical sister Karen Parker is called to her side. The reunion was much hyped, but after Cindy's passing, the people of Pine Valley discover that Karen isn't nearly as kind-hearted as her dearly departed sister.
Good citizen and wicked criminal twins with increasingly ridiculous names continued to appear in the 1990s (see: Mortimer Bern and Carlo Hesser on One Life to Live, Kevin Collins and Ryan Chamberlain on General Hospital, or Rick and Blade Bladeson on The Young and the Restless). You could also catch them abroad in telenovelas like La Usurpadora. As soaps moved into the aughts and 2010s, the mirrored characters were often spun as a redemption story. The evil twin would arrive first, terrorize the town, then die. Upon that death, the good twin would enter, ready to atone for the crimes of his or her sibling. General Hospital did this most explicitly with Manny and Mateo Ruiz; one was a Miami mobster and the other was an actual priest—although in true soap fashion, even Father Mateo had some mystery about him.
Since their heyday in the '80s, evil twins may have lost a bit of their novelty. Even diehard soap viewers mock and groan at the sight of them. But recent years have made it clear: They aren't going anywhere. In perhaps the surest sign of the evil twin's enduring strength, All My Children saddled the most famous soap opera character of all time, Erica Kane, with a heinous double mere months before the series ended in 2011. Although she wasn't a blood relation, Jane Campbell bore a striking resemblance to Erica (plastic surgery again!)—and considering she kidnapped Ms. Kane on her wedding day, she definitely qualified as evil. This was all clearly written as one last big twist for Susan Lucci's enduring diva, but for anyone who's seen a soap opera, the sudden appearance of Jane wasn't surprising. It was only shocking it took her this long to show up.