8 Movies That Were Originally Shot as TV Shows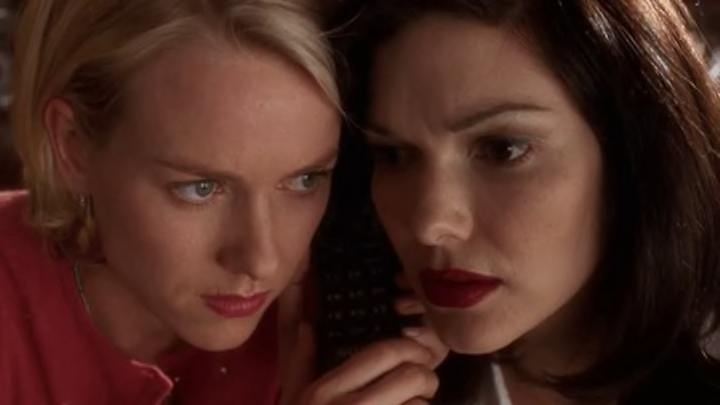 YouTube / YouTube
While most feature films were created specifically for the big screen, every once in a while a TV series comes along where the stories and characters prove compelling—and lengthy—enough to be turned into a movie. Here are eight TV shows that were re-edited into feature films.
1. MULHOLLAND DR. (2001)
David Lynch originally conceived Mulholland Dr. as a TV show for ABC. After filming the pilot, the network passed, deeming it too weird for broadcast TV. Instead of scrapping the project and moving on, Lynch partnered with StudioCanal to expand the pilot's story, add depth to the characters, and film additional scenes to make it a feature film for release in 2001. The film went on to be a critical darling and earned Lynch an Oscar nomination for Best Director.
"StudiocCanal bought it from all the parties that were involved from the beginning, and it came time for me to really commit to making it into a feature," Lynch explained. "I had zero idea how I was going to do that, so it was a time of high anxiety. One night, I sat down, the ideas came in, and it was a most beautiful experience. Everything was seen from a different angle. Everything was then restructured, and we did additional shooting. Now, looking back, I see that [the film] always wanted to be this way. It just took this strange beginning to cause it to be what it is."
2. THE TRIP (2010)
In 2010, Steve Coogan and Rob Brydon turned their British sitcom, The Trip, into a feature-length film. Instead of adapting the TV series into a movie, the pair—with the help of director Michael Winterbottom—simply edited the original series' six episodes into a feature film for release in the United States, where Coogan and Brydon were not as well known.
"Well, Michael did conceive it on the outset to be both a movie and a TV series," Coogan told The Playlist. "He chose something that wasn't elaborately constructed so that he could assemble these two things. So I don't think he would see it as cutting down anything, it's more like getting everything we shot and figuring out how to make a episode out of it, and then taking the same and working all of the bits into a movie."
In 2014, Coogan, Brydon, and Winterbottom reunited for the second season of the BBC2 TV show, which was also edited into a sequel film, The Trip to Italy.
3. SCENES FROM A MARRIAGE (1973)
In 1973, Ingmar Bergman created Scenes from a Marriage for Swedish television. With its naturalistic view of a troubled marriage, the series was an instant hit in Sweden. In fact, after the series aired, it is believed the divorce rate went up drastically in Scandinavian countries. Once the TV series grew in popularity, Bergman cut down its six 50-minute episodes into a more manageable three hours for release in art house theaters around the world.
Although Scenes from a Marriage was a critical hit in the U.S., it was ineligible for Academy Award consideration because it was originally made for television.  
4. FANNY AND ALEXANDER (1982)
Much like Scenes from a Marriage, Ingmar Bergman originally intended—and later completed—Fanny and Alexander as a miniseries for Swedish television. However, a shorter, three-hour feature film version was released in theaters—first in 1982, before the longer, five-and-a-half hour version aired on TV a year later. While Scenes from a Marriage was ineligible for Academy Award consideration, Fanny and Alexander earned six nominations, including Best Director and Best Original Screenplay. It won four: for Best Cinematography, Best Art Direction, Best Costume Design, and Best Foreign Language Film.
5. AND NOW FOR SOMETHING COMPLETELY DIFFERENT (1971)
In 1971, Playboy Magazine executive Victor Lownes commissioned a Monty Python movie to introduce the comedy troupe to American audiences. And Now for Something Completely Different was nothing more than an anthology of the greatest hits of Monty Python's Flying Circus. While troupe member Terry Gilliam created new animations for the opening credits, the film was effectively many popular sketches—such as "Dead Parrot," "The Lumberjack Song," and "Upper Class Twits"—recreated and edited together without a studio audience laugh track.
6. BATTLESTAR GALACTICA (1978)
The pilot episode of Battlestar Galactica (originally called Saga of a Star World)—which, with a budget of $7 million, was the most expensive pilot ever produced at the time—was released theatrically around the world before it aired on ABC in the U.S. in 1978. Universal Pictures wanted to get into the science fiction market after the surprise success of Star Wars the year before. In addition, Universal continued to group re-edited episodes into feature films for release internationally throughout Battlestar Galactica's one-season run.
7. STAR WARS: THE CLONE WARS (2008)
Although Lucasfilm was developing Star Wars: The Clone Wars for television, George Lucas thought both the footage and story were good enough to be a movie for release on the big screen. Instead of premiering on TV, director Dave Filoni reassembled the first three episodes of The Clone Wars into a feature film, which served as an introduction to the TV show on the Cartoon Network in 2008.
"[The Clone Wars movie] was almost an afterthought," Lucas told Entertainment Weekly. "We were doing the TV series and looked at some of the episodes on the big screen and said, 'This is so beautiful, why don't we just go and use the crew and make a feature?' So we did."
8. THE MAN FROM U.N.C.L.E. (1964)
Based on the high ratings for The Man From U.N.C.L.E. series, MGM decided to expand the story and characters into a feature film to take advantage of the emerging spy movie genre during the early 1960s. In 1964, the series' pilot, "Solo," was expanded into the feature film To Trap a Spy, with additional footage and subplots added to the episode. The footage added was presented in full color at a time when most TV sets were black-and-white. It was also more violent and sexier than what was allowed on broadcast television.
To Trap a Spy was a worldwide success, so MGM turned other episodes of The Man From U.N.C.L.E. into eight feature films—including The Spy with My Face and One Spy Too Many—until the TV series ended in 1968.