4 Ways to Get Through a Power Outage on a Budget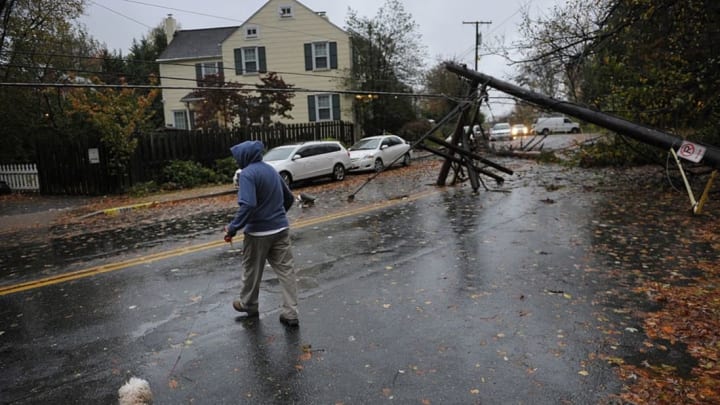 Mandel Ngan/AFP/Getty Images / Mandel Ngan/AFP/Getty Images
You don't realize how ill-prepared you are for a power outage until the lights go out. I found that out the hard way a few days ago when a microburst tore through my small town and laid waste to the city's power grid. We sat in the dark for nine hours that night—a small power outage compared to some major disasters, but still a painful one when it's hot, humid, and you haven't eaten anything. 
Whenever we write up those long lists of emergency supplies you need to survive a disaster—whether it's a storm, earthquake, or fire—the common denominator is that each requires a decent monetary investment, often totaling hundreds of dollars.
But that's just not feasible if you're living paycheck to paycheck. So how do you prepare for a power outage when you're short on cash? Thankfully, it's pretty easy to prepare for a power outage on a budget if you don't have any serious medical issues that require electricity to manage.
1. LET THERE BE LIGHT—OLD SCHOOL AND NEW SCHOOL.
If a storm knocks you off the grid at night, that's some of the darkest dark you'll ever experience. Your cell phone's flashlight app isn't going to cut it in a situation like this. A small stockpile of flashlights and candles is vital to helping you navigate the advanced darkness of a nighttime power failure.
Most dollar stores sell matches, lighters, and decently sized jar candles that aren't too cacodorous, allowing you to stock up on these illuminating necessities without spending more than you would on a modest trip for fast food. Choosing jar candles over stick candles is your best bet—a stick candle is prone to tipping over, and the last thing you need in an emergency situation is a house fire.
If you're more comfortable going the artificial route, cheap flashlights are available at just about every store. Before our power outage, I bought a tiny LED headlamp from Walmart; it was the best dollar I've ever spent. Despite its low cost, the device and its batteries held through the night. (Other varieties are available here.) If you want something more reliable than a one-dollar contraption, you can get a decent flashlight (batteries sometimes included!) for a few bucks. A flashlight with a crank is even better as they don't require expensive batteries.
2. PLAN AHEAD FOR YOUR CELL PHONE.
Your cell phone's flashlight feature is useful, but it can quickly drain your battery if you use it for more than a few seconds. When you have no electricity, conserving battery power on your cell phone is crucial. The best way you can keep your cell phone charged when the lights are out is to look for a relatively cheap USB backup charger. I recently found one on sale online for only $20, and it kept my phone charged all nine hours with regular use. You can also charge your phone in your vehicle if you need to—just be careful not to wear down the battery or consume too much fuel in the process.
If you have no way to charge your phone during an outage, you can conserve power by shutting it off or switching to airplane mode when you're not using it. The latter option cuts down your phone's energy use while also allowing you to quickly switch its connection back on if you need it in a hurry.
3. HAVE FOOD AND WATER: FRESH, CANNED, AND BOTTLED.
You don't realize how much of your food requires cooking until you can't cook it. If your power is out, forget anything frozen, and most stuff in your pantry is also out of the question. Make sure you always have some cheap food on hand that you can eat without cooking and without having to open your fridge, letting out precious cold air in the process. Canned ravioli, fruit bars, toaster pastries, fresh fruit … anything you can eat safely without cooking is a welcome relief when you're without power and your stomach is growling.
Having some water on hand is a must. If you have municipal tap water, it's usually fine during a power outage, but sometimes the water plant also loses power or the storm may have damaged the infrastructure that pipes it to your home. In this instance, not only is it unsafe to drink, but you can't use it for common tasks you don't give much thought, like washing your hands or brushing your teeth. So keep a gallon or two of drinkable, usable water on hand.
4. BUY A CHEAP BATTERY-POWERED RADIO.
Remember radios? I can't recall the last time I had a radio that wasn't powered by the internet or didn't require a plug for use. If you can't use your cell phone and you have no access to the internet or television, your only other connection to the outside world is a battery-powered or hand-crank radio. Most of them are pretty cheap. Your best bet is to find an AM/FM radio, but if you can spring for a radio that lets you pick up the weather band as well, that'll do you one better so you can follow the progress of bad storms in your area.