15 Delicious Cheesecake Destinations Worth the Drive
The evolution of the cheesecake began with the Greeks, who, based on the first recorded mention, served it to athletes during the first Olympic games in 776 BCE on the Isle of Delos. Later, Romans deemed it worthy of offering to the Gods at their temples. Much of Europe and Great Britain were introduced to cheesecake as the Roman armies conquered their land.
Technically, cheesecake is not a cake—it is a baked custard. Historically, there have been different types of cheeses used, including ricotta in Italian cheesecake, quark in German cheesecake, and any number of curds like farmer's cheese, pot cheeses, and cottage cheese. There is one, however, that forever revolutionized cheesecake: William Lawrence's invention of cream cheese in 1872. This creamy new concoction made possible one of today's most iconic desserts: the New York cheesecake. Four simple ingredients—pure cream cheese, cream, egg, and sugar—combined to produce the stuff of culinary legend.
There are numerous innovative twists and iterations of cheesecake to be found today, but New York is still rich with cheesecakes that have stood the test of time. Many claim to be the best, but a few have consistently earned kudos decade after decade. Here is a sampling of noteworthy cheesecakes from around the USA—from tried-and-true to unconventional, all are worth digging into.
1. JUNIOR'S // NEW YORK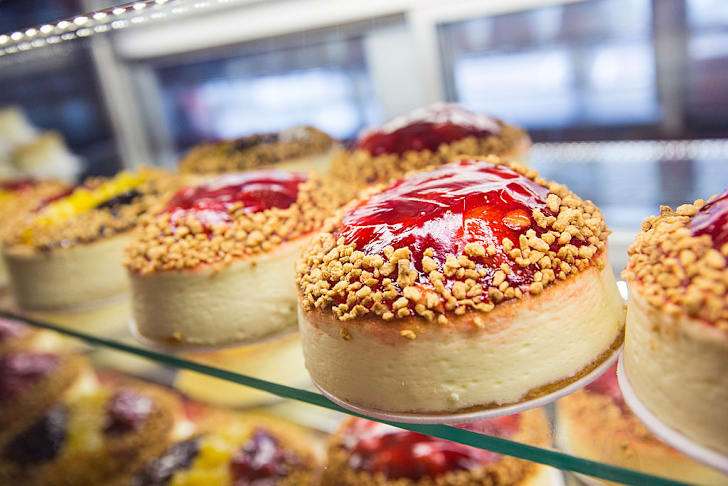 Places like Junior's—opened in 1950 by Harry Rosen on the corner of Flatbush and Dekalb in Brooklyn—have enjoyed celebrity status and accolades from the press for decades. In 1973, The Village Voice proclaimed it "...the best cheesecake in the material world," and restaurant critics have also described it as "edible ivory." Recently, cheesecake production was moved across the Hudson River to a 103,000 square-foot facility in Burlington, New Jersey, where 40,000 pounds of cream cheese go into producing about 10,000 cakes on an average day. Junior's has locations in Brooklyn, New York City's Grand Central Terminal and Times Square, and at the Foxwoods Resort Casino in Connecticut.
2. THE DESSERT LAB // NEWPORT BEACH, CALIFORNIA
to choose from, the Dessert Lab offers up cheesecake for any taste, including saffron, rose, and French toast with bacon. They use all natural ingredients, too, so there won't be any artificial preservatives, flavors, or additives in your cake. While cheesecake isn't exactly "healthy," you can take solace in knowing you're getting high-quality ingredients.
3. CAPITAL CITY BAKERY // AUSTIN, TEXAS
If you're on a dairy-free diet, there's no need to skip the cheesecake. There are plenty of vegan options to be had, and deep in the heart of Texas, Capital City Bakery is all about local, organic ingredients. The company culture here is "preserving the environment, protecting animals, and uniting people." This bakery even got billing on PETA's Top 10 Vegan-Friendly Cities list. These 100 percent vegan cheesecakes are every bit as delicious and satisfying as their traditional dairy counterparts—and a slice of good karma, to boot.
4. VEGGIE GALAXY // CAMBRIDGE, MASSACHUSETTS
Another vegan restaurant offers several flavors of cheesecake, including a Taza chocolate cheesecake that rotates flavors monthly. You'll feel like a kid in a candy store with flavors like Snickers or Almond Joy, and layers of creamy coconut, dark chocolate Taza, and almonds. Recent rotations have included chocolate chip cookie dough, chocolate-covered pretzel, and peppermint brownie.
5. ZANZE'S // SAN FRANCISCO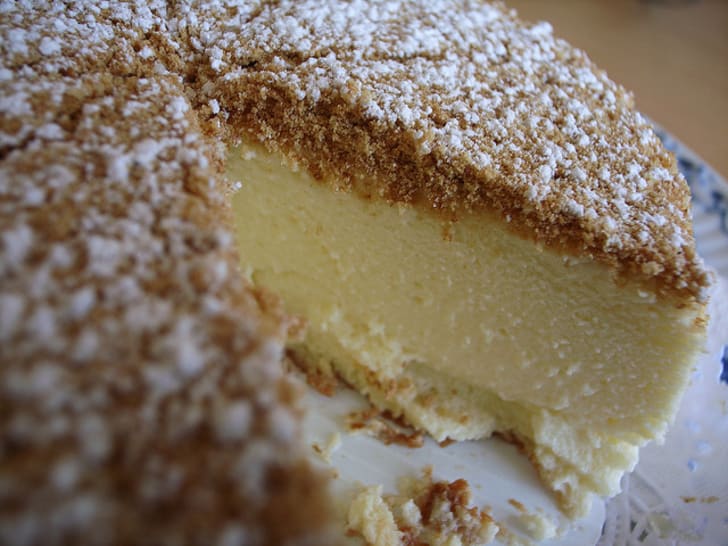 With 31 years of experience, Sam and Joyce Zanze make and sell whole cheesecakes, not individual slices. They have no website, don't take credit cards, and keep limited hours. Unfortunately, this ethereal cake is not available by mail, either. But the Zanzes believe in having one good item and doing it right, and it works. Octogenarian Sam Zanze's cheesecake is "not overly sweet" and it is a crustless European-style cake which he learned to make from his Croatian father, a trained pastry chef.
6. S AND S CHEESECAKE // NEW YORK
has taken top spots on numerous top ten and best of lists. It has been described by customers as creamy, silky, and smooth, but with more sweetness than some other cheesecakes. Pro tip: Customers going in person need to ring a doorbell outside the residential Bronx warehouse and pay in cash only.
7. VIVE LA TARTE // SAN FRANCISCO
Belgian couple Arnaud Goethals and Julie Vandermeersch of Vive La Tarte started business in a bright orange Volkswagen Westfalia in 2012, delivering orders tweeted by customers. Their cheesecake is a take on the traditional New York style, but with a touch of Belgium—the crust is made of Belgian Speculoos instead of traditional graham cracker.
8. UNCLE TETSU // HONOLULU, HAWAII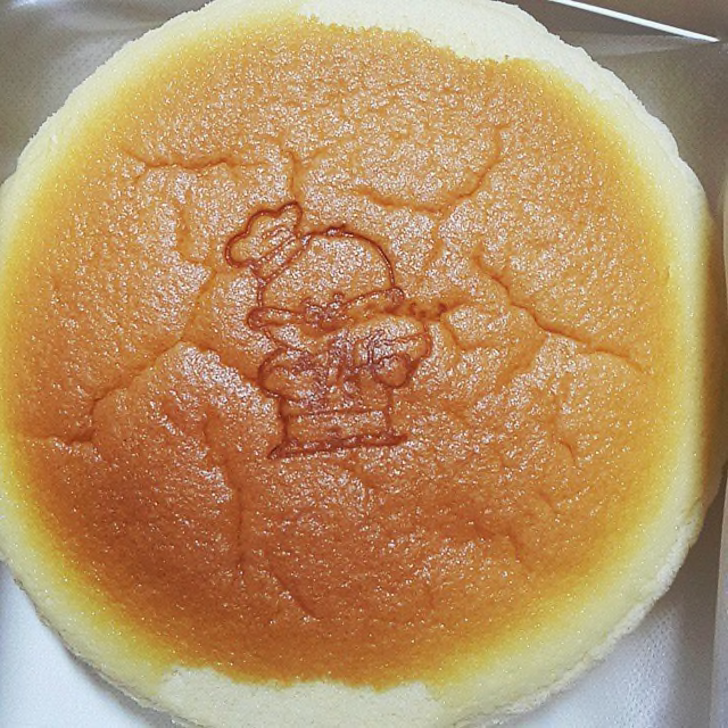 In Hakata, Japan in 1985, Tetsushi Mizokami created a cheesecake that takes inspiration from the traditional Japanese style. It has the lightness of a French soufflé, with balanced sweetness and the richness of an American cheesecake. They are baked fresh in small batches and served straight from the oven with the signature trademark logo stamped on top. With the help of Andrew and Peggy Cherng—the founders of Panda Express—the first U.S. Uncle Tetsu location opened in Hawaii this year.
9. GREENBLATT'S // HOLLYWOOD, CALIFORNIA
while Sunset Boulevard was still a dirt road, this iconic Hollywood deli has catered to the entertainment industry for decades. Hollywood regulars included Marilyn Monroe, Joe DiMaggio, Groucho Marx, F. Scott Fitzgerald, Janis Joplin, and many more. If you're looking for a late-night cheesecake nosh, this is your place—they're open until 2 a.m. daily.
10. JACQUES-IMO'S // NEW ORLEANS
takes a particularly savory twist for their cheesecake—made with fresh gulf shrimp, alligator andouille sausage, and smoked gouda, it is a salty, tangy, spicy version of cheesecake served NOLA style. If you're into Cajun cuisine, this one's the ticket.
11. EILEEN'S // NEW YORK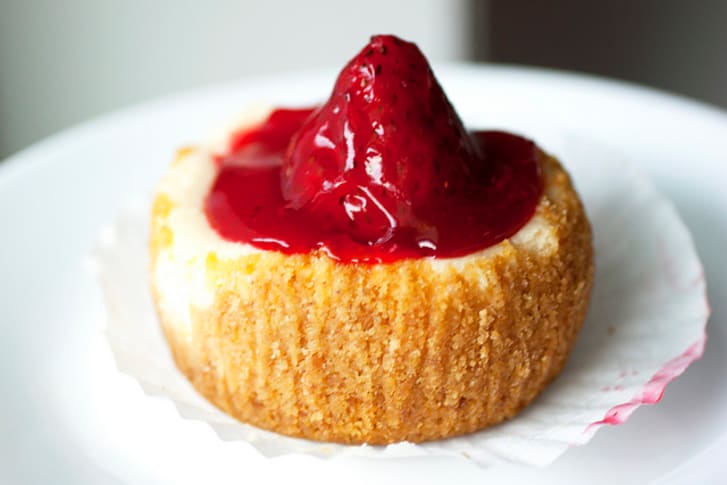 The winning recipe for success at Eileen's Special Cheesecake is "keeping it old school." Eileen Avezzano, who started her one-woman operation in an apartment in Queens and moved to Soho in 1976, bakes her cakes the way she always did, and still separates eggs by hand. If you can't decide which fabulous flavor to try, there is a spectacular sampler cake which includes 12 different slices of different varieties. You'll get seven of the most popular: plain, strawberry, blueberry, cherry, pineapple, caramel pecan, and rocky road, plus five "surprise" slices that Eileen was baking up in the moment.
12. SKY'S GOURMET TACOS // LOS ANGELES
has one of Los Angeles's 10 best cheesecakes, according to L.A. Weekly, and was even featured on Food Network's The Great Food Truck Race. It has been a brick and mortar operation since 1992, expanding to a food truck in 2010. Owner Barbara Burrell's cheesecakes are inspired by South American tradition and are available in plain, caramel crunch, mango, and pineapple.
13. ELI'S // CHICAGO
One of the most iconic cheesecake purveyors in the Windy City is Eli's, which has been the number one dessert at the Taste of Chicago Festival for over 30 years, and was described by Oprah's O Magazine as "a slice of heaven." Famous moments in the company's history include a 1992 visit by Bill and Hillary Clinton on the eve of the Illinois primary and the production of a 500 pound cheesecake in 2005 to celebrate the White Sox World Series victory.
14. PACIFIC CHEESECAKE COMPANY // GLENDALE, CALIFORNIA
Known for their mini cheesecakes, this is the perfect spot to give savory cheesecake a spin. There are over 10 options available, including customer favorites like spinach-feta wrapped in toasted walnuts, and cheddar sun-dried tomato basil (though they also have a seemingly infinite number of sweet options as well). Free samples are available at the ordering counter and owner Karen Freeman is open to customer flavor suggestions.
15. RODINI PARK // LOS ANGELES
in North Hollywood has created the perfect mash-up of two iconic desserts: baklava and New York cheesecake. Made with a traditional graham cracker crust and filo dough, its cream cheese filling is topped with classic baklava made from filo, ground walnuts, almonds, and sugar. Opa!