Archaeologists Find 'New Clues' in Search for Roanoke's Lost Colonists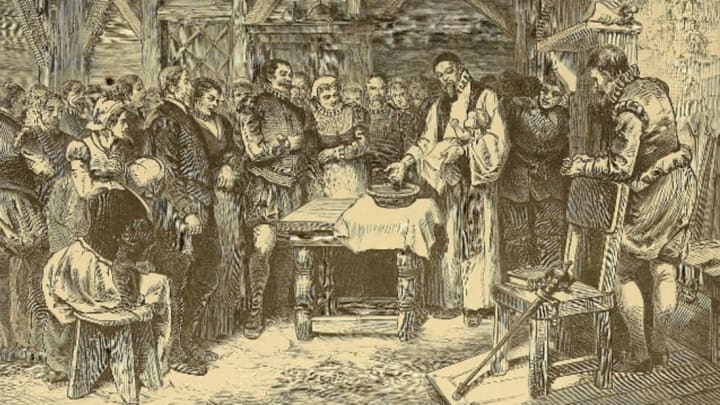 Walter Montgomery via Wikimedia Commons // Public Domain / Walter Montgomery via Wikimedia Commons // Public Domain
The Baptism of Virginia Dare, by Walter Montgomery.
In 1587, British ships deposited 115 settlers on the island of Roanoke and sailed away. By the time Governor John White returned with provisions three years later, every single one of the settlers had vanished. The fate of the so-called Lost Colony has remained a mystery ever since. Now, archaeologists say they may be close to a solution: Excavations in North Carolina have uncovered dozens of artifacts from the late 16th century, The Virginian-Pilot reports.
The governor had been hesitant to leave in the first place. Just two months after the colonists arrived, White's daughter gave birth to a little girl—the first English baby born in the New World. But his people's need was dire, and so White set off for England, promising to return as soon as he could. In the event of trouble, White told the settlers, they should "remove 50 miles into the main."
This ought to have provided a clear search area for both White and modern-day researchers. The problem, says archaeologist Clay Swindell of the First Colony Foundation, is that White apparently didn't specify a direction.
"No one had a good understanding where the 50 miles might be," Swindell told the Virginian-Pilot.
But over time, some locations have become more likely candidates than others. One of the current front-runners is a plot called Site X in Bertie County located about 49 nautical miles (57 miles) from Roanoke Island. Situated on high ground near a river, the site would have been appealing to settlers, as well as those who would have come before and after them. Historical records of, and excavations at, Site X have revealed wave after wave of inhabitants, including Native Americans and European settlers, and a governor's plantation.
The site was first uncovered in 2007 during exploratory digs in preparation for a large land development deal. Preliminary excavations uncovered artifacts from both English and Native American settlements. The deal fell through, but the site had caught archaeologists' attention.
Their interest only increased in 2012, when historians examining a map drawn by White found that he had included a fort in modern-day Bertie County. If White had been aware of a fort at that location, it's possible he sent the colonists there. Search parties sent after the settlers never made it that far.
"We put two and two together," Swindell said.
Swindell says the most recent excavations at Site X have uncovered dozens of artifacts from the colonists' time, including nails, pieces of pottery, tools, and gun parts.
The team is not ready to declare victory just yet. Finding these items does not mean that Virginia Dare and her family were there, Swindell says, but it does mean that they could have been.
"We have new clues," Swindell said. "That's all we can say, there are new clues."
[h/t The Virginian-Pilot]
Know of something you think we should cover? Email us at tips@mentalfloss.com.