You Betcha: 16 Facts About FX's Fargo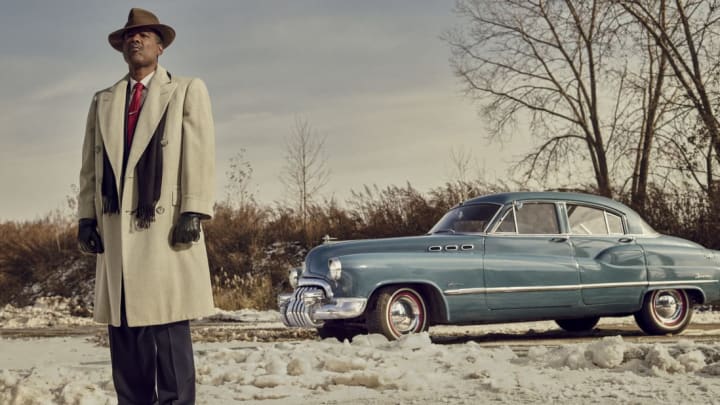 Chris Rock as Loy Cannon in Fargo season 4. / Matthias Clamer/FX © 2020, FX Networks. All Rights Reserved.
The contrast between the affable citizens of Minnesota and the bloody criminal activities they find themselves drawn into helped make the Coen brothers' Fargo (1996) a critical and commercial success. In 2012, the Oscar-winning filmmakers agreed to let Noah Hawley (Legion) create an expanded-universe TV series for FX. With their help, 2014's Fargo retained all of the film's Midwestern charm, with Billy Bob Thornton's Lorne Malvo at odds with Martin Freeman's wife-bludgeoning Lester Nygaard.
The anthology series has been a hit for the network and for Hawley, with three seasons airing through 2017. The fourth season—starring Chris Rock as crime family head Loy Cannon, who rules a new setting for the show (Kansas City in 1950) and trades sons with the Italian mafia to keep the peace between the organizations—premiered on September 27.
In case you're in the mood for reflection, we've rounded up some behind-the-scenes facts about television's most polite crime saga, with plenty of You betchas and Uff das in tow.
Note: Some spoilers ahead.
1. It wasn't the first Fargo television adaptation.
Fargo, Pilot from Thomas Wilkins on Vimeo.
A year after Fargo's theatrical release, rights holder MGM attempted a small-screen adaptation starring a pre-Sopranos Edie Falco as Marge Gunderson, the role originally played by Frances McDormand. The Coens were not involved, which may have doomed the project from the start: it never went to series and sat on the shelf for six years until cable network Trio unearthed the pilot in 2003 as part of their block of unseen-programming specials. Ironically, NBC executive Warren Littlefield passed on this project—which eventually wound up at CBS—fearing it could never live up to the movie: Littlefield wound up becoming an executive producer on the 2014 series.
2. There's a reason the Fargo series didn't use Marge.
One reason Littlefield was more supportive of this spin-off was because creator Noah Hawley had no desire to revisit McDormand's Marge Gunderson character, the pregnant sheriff of Brainerd, Minnesota. In 2014, Hawley told IndieWire that he opted for an anthology format with a different narrative every season to avoid the show becoming about the "grim" day-to-day adventures of Marge.
3. The Coens didn't have to be involved in Fargo (but they wanted to be.)
Getty Images
Because MGM owns the rights to Fargo, they didn't necessarily need Joel and Ethan Coen's blessing to move forward. (And apparently didn't get it for the 1997 attempt.) But when Littlefield presented them with Hawley's script for the pilot, they decided to become involved. "They just said, 'We're not big fans of imitation, but we feel like Noah channeled us and we would like to put our names on this,'" Littlefield told HitFix in 2014. "And they didn't have to do that."
4. The Fargo series is all taken from a (fake) true crime book.
Hawley has been quoted as saying he thinks of the Fargo-verse as being influenced by a big book of Midwestern crime tales, with each season being a different chapter. He cemented that idea in the ninth episode of the second season, opening with a close-up of a book titled The History of True Crime in the Midwest.
5. ... which might explain that UFO.
In season 2, Patrick Wilson's Lou Solverson character is saved during the "Massacre at Sioux Falls" (originally referenced in the first season) by the appearance of what appeared to be a UFO hovering over a motel parking lot. Even by Fargo's standards, it was a strange occurrence. According to Hawley, who was pressed for some kind of explanation during a June 2016 book signing, the scene stemmed from the idea that the show is taking cues from "true crime" books and all of the unbelievable details they often contain.
Speaking of a similar scene that felt disconnected from the narrative of the original film, Hawley said that he asked himself, "'Why is this in the movie?' It has nothing to do with the movie—except the movie says, 'This is a true story.' They put it in there because it 'happened.' Otherwise you wouldn't put it in there. The world of Fargo needs those elements; those random, odd, truth-is-stranger-than-fiction elements."
It's also worth noting that the Coens's 2001 movie The Man Who Wasn't There, starring Billy Bob Thornton, featured a similarly out-of-nowhere UFO scene.
6. There was a voice coach on the Fargo set.
If you've ever met anyone who wasn't a big fan of the Coen brothers' 1996 film, they probably pointed to the syrupy Minnesota accents as being too obnoxious to put up with for too long. Hawley was cognizant of that, too. Although he kept a voice coach on set, he had the actors minimize any attempt to lay it on thick. The accent "became a caricature after the movie," he said. Allison Tolman, who played police deputy Molly Solverson in season 1, said her accent was inspired by listening to a Midwestern character on the 1990s Howie Mandel cartoon Bobby's World.
7. FX felt they needed Billy Bob Thornton for Fargo.
Billy Bob Thornton and Colin Hanks in Fargo. / Chris Large/© 2014, FX Networks. All rights reserved.
Oscar-winner Thornton portrayed philosophical hitman Lorne Malvo in the first season, a casting move that FX president John Landgraf said was mandatory for the show in order to find its footing. "We needed Billy Bob Thornton," Landgraf told a television critics panel in 2014, "but now the show, the title, the tone, the writing ... are the star of that show."
8. Bad hair is a Fargo series tradition.
Jean Smart was cast in the second season as Floyd Gerhardt, the matriarch crime boss of a bunch of hooligan sons. Set in 1979, the 62-year-old Smart was asked to cut and dye her hair to appear more matronly. "They first day they cut and dyed and styled my hair, I burst into tears," Smart said.
While Thornton sported an equally unfortunate cut in the first season, he seemed more pleased with it. "I got a bad haircut," he told Collider in 2014. "We had planned on dyeing my hair and having a dark beard, but I didn't plan on having bangs. But then, instead of fixing it, I didn't fix it because I looked at myself in the mirror and I thought, 'Hang on a second here, this is like 1967 L.A. rock. I could be the bass player for Buffalo Springfield. This is good. Or, it's the dark side of Ken Burns.'"
9. You need to watch Fargo really closely to catch all the Coen Brothers Easter eggs.
FX
Hawley's Fargo doesn't just pay homage to the feature that inspired it; if you watch closely, you'll see obscure references to the Coens's entire filmography. A second-season episode panned over a diner placemat featuring a Hula Hoop in a nod to 1994's The Hudsucker Proxy; the word unguent is featured in both the film and show as a treatment for a bite and gunshot wound, respectively; a chalkboard ad for a White Russian drink special—a favorite of The Dude in The Big Lebowski—can be seen behind Martin Freeman.
10. Shooting on Fargo can be canceled when it gets too cold.
To mimic the frozen tundra of Minnesota in the winter, producers headed to the frozen tundra of Calgary in late 2013. Temperatures sometimes dropped to minus 30 degrees. On one particularly harsh day, producers noticed that a traffic cone had become so frozen it shattered into pieces when a wind swept through, dropping the temperature to minus 40. They called off shooting for the remainder of the afternoon.
11. The fake snow on Fargo can be irritating.
Mary Elizabeth Winstead and Carrie Coon in Fargo. / © 2017, FX Networks. All Rights Reserved.
While there was plenty of real freezing to go around, the production couldn't always rely on a steady stream of real snow. The show used a fake concoction made of shredded rice cakes that proved bothersome to the actors; it made their shoes so slick it was hard to walk without slipping, and breathing it in resulted in bronchial irritation.
12. Fargo, North Dakota got a little upset about Fargo.
When the series announced it would be taking advantage of the tax breaks available to television productions shooting in Canada, the city of Fargo, North Dakota, let out a collective sigh of disappointment. "I was afraid they might want to shoot it in Canada," Charley Johnson, president of the city's visitor's bureau, said. The state has no film commission to offer any financial breaks, but they do have a wood chipper at their tourist center.
13. Bruce Campbell won the Ronald Reagan role on Fargo by mocking the former president.
Bruce Campbell as Ronald Reagan in Fargo. / Chris Large/FX  Copyright 2015, FX Networks. All Rights Reserved.
Bruce Campbell figures he got the job portraying then-presidential hopeful Ronald Reagan in season 2 by mocking him. He and executive producer John Cameron went to high school together and kept in touch, which allowed Cameron to see Campbell do his version in the 1980s. "My kids grew up in a Reagan Era, they were young during that decade, so we mocked him good," Campbell told . "So that must've been how that came in, that John was like, 'OK. I've seen Bruce do Reagan for years' and I'm sure Noah Hawley was at least intrigued."
14. Ewan McGregor fooled set visitors on Fargo.
Ewan McGregor as Ray Stussy in Fargo. / Matthias Clamer/FX © 2017, FX Networks. All Rights Reserved.
In the third season, Ewan McGregor plays Emmit and Ray Stussy, two brothers with vastly different lifestyles. While Emmit is "the parking lot king of Minnesota" with a fortune to match, the scheming Ray has gone to seed, with straggly hair and a paunch. McGregor told Entertainment Weekly that when a car mechanic came on set to discuss Ray's Corvette, he had an hour-long conversation with the actor while he was in makeup for Ray. The next day, he was (re) introduced to McGregor and had no idea he had already spoken to him.
15. There's a detail in season 3 of Fargo you might not have noticed.
Ewan McGregor as Emmit Stussy in Fargo. / Chris Large/FX © 2017, FX Networks. All Rights Reserved.
One major character's fate in season 3 of Fargo is to be relegated to a tiny office space. How small? As Noah Hawley told The Hollywood Reporter, each office entrance had two yellow lines in front of it to indicate they were hardly any bigger than a parking space. "Nobody probably noticed, but if you go back to the Stussy Lots Limited offices, outside of everybody's door, there are these two yellow lines on the floor that look like [a] parking place," Hawley said. "It's the sort of jokey thing where you can imagine them going, 'Oh, it's funny! This is my parking space office and this is your parking space office' and nobody probably notices, but it's there, for me, because I think that my job is to put it into the show so that it's part of the story."
16. Chris Rock agreed to be in Fargo without reading a script.
Chris Rock, Jeremie Harris, Corey Hendrix, and Glynn Turman in Fargo. / Elizabeth Morris/FX Copyright 2020, FX Networks. All Rights Reserved
According to Noah Hawley, Chris Rock made a commitment to star in season 4 of the show without seeing much of anything on paper. Hawley phoned FX, told them the basic idea, and expressed interest in casting Rock. "Chris came to the set [of Hawley's 2019 film, Lucy in the Sky] two weeks later and I pitched him the thing and luckily he was a Fargo enthusiast and he was in," Hawley told Entertainment Weekly. "There wasn't a script for six more months. I've never done it that way before. There's always been a script first."
This story has been updated for 2020.