African Elephant Populations Are Declining 8% Per Year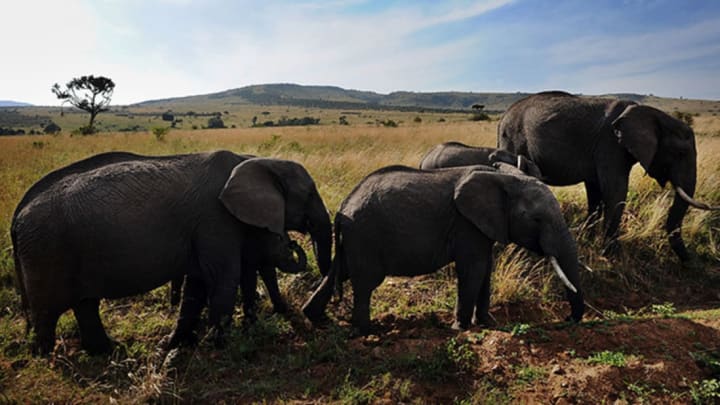 ROBERTO SCHMIDT/AFP/Getty Images / ROBERTO SCHMIDT/AFP/Getty Images
Thanks to the persistence of the ivory trade, elephant populations across the world are in decline, threatening the existence of the smart, complex mammals. A recently completed survey does not have good news about the status of elephants living on the African savanna.
African savanna elephant populations are declining by approximately 8 percent per year, according to a new report published in PeerJ, based on the Great Elephant Census, a three-year, $7 million endeavor to track elephant populations across the entire continent. Most of that, the researchers concluded, is due to poaching.
The survey, overseen by Elephants Without Borders, spanned 18 countries. Savanna elephant populations across 15 of these countries (where counts from multiple years were available) declined by 30 percent between 2007 and 2014, despite the fact that 84 percent of the animals were found in protected areas. (The study did not track forest-dwelling elephants because this was an aerial survey, and they would be difficult to spot from the air.)  
The fact that so many elephant populations are declining even when most live in protected refuges shows how big of a threat poachers pose inside and outside of parks. By one estimate, 96 African elephants a day are killed by poachers looking to sell their tusks on the ivory market, which is largely illegal in many countries, including the U.S.
Know of something you think we should cover? Email us at tips@mentalfloss.com.