5 Goals of the OSIRIS-REx Mission to the Asteroid 'Bennu'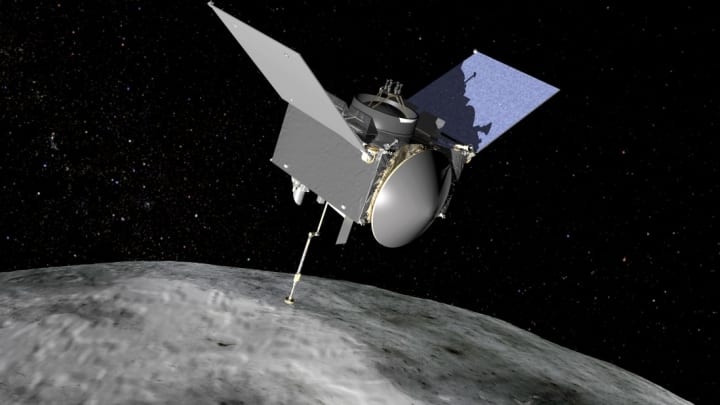 NASA Goddard Space Flight Center / NASA Goddard Space Flight Center
After almost two years in space, NASA's groundbreaking spacecraft OSIRIS-REx is now on its final approach to its target—the asteroid Bennu, a mountain-sized, near-Earth object that scientists believe holds the secrets to the origins of the solar system.
When it reaches Bennu on December 3, 2018, it will match the asteroid's speed as it orbits the Sun (63,000 mph), and fly in formation with it for the next couple of years as it maps and surveys the surface. Then, on July 4, 2020, OSIRIS-REx will reach out to Bennu with a robotic arm, scoop up a sample from the surface, and store it in a capsule. The next year, the craft begins heading back to Earth, where in 2023 it will eject the sample-containing capsule over the Utah desert for retrieval.
It's the first time in history this kind of sample retrieval has ever been attempted, and scientists are pretty excited about it. The mission objectives of OSIRIS-REx are embedded in its name: the Origins Spectral Interpretation Resource Identification Security-Regolith Explorer. The craft has five scientific instruments tasked with carrying out these objectives. Let's break it all down.
1. ORIGINS: BRINGING A TIME CAPSULE FROM THE BIRTH OF THE SOLAR SYSTEM BACK TO EARTH
"This is really what drives our program," Dante Lauretta, the principal investigator of the mission, said in 2016, shortly before the spacecraft was launched from Cape Canaveral. "We're going to asteroid Bennu because it is a time capsule from the earliest stages of solar system formation, back when our planetary system was spread across as dust grains in a swirling cloud around our growing proto-star." Bodies accumulated in the cloud, many getting water ice and organic material—key compounds that led to the habitability of Earth and the origin of life. Bennu is one such body. By taking a hopefully carbon-rich sample of the asteroid and bringing it home, planetary scientists will be able to study in a laboratory setting a pristine cache of the building blocks of Earth.
Lauretta described sample return as being the forefront of planetary exploration. If Bennu is a time traveler from the distant past, sample return is time travel to the distant future: As new laboratory techniques and technologies are developed, scientists in coming years can use them to analyze the samples with far more sophistication than we're capable of today. To appreciate how massive an advance might be in store, consider that 50 years ago, computers were only just being introduced to the field of geology here on Earth. Now we can study the composition of many bodies in the solar system.
2. SPECTRAL INTERPRETATION: ANALYZING BENNU'S COMPOSITION
Since Bennu's discovery in 1999, scientists have used the best telescopes on Earth and in space to study the asteroid. As such, they have an extraordinary data set from which to work, and believe they have a pretty good handle on the asteroid's composition. The spacecraft, up close and personal with the asteroid, will use its spectrometers and cameras to provide "ground truth" to the distant observations of telescopes. Scientists will be able to see how well their predictions matched reality. What they got correct will have confirmation; what they got wrong can be used to refine their models. All of this can then be applied to thousands of other objects in the solar system.
3. RESOURCE IDENTIFICATION: EYEING FUTURE MINING OPERATIONS
Lauretta told Mental Floss that when OSIRIS-REx was first conceived, resource identification was "cool science fiction." The idea of going to asteroids and mining them for material was the sort of thing people in some Jetsons-like future would be able to do, but not us. Today, however, companies are lining up for the chance to begin celestial mining operations. OSIRIS-REx will pioneer the technologies and capabilities necessary to provide detailed global analysis of an asteroid's surface. They will be able to focus on composition and mineralogy with an eye toward identifying regions of interest. It will be, in other words, creating the sorts of prospecting maps once seen in the Old West—only this time for an off-world ore-rush.
4. SECURITY: STUDYING BENNU'S TRAJECTORY TO AVOID POTENTIAL ASTEROID COLLISIONS
Earth's orbit around the Sun is startlingly perilous. Bennu is only one of several near-Earth objects that have a small-but-not-impossible chance of colliding with this planet in the 22nd century. (The odds are 1 in 2700, which is about the same as your odds of dying by exposure to smoke or fire. That's a pretty terrifying figure when you consider the destruction and damage that such an asteroid impact might cause, and that people die in house fires all the time.)
Scientists will use the data returned from OSIRIS-REx to study something called the Yarkovsky Effect. As asteroids go about their orbit, they absorb energy from the Sun and emit that energy as heat. That emission essentially acts as a small, natural asteroid thruster, and changes an asteroid's trajectory over time. In a 12-year period, the Yarkovsky Effect changed Bennu's position by more than 115 miles. If researchers can better understand the causes and effects of the phenomenon, they can apply that knowledge not only to Bennu but also to thousands of objects throughout the solar system. If some object is headed our way, we can know about it sooner—and perhaps find a way to stop it.
5. REGOLITH EXPLORER: UNDERSTANDING HOW SURFACE PARTICLES BEHAVE IN MICROGRAVITY
Regolith is the blanket of dust and gravel on the surface of many celestial bodies. Scientists don't quite understand random mechanics in a microgravity environment. Even if Bennu's sample collection arm is unsuccessful—it can make three attempts—Lauretta said the effort alone pushes the boundaries of research: "By the act of putting our device on the surface of the asteroid to collect the sample, in and of itself we are performing a fantastic science experiment."
Editor's note: This story originally ran in 2016 and was updated in August 2018.