Haunted Locations You Can Visit in All 50 States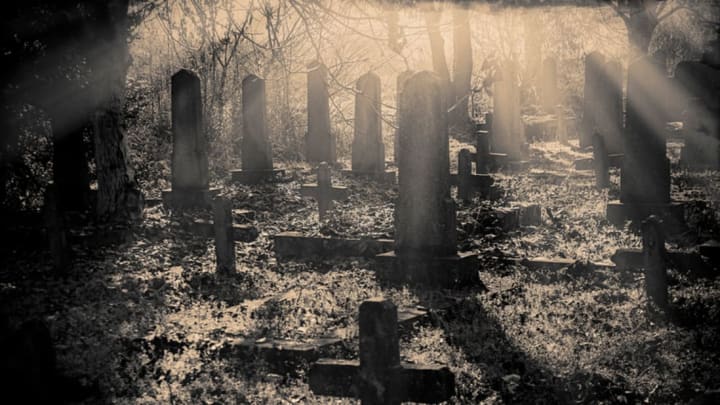 iStock / iStock
Have your nerves of steel inoculated you against scary movies? Friends leaping out of the shadows getting boring? If you feel like having a more immersive experience, you might want to head to a local haunt instead. Take a look at some of the scariest destinations in all 50 states that guarantee a night of frights.
1. ALABAMA // BASS CEMETERY
Location:
Irondale, Alabama
It doesn't get much creepier than Bass Cemetery. Drive down the dirt road at twilight, turn off into the woods, and keep your eyes and ears open. The Civil War-era cemetery was the final resting place for both soldiers and slaves, many of whom reportedly return to walk the grounds at night. Visitors report seeing ghostly figures and hearing spooky voices, and at least one tomb has been visibly vacated.
2. ALASKA // RED ONION SALOON
Location:
Skagway, Alaska
A preserved brothel room in the Red Onion Saloon. Jimmy Emerson, DVM via Flickr // CC BY-NC-ND 2.0
In its heyday, the Red Onion Saloon offered a slice of the Old West in the Last Frontier. Built in 1897, the upscale saloon and brothel was one of the hottest spots in Skagway, Alaska, during the Klondike Gold Rush. Today, the establishment functions as a museum and, according to their blog, it's "home to more than one spirit." Accounts of footsteps, cold spots, apparitions, and a strong perfume smell have all been reported on the upper floors that once served as the bordello. Most disturbances have been attributed to one spirit in particular: a former prostitute named Lydia. Thankfully she seems to be friendly, even going so far as to water the plants for the homeowners. Visitors can hope to catch a glimpse of her on the museum's Ghosts & Goodtime Girls Walking Tour.
3. ARIZONA // VULTURE MINE
Location:
Wickenburg, Arizona
The Vulture Mine, located just outside of Phoenix, was once Arizona's most successful gold mine, and the surrounding settlement, established in 1866, was a boomtown home to 5000 residents. The mine was closed down in the 1940s and Vulture City became a ghost town, but some of the spirits of those who died at the mine may still remain. The mine was plagued by theft, and 18 high graders—miners who pocketed their discoveries—were put to death at the Vulture hanging tree. In 1923, due to lack of support structures, seven miners died in a cave-in, and their bodies are still trapped within the mine. The ghostly location was featured on the Travel Channel show Ghost Adventures in 2010, and the hosts claim that spirits threw rocks at them.
4. ARKANSAS // 1886 CRESCENT HOTEL & SPA
Location:
Eureka Springs, Arkansas
Looming high over the town of Eureka Springs, this stately hotel is supposedly home to a colorful cast of spirits. There's Michael, the stonecutter who fell to his death during the building's construction, and Dr. John Freemont Ellis, the former hotel physician whose pipe smoke some guests claim they can smell. The Crescent has embraced its haunted reputation, offering ghost tours for visitors and ESP packages for diehard spook hunters.
5. CALIFORNIA // ALCATRAZ
Location:
San Francisco, California
Josh Edelson/AFP/Getty Images
For decades, the concrete island of Alcatraz in the San Francisco Bay housed some of the country's most notorious criminals—murderers, thieves, and public enemies like Al Capone. That concentrated selection of bad vibes is said to remain, even though the prison has long since closed. While the National Park Service runs no official ghost tours of the grounds, visitors hoping for paranormal activity can book an evening ferry ride and guided tour of the cell blocks that have been known to harbor unexplained events like eerie moaning and strange apparitions; some guests have even claimed they could hear a faint banjo, an instrument Capone picked up to pass the time inside.
6. COLORADO // THE STANLEY HOTEL
Location:
Estes Park, Colorado
If roaming a murder hotel is your idea of a good time, The Stanley is the place for you. Horror buffs will recognize the haunted hotel as the inspiration for The Shining (1980)—a fact not lost on its owners, who offer regular ghost tours for a small fee. The original owners? Well, they're supposedly still roaming the halls, with Flora Stanley's piano being heard playing in the middle of the night, and her husband, F.O. Stanley, reportedly showing up in the background of billiard room photos.
7. CONNECTICUT // THE VILLAGE OF THE DAMNED
Location:
Dudleytown, Connecticut
You can't enter Dudleytown, a.k.a. the Village of the Damned, but you probably don't want to. Legend says the settlement was founded in 1740 by the aristocratic Dudley family, whose reputation of treachery and scandal preceded them into the New World. Over the next six decades, the little town reportedly saw its share of horrors—people going insane, children disappearing—before being abandoned in the 1800s. The settlement itself has vanished; today, the site is private property, lost to an overgrown dark forest. Those who have ventured close speak of a suspicious silence in the woods and bright orbs in the air.
8. DELAWARE // FORT DELAWARE
Location:
Pea Patch Island, Delaware
Mike Mahaffie via Flickr // CC BY-NC-ND 2.0
Take the ferry from Delaware City and make a day of it at Fort Delaware State Park, which offers picnic areas, wildlife, and, of course, ghosts. The spooky, pentagonal fort itself was built in 1859 and is so famously haunted that it was featured on a 2008 episode of Ghost Hunters. The show's hosts recorded eerie noises like cannon fire and movement in the fort's tunnels. But for the amateur paranormal investigators out there, you will love the night-time ghost tours.
9. FLORIDA // MAY-STRINGER HOUSE
Location:
Brooksville, Florida
You want it, the May-Stringer House has it: footsteps, creepy dolls, weird mists, sudden drops in temperature, even children's laughter. The Victorian-era mansion has seen more than its share of death, from childbirth and smallpox to suicide, and is known as one of the most haunted buildings in Florida. Ghost hunters with a little extra cash will want in on the late-night investigations package, which allows visitors free rein to roam the building with their ghost-sensing equipment until 2 a.m.
10. GEORGIA // BONAVENTURE CEMETERY
Location:
Savannah, Georgia
Travis via Flickr // CC BY-NC 2.0
Heading to Savannah? Be sure to bring a stuffed animal for Little Gracie, the resident ghost-ambassador of Bonaventure Cemetery. The little girl was the sweetheart of Savannah in her day and was known for entertaining guests with songs in the lobby of the luxury hotel her father managed. When she succumbed to pneumonia at the age of 6 in 1889, her grave became a shrine. It's said her ghost still plays in the square where she used to live, and that her cries can be heard when the toys left for her are removed. The cemetery also has numerous other statues and figures, many of whose faces are said to change shape when in the presence of visitors they like or dislike.
11. HAWAII // MORGAN'S CORNER
Location:
Honolulu, Hawaii
Several urban legends surround this sharp curve of Nuuanu Pali Drive in Honolulu. The true origins of its ghastly reputation trace back to the murder of a 68-year-old widow that took place nearby in 1948. Since then, the spot has been connected to tales of paranormal activity, and today it's a stop on the "Orbs of Oahu" ghost tour held on Monday, Tuesday, Wednesday, and Friday nights.
12. IDAHO // IDAHO PENITENTIARY
Location
: Boise, Idaho
The Idaho Penitentiary housed over 13,000 inmates when it was a functional prison. Not all the residents served their time peacefully: The building was the site of many violent riots, culminating in the fire that shut it down for good in 1973. According to some accounts, the spirits of former prisoners still roam the halls. Visitors have reported overwhelming feelings of anxiety and dread upon entering the place and some even claimed to have heard unexplained whispers and screams. Anyone looking to experience the eerie atmosphere can attend one of the historical site's various tours, including investigations led by the "International Paranormal Reporting Group."
13. ILLINOIS // CONGRESS PLAZA HOTEL
Location:
Chicago, Illinois
The Congress Plaza Hotel is rumored to be one of the most haunted hotels in the Windy City. It was built to house the influx of visitors coming into Chicago for the 1893 World's Fair (an event with a seedy history of its own). Several ghosts—including those of a Czech boy who jumped from a window with his mother and a Spanish American war veteran who shot himself before his wedding—are now said to haunt the building. And that's not all: Unplugged kitchen appliances suddenly turn on; pianos play spontaneously; and visitors hear disembodied humming and whispers—and phantom gunshots that come from out of nowhere. Chicago Ghost Tours makes the hotel their first stop—tours begin at 7 p.m. on Thursday and Fridays.
14. INDIANA // STEPP CEMETERY
Location:
Martinsville, Indiana
A typical visit to Morgan-Monroe State Forest might include a hike, a picnic, and a leisurely stroll through an abandoned cemetery. Stepp Cemetery was opened in the 1800s and is home to less than three dozen gravestones. Visitors to the site—which, according to urban legend, was founded an orgy-loving, snake handling cult called the Crabbites—report strange sounds in the graveyard and sightings of a ghostly woman dressed in black who is said to be watching over the graves of her family members.
15. IOWA // VILLISCA AX MURDER HOUSE
Location:
Villisca, Iowa
The Villisca Ax Murder House appears relatively unchanged from how it looked on the night of the violent crimes that took place there over a century ago. On June 10, 1912, J.B. Moore, his wife Sarah, their four children, and two visiting children were killed in their beds by an ax-wielding intruder. There were several suspects—including a state senator—but no one was ever convicted of the crime. The building is now open to brave members of the public wishing to learn about this gruesome chapter in Iowa history. According to the house's official website, tours have been interrupted by "children's voices, falling lamps, moving ladders, and flying objects." Walk-in tours are given during the day for $10 per person, and visitors feeling especially gutsy can reserve an overnight stay for $428 for groups of one to six.
16. KANSAS // SALLIE HOUSE
Location:
Atchison, Kansas
Whatever paranormal experiences interest you, you can probably find them at Sallie House: Visitors to the home have experienced apparitions, strange smells, objects flying through the air, and disembodied voices. Though the residence is named after a little girl who allegedly died of appendicitis there at the turn of the century, according to some mediums, "Sallie" is just one of the many spirits stuck in the house.
If you find yourself in Atchison, you may as well take a look around—the entire town, besides being the birthplace of Amelia Earhart, is said to be the most haunted in Kansas and is full of spooky stories and strange happenings.
17. KENTUCKY // WAVERLY HILLS SANATORIUM
Location:
Louisville, Kentucky
From 1911 through 1961, Waverly Hills was a tuberculosis hospital, able to house 50-60 patients trying to recover from the disease at any given time. Unfortunately, many of those patients didn't recover: Thousands succumbed to the illness before an effective treatment was introduced in 1943, and apparently, many of them are still there. Room 502 is a particularly popular spot for ghost sightings, with reports of a ghostly nurse still making her rounds there.
In addition to hosting tours from March through August, the current owners convert the place to a haunted house attraction every fall. They plan to use proceeds to renovate the hospital into a legit hotel—presumably one where no one gets any sleep.
18. LOUISIANA // THE LALAURIE MANSION
Location:
New Orleans, Louisiana
Jake Fowler via Flickr // CC BY-NC-ND 2.0
On April 11, 1834, a fire broke out at 1140 Royal Street in New Orleans. When neighbors rushed to help the residents escape, they discovered something even worse than the flames: a veritable house of horrors. The New Orleans Bee reported that "Seven slaves more or less horribly mutilated were suspended by the neck, which their limbs apparently stretched and torn from one extremity to the other," and compared the mistress of the house, Delphine LaLaurie, to Caligula.
The house has since been renovated and sold many times, including once to actor Nicolas Cage. But it's no surprise that owners and visitors alike report ghostly goings-on, from hearing chains in the attic to strange phone calls coming from the house. The LaLaurie House is a highlight on most of the innumerable New Orleans ghost tours.
19. MAINE // WOOD ISLAND LIGHTHOUSE
Location:
Biddeford Pool, Maine
In 1896, a terrible tragedy took place on Wood Island, Maine—during an argument about an overdue rent payment, local fisherman Howard Hobbs shot game warden Fred Milliken, who died 45 minutes later. Distraught about what he had done, Hobbs shot himself with the same gun. People, including the wife of one of the lighthouse keepers, believe their shell-shocked spirits are still there. You can visit the lighthouse during the day, if you prefer, or take a haunted lighthouse tour to hear more about the various hauntings that happen in these isolated spaces.
20. MARYLAND // ANTIETAM
Location:
Washington County, Maryland
Laura Evans via Flickr // CC BY-NC 2.0
More than 23,000 people lost their lives at the battle of Antietam during the Civil War, so it's not surprising that a few of them may still be hanging around. One location in particular, deemed "Bloody Lane" after 5000 soldiers died there, is especially known for ghost sightings—people reportedly think they're seeing Civil War reenactors, until the "reenactors" disappear into thin air.
Other visitors to the national park have reported seeing balls of blue light, hearing drums playing, and hearing soldiers chanting. Legend has it that there's a house nearby where the wounded were taken, and after even after centuries and countless attempts to sand and refinish the floors, there are blood stains that refuse to disappear.
21. MASSACHUSETTS // DOGTOWN
Location:
Gloucester, Massachusetts
This once-bustling settlement was founded by colonists around 1693, but after decades of fruitless farming efforts, many residents abandoned the town after the War of 1812. The few people who stayed—mostly widows who couldn't afford to leave—were deemed witches, especially after one of the women found a source of income by threatening to curse people unless they paid her. Other local lore involved werewolves and ghost dogs.
Though history is on the side of the "witches" these days, there's no doubt that some disturbing activity has taken place in those woods, which still bear remnants of the cellars built by the original colonists. A woman was killed there in 1984, and it's said to have been the scene of several suicides.
22. MICHIGAN // THE GRAND HOTEL
Location:
Mackinac Island, Michigan
That old "Native American burial ground" horror movie trope is absolutely true on Mackinac Island, which was once, indeed, a burial ground called Michilimackinac. In fact, more remains were discovered during a construction project just a few years ago.
That might set the stage for paranormal incidents on the tiny island: it is also home to a ghost named "Harvey," thought to have been a student at the Mackinac College in the 1960s, and soldiers from the War of 1812 who are occasionally spotted on the golf course of the hotel. You're sure to hear their stories, and more, on any number of Haunted Mackinac tours.
23. MINNESOTA // PALMER HOUSE HOTEL
Location:
Sauk Centre, Minnesota
Feeling brave? Book a room at the Palmer House Hotel in Sauk Centre, Minnesota. Rooms 11 and 17 are particularly active with spirits, with guests reporting people in 1920s clothing showing up in their rooms at the middle of the night. And if you're in the market for a famous ghost, you might be in luck—it's thought that writer Sinclair Lewis, whose childhood home was nearby, is still wandering the halls.
24. MISSISSIPPI // MCRAVEN
Location:
Vicksburg, Mississippi
TravelingOtter via Flickr // CC BY-SA 2.0
Known as the most haunted house in Mississippi, McRaven has been called a "time capsule of the south." It was used as a Confederate hospital during the Civil War, and of course, not all of the soldiers made it. "We do have 11 unknown bodies buried on the property," the house manager has said.
In addition to Confederate soldier ghost sightings, there's also a young mother named Mary Elizabeth Howard who died in the house shortly after childbirth, and a robber named Andrew Glass who used McRaven as a hideout. Both haunted tours and regular history tours are offered at McRaven.
25. MISSOURI // THE LEMP MANSION
Location:
St. Louis, Missouri
Paul Sableman via Flickr // CC BY 2.0
Built in 1868, this historical home was once owned by William J. Lemp, the owner of what would eventually become Falstaff beer. Sadly, the Lemp family was plagued by tragedy—four family members, including the patriarch, committed suicide; three of them in the house. And according to visitors to the old residence, which is now an inn, most of them are still there. If you don't want to risk an overnight stay at Lemp Mansion, you can also opt for one of their mystery dinners instead.
26. MONTANA // MONTANA TERRITORIAL PRISON
Location:
Deer Lodge, Montana
In 1959, the Montana State Prison experienced the darkest moment in its history: a 36-hour prison riot that resulted in the deaths of several people, including the murder-suicide of two of the ringleaders when the Montana National Guard came in to end the uproar. The damage they did—machine guns and bazookas were fired into the cellblock—can still be seen on various historical or ghost prison tours today. People touring the prison have reported hearing strange things and feeling like they're being touched. Cell No. 1 is especially active with what some believe is the spirit of Paul Eitner, an inmate who spent 49 years at the prison.
27. NEBRASKA // HUMMEL PARK
Location:
Omaha, Nebraska
At the entrance to Hummel Park in Omaha, Nebraska, there are a set of trees that bend eerily and unnaturally in one direction. Local legend holds that the trees were used for hangings—so many hangings, in fact, that the branches are permanently bowed from the weight of the bodies. The deaths may explain the strange things said to happen in the park now: howling wolves, people who live in the trees, animal sacrifices, and a creepy set of stairs that seem to change in number for each person who attempts to count the steps. Though there's no evidence to back up the rumor of hangings, there is evidence to support another theory: that the area was once a Native American burial ground. In fact, in 1945, Boy Scouts used a skull found in the park to decorate a totem pole.
28. NEVADA // THE MIZPAH HOTEL
Location:
Tonapah, Nevada
The Lady in Red suite, via The Mizpah Hotel
Built in 1907 to accommodate folks hoping to strike it rich with the recent silver discovery, the Mizpah is said to host several ghosts, including at least a couple of miners and some impish children. But the Mizpah's most famous revenant resident is the Lady in Red, a woman who was killed on the fifth floor by a jealous husband or ex-boyfriend. It's said that she's particularly fond of whispering "Hey you" in the ears of men who are in the elevator alone.
The hotel closed its doors in 1999 and remained shuttered for more than a decade. It reopened under new management in 2011, so you can have a close encounter with the Lady in Red if you're so inclined. They even have a suite themed after her.
29. NEW HAMPSHIRE // BLOOD CEMETERY
Location:
Hollis, New Hampshire
Pine Hill Cemetery's ominous "Blood Cemetery" nickname doesn't come from blood spilled within the grounds, but from a permanent resident there named Abel Blood. Blood's 1867 tombstone featured an engraving of a hand, which people swear pointed skyward during the day, but gestured down at night. The stone was broken and removed at some point, but that hasn't stopped the spirits—there are still sightings of shadowy figures and fog that seems to appear out of nowhere. The public cemetery is open from dawn until dusk.
30. NEW JERSEY // PINE BARRENS
Location:
southern New Jersey
The Pine Barrens, a stretch of coastal plain that spans seven counties in New Jersey, is home to a lot of urban legends, from phantom dogs to the ghost of Captain Kidd. But its most famous denizen is, without a doubt, the Jersey Devil. Though there are many versions of its origins, in one popular telling the creature was born in the 1730s when "Mother Leeds'" cursed 13th child came into the world with hooves, wings, a goat's head, and a forked tail. After killing its mother, it escaped into the Barrens—and there have been sightings ever since. Even Napoleon's brother, Joseph, had an encounter with the beast during his years at Point Breeze. If you visit the Pine Barrens for its trails, wineries, canoeing, or duck hunting, keep one ear cocked for strange noises.
31. NEW MEXICO // SANTA FE STATE PENITENTIARY
Location:
Santa Fe, New Mexico
On February 2 and 3, 1980, the Santa Fe State Penitentiary was the site of one of the worst prison riots the country has ever seen: 33 inmates died, more than 200 were treated for injuries, and seven officers were severely beaten or sexually assaulted. The deaths were horrifically violent; even today, hatchet marks said to mark the site of a beheading are still visible in the concrete floor. Since then, visitors have reported cell doors slamming shut of their own accord, a "winged demonic specter," and other phenomena. Though the prison opens for visitors only rarely, after a five-year revitalization is complete, it will have a museum and regular tours.
32. NEW YORK // THE KREISCHER MANSION
Location:
Staten Island, New York
Any old Victorian house lends itself to an aura of spookiness, but this estate has real horrors to back up the vibe. A brick magnate named Balthasar Kreischer built the mansion for one of his sons in the 1885. When family fortunes fell, that son, Edward Kreischer, committed suicide in 1894. Afterward, locals began to talk about odd happenings at the house, including strange lights and voices. Rumored ghosts include Edward, his brother Charles, a German cook, and a couple of children. A century later, in 2005, the home was the site of another incident: a Mafia hit carried out by the property caretaker, who stabbed, drowned, dismembered, and finally incinerated his Mob victim in the estate furnace. The mansion opens for events from time to time, including yoga retreats and Halloween parties—and, if you're so inclined, you can probably purchase the house soon if you've got a couple of million burning a hole in your pocket. It seems to go on the market every few years.
33. NORTH CAROLINA // THE BILTMORE ESTATE
Location:
Asheville, North Carolina
Brett Kiger via Flickr // CC BY NC-ND 2.0
With 250 rooms, the Biltmore Estate in Asheville is the largest privately owned house in North America. The man who constructed it, George Vanderbilt, is allegedly still there. Keeping him company is his wife, Edith, who can be heard calling his name down the corridors. But don't just rely on secondhand ghost stories—book a tour and see for yourself.
34. NORTH DAKOTA // FORT ABRAHAM LINCOLN - CUSTER HOUSE
Location:
Morton County, North Dakota
Clint Bohn via Flickr // CC BY-NC 2.0
Though General George Custer died at the Battle of the Little Bighorn in 1876, legend has it that his widow, Libbie, is still waiting for him to come home. According to tour guides and workers at the Custer House, the general himself also makes appearances from time to time, moving objects and wiping his hands on the linens—perhaps lamenting that he only spent a couple of years in the home before his death. In addition to being open for historical tours year-round, the house also hosts special Halloween events.
35. OHIO // THE RIDGES ASYLUM
Location:
Athens, Ohio
Once called the Athens Lunatic Asylum, the Ridges accepted its first patients in 1874. It eventually developed a reputation for experimentation with shock therapy, lobotomies, and transorbital lobotomies. The facility closed in 1993, but spirits of the thousands of patients that suffered there over the years still linger, according to some. One is said to be Margaret Schilling, a patient who disappeared in the hospital in December 1978 and wasn't found for more than a month. Her body was so badly decomposed that fluids had seeped into the concrete floor, leaving a stain that remains there to this day. The Ridges is now owned by Ohio University, which uses the old administration building to house the Kennedy Museum of Art. The school demolished the dangerous, decaying, "haunted" part of the facility in 2013 because it drew too many trespassers and vandals, but a local history center gives outdoor tours of the grounds throughout the year.
36. OKLAHOMA // CONSTANTINE THEATER
Location:
Pawhuska, Oklahoma
Originally built in the 1880s as a hotel, the Constantine Theater was turned into a performance space in the early 1900s. Ghost investigators who recorded 40 hours of video and audio on the stage and throughout the theater heard mysterious footsteps and knocking; they also captured a couple of Electronic Voice Phenomena (EVPs). The ghost in question, some say, is Sappho Constantine Brown, the daughter of the theater's owner. It's not clear why her spirit has decided to stick around the place, but we'd like to believe she's still waiting for her chance at the stage. You'll have to buy a ticket to a show to find out.
37. OREGON // HOT LAKE SPRINGS
Location:
La Grande, Oregon
Once a popular resort for people seeking healing waters to treat what ailed them, the bed and breakfast at Hot Lake Springs is only the latest iteration of the area's hospitality options. The original Hot Lake Hotel operated from 1864 to 1934, when part of the building burned down. It later served as a nurses' school, an insane asylum, and to store dead bodies during a typhoid epidemic, among other things. With a history like that, it's no wonder that there are a number of restless spirits wandering around. In 2001, the property was featured on the show Scariest Place on Earth; two years later, it was purchased by the Manuel Family, who renovated and restored the property. Current visitors report spooky sounds in their lodgings, especially on the third floor, which once housed a hospital.
38. PENNSYLVANIA // GETTYSBURG
Location:
Gettysburg, Pennsylvania
Getty Images
There were some 51,000 casualties (men who were killed, wounded, captured or missing) during three-day battle at Gettysburg in 1863, the bloodiest battle of the Civil War. Naturally, there are some ghosts said to lurk in the area. From phantom smells linked to the stench of bodies left rotting in the heat after the battle, to strange sounds and sightings of soldiers in local buildings used as field hospitals and shelters, there's a ghost story for just about any location in the Gettysburg area. Visitors to Devil's Den—an area where some of the fiercest fighting took place and where many bodies were left to rot in a ravine—report apparitions of sharpshooters and malfunctioning camera equipment.
39. RHODE ISLAND // PROVIDENCE BILTMORE HOTEL
Location:
Providence, Rhode Island
Wil C. Fry via Flickr // CC BY-NC-ND 2.0
Originally opened in 1922, the Biltmore Hotel in Providence was a popular party spot during Prohibition—but spending time there wasn't always something to celebrate. The hotel's wild parties reportedly often turned violent, leading to several murders. And in 1929, a stockbroker reportedly jumped out a 16th floor window, falling to his death. Visitors report seeing the stockbroker's ghost falling past their window as well as other apparitions during their time there.
The hotel also has an infamous former employee. The patriarch of the Patriarca crime family, Raymond Patriarca, got his first job as a bellboy at the hotel, and it's likely that he killed at least one person there. But its history of horrors hasn't stopped guests from enjoying their stay. A recent visitor still gave the hotel four stars, despite having a terrible paranormal experience in the middle of the night.
40. SOUTH CAROLINA // SUMMERVILLE LIGHT
Location:
Summerville, South Carolina
According to legend, a woman used to walk her husband home from the train after work every single night along a certain stretch of dirt road here, carrying a lantern. When he died in an accident, she kept coming, walking up and down the road waiting for him. When she died, a mysterious light began appearing in the same area she used to walk, just around midnight every night. Ghost hunters say to go past where the pavement ends on Sheep Island Road and keep a look out for a single orb of light in the distance.
41. SOUTH DAKOTA // THE BULLOCK HOTEL
Location:
Deadwood, South Dakota
Seth Bullock, the first sheriff in the gold-mining town of Deadwood, helped corral the lawless locals into something approaching civility. In addition to his policing, Bullock constructed an ornate hotel in the heart of the area, before dying in room 211 in 1919. Newly restored, the hotel is open for guests, dining, and tours, where many say you can still feel Bullock patrolling the grounds. Visitors can even make note of unexplained phenomena in the hotel's guestbook.
42. TENNESSEE // THE SENSABAUGH TUNNEL
Location:
Church Hill, Tennessee
You won't have to endure long lines to experience the reputed gloom of this traffic tunnel in East Tennessee: Locals avoid it and advise others to do the same. Although no one knows how the tunnel got its reputation, several anecdotes have sprung up over the years relating to murder. Supposedly, driving through could mean a dead engine, or worse: Strange figures and noises have been said to appear. Defaced with graffiti and worn to cracks, it's not a place for the faint of heart.
43. TEXAS // USS LEXINGTON
Location:
Corpus Christi, Texas
A World War II-era battleship that's now open for tours, the USS Lexington saw fierce combat in her day. It's said that the spirits of departed soldiers still patrol the vessel. For additional scares, there's an annual haunted attraction onboard the ship.
44. UTAH // OGDEN CITY CEMETERY
Location:
Ogden, Utah
The grounds of the Ogden City Cemetery have more than their fair share of spooky stories. Legend has it that a statue of a World War I soldier has trouble in mind for anyone who drives or walks around his monument three times, while the headstone of Florence "Flo" Grange is said to be the haunted home of a young woman killed by a car while waiting for a date. If you flash your headlights at her tombstone three times, her ghost might materialize.
45. VERMONT // EMILY'S BRIDGE
Location:
Stowe, Vermont
Gianina Lindsey via Flickr // CC BY 2.0
Locals in the small town of Stowe call this quaint structure "Emily's Bridge," named for a woman who was said to have committed suicide after being stood up by her groom. Strange noises, lights, and apparitions reportedly greet those who visit after daylight hours.
46. VIRGINIA // SAINT ALBANS SANITORIUM
Location:
Radford, Virginia
This establishment has an uncomfortable history. It's a former boys' school that became a mental hospital known for experimental treatments. It's also located on ground that was once the site of a Civil War battle as well as a number of skirmishes between colonists and Native Americans. Those who dare to visit won't want to miss the "Suicide Bathroom" and the "Electroshock Therapy Room." And if you need a more traditional place to rest up after your visit, there's a not-so-haunted hotel just down the road.
47. WASHINGTON // MOUNT BAKER THEATRE
Location:
Bellingham, Washington
A playful spirit named Judy supposedly haunts this historic theater. For decades, projectionists and ushers have told of sudden breezes and eerie bursts of cold, or being tapped on the shoulder and hearing a ghostly voice whisper their name. While renovating the theater 20 years ago, a worker snapped a picture of a hallway filled with white mist. Some say it was a hoax, while others claim it's Judy making an appearance.
48. WEST VIRGINIA // LAKE SHAWNEE AMUSEMENT PARK
Location:
Rock, West Virginia
Forsaken Fotos via Flickr // CC BY 2.0
There's nothing creepy about an abandoned amusement park set back in the woods, right? Six children perished on the park's swings and rides before owners shut it down in 1966. Rust and vines have overtaken most of the structures, but locals and paranormal investigators claim the children, including a little girl in a bloodstained dress, still come out to play.
49. WISCONSIN // PFISTER HOTEL
Location:
Milwaukee, Wisconsin
The ghost of Charles Pfister, who built this historic hotel in 1893, supposedly haunts its rooms and corridors, but enough activity has been noted by guests that he can't possibly be the only spirit up to no good. Not convinced? Check out a few testimonies from numerous Major League Baseball players who have stayed there. Their stories include rearranged furniture, flickering lights, radios turning off and on, and even ghosts climbing into bed with them.
50. WYOMING // THE OCCIDENTAL HOTEL
Location:
Buffalo, Wyoming
Jasperdo via Flickr // CC BY-NC-ND 2.0
has all the ambience of an Old West hotel—including an unwanted guest straight out of that era. According to legend, when the building housed a brothel, the young daughter of prostitute died in a second-story room, and has haunted the hotel ever since. Guests have reported moving furniture, mysterious lights and the sound of children giggling.
By Stacy Conradt, Michele Debczak, Shaunacy Ferro, Kate Horowitz, Jake Rossen, and Jeff Wells.