The Stories Behind 12 Outrageous Neiman Marcus Holiday Gifts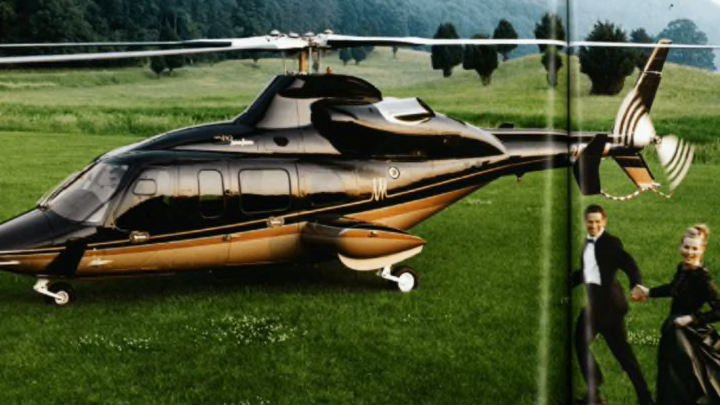 Neiman Marcus / Neiman Marcus
This article contains affiliate links to products selected by our editors. Mental Floss may receive a commission for purchases made through these links.
Since 1955, Dallas-based retailer Neiman Marcus has placed an increasingly outlandish series of "fantasy" gift items in the pages of its Christmas Book catalog, which is mailed to more than 750,000 homes[PDF] and results in priceless press coverage. The latter is the reason why you'll see a $35 million Boeing jet offered alongside a $35 bartending set.
"[Co-founder] Stanley Marcus called them 'stunt pages,'" Ginger Reeder, Vice President of Corporate Communications and the catalog's longtime curator, tells mental_floss. "He understood that the gifts meant he wouldn't have to spend quite so much on advertising."
Despite the "fantasy" and "stunt" labels, all the gifts in the Book are real and ready to ship to legitimate buyers, and roughly half of them get sold each year. Reeder, who has overseen the catalog for 20 years and sifts through more than 200 proposals annually, was kind enough to walk us through some of the company's more notable offerings—including the time they inadvertently delivered a dead body.
1. A BLACK ANGUS STEER WITH SILVER SERVING CART (1959) // $1925
Although the Marcus brothers had placed a strange gift in a 1955 catalog—a real tiger covered in expensive jewelry priced at $1 million—it was their response to journalist Edward R. Murrow in 1959 that confirmed the company's devotion to the outrageous. After Murrow phoned to ask if there would be anything of interest that year for his radio listeners, the brothers came up with the idea of offering a Black Angus bull with a silver serving set. "It was a sort of, 'What are those crazy Texans doing?' approach," Reeder says. "You could get it on the hoof or in steaks."
2. HIS AND HERS CAMELS (1967) // $4125
For a time, Neiman Marcus was in the zoological business, offering a variety of ostriches, baby elephants, and other exotic animals to consumers who were apparently bored of domesticated pets. "We sold one camel to a woman in Ft. Worth," Reeder says. "She had bought it for her mother. As the story goes, they were watching television and a story about the sale came on. Her mother said, 'I wonder who that's for. It's so stupid.' And the camel was right outside her door." At last report, the camel was said to be easily annoyed and spat constantly.
3. AUTHENTIC MUMMY CASES (1971) // $6000
Reeder says one of the Marcus brothers discovered two authentic mummy cases while traveling in England and had them shipped to one of their first stores outside of Texas in Bal Harbour, Florida. He didn't bother to ever look inside. "Someone on the receiving dock was curious and opened the crate up and found an actual mummy," Reeder says. "He called Mr. Marcus up and asked what to do. He said, 'Well, we probably broke international laws by importing a dead body. I guess we'll need a death certificate.'"
The cases and the lone occupant were bought by a museum in San Jose, a transaction that may have spelled the end for morbid gift items. "We've had offers to sell his and hers caskets and a working guillotine," Reeder says. "They're not exactly in the Christmas spirit."
4. A FULL-SCALE STAR WARS X-WING FIGHTER (1996) // $35,000
Getty
Prior to the 20th anniversary re-releases of the original Star Wars films, Neiman Marcus offered a scale replica of Luke Skywalker's X-Wing Starfighter. It was purchased by a fan in Virginia who put it in his back yard. "I remember the first thing I had to do was send a film crew to videotape it being installed," Reeder says. "In case he ever moved, he wanted to know how it was pieced together."
5. 90 FIRST EDITION NOVELS (1997) // $185,000
Getty
For Reeder's first official year on the job, she worked with Bauman Books and a librarian to curate 90 first editions of influential novels, including The Great Gatsby and The Catcher in the Rye, many signed by their author. "Coming up with the list took six months," she says. While the entire set never sold, Neiman Marcus got more than 600 calls asking for the titles of all the books on the list.
6. A "LORDSHIP" TITLE (2001) // $120,000
Couples who invested in Neiman Marcus's "time travel" package—wearing period costumes and engaging in historic reenactments—would also be afforded the opportunity to be bestowed the title of "Lordship," a fully legitimate crowning. "A gentleman got in touch with us who had the connections to be able to do that," Reeder says. "It would then be passed on to that person's oldest son." But, she says, "No one bought that."
7. A BELL 430 HELICOPTER (2001) // $6.7 million
That same year, Neiman Marcus scored one of their biggest headlines ever when they offered a Bell 430 helicopter with a company logo woven into the carpeting. "We're not actually licensed to sell cars or helicopters, so we deal directly with a vendor," Reeder says. It remains the priciest fantasy gift item to ever find a buyer.
8. A MERMAID SUIT WITH MERMAID TRAINING (2003) // $10,000
iStock
Reeder got the idea for a custom swimsuit and mermaid tail swim training while reading a newspaper article about Thom Shouse, the man who designed Darryl Hannah's costume for 1984's mermaid comedy Splash. "I think every little girl grows up wanting to be a mermaid," she says. "I proposed it at least three times, but no one ever liked the idea. Then something else dropped out of the Book. We were planning a water shoot, so I called [Shouse] and asked if he could get me a mermaid tail right away."
9. A CUSTOM SUIT OF ARMOR (2004) // $20,000
iStock
Men and women alike were afforded an opportunity to be measured for a custom-fit suit of armor faithful to the steel tailoring standards of the 15th century. Reeder says one was sold to a Connecticut couple for their adult son.
10. A #2 PENCIL SCULPTURE (2006) // $40,000
Artists Michael Galbreth and Jack Massing erected this 7-foot-tall sculpture using #2 pencils. "I knew the Art Guys, who made the sculpture, from Houston and had always wanted to offer a piece by them," Reeder says.
11. A TRITON 1000 SUBMARINE (2007) // $1.44 MILLION
iStock
The modestly-priced Triton was the latest in a succession of nautical offerings by the catalog. In 2000, Reeder had placed a more elaborate submarine listing and subsequently received a series of prank calls. "People asking if we had it in yellow, stuff like that," she says. Then an employee told her she had a call from someone with the New York Terrorism Task Force. "He asked if there was a privately-owned sub that he needed to be aware of. I told him it didn't sell and that I thought it was a joke when my operator told me there was a sergeant on the line. He said, 'When someone told me you were selling a submarine out of a catalog, I thought that was a joke, too.'"
12. A SWANKY CHICKEN COOP (2012) // $100,000
Described by the company as a "bespoke, Versailles-inspired Le Peit Trianon" building, this ornate hen house promised nirvana for its chicken occupants. "We actually advanced funds to the vendor so she could build one for the photo shoot," Reeder says. "It never sold, but we got publicity on the Today show for it." The coop featured a nesting area, a farming book library, and a chandelier. Why a chandelier? "You'd have to ask the designer," Reeder says. "I don't know."
All images courtesy of Neiman Marcus unless otherwise credited.