Grave Sightings: Joe DiMaggio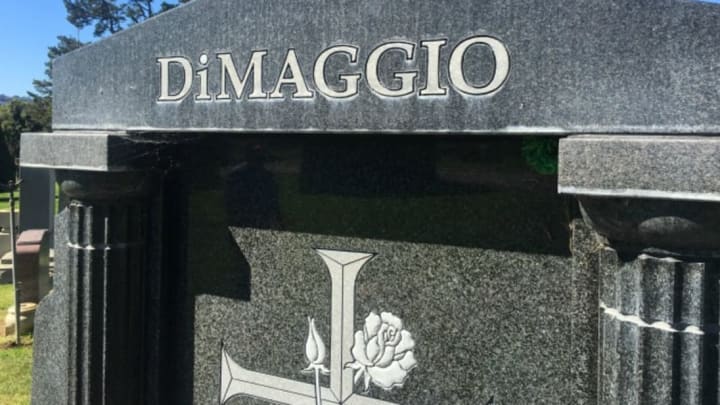 Stacy Conradt / Stacy Conradt
Legendary Yankee center fielder Joe DiMaggio and equally illustrious actress Marilyn Monroe had one of the most famous and tumultuous relationships in modern celebrity history. After countless ups and downs, including marriage and divorce, the two had reconciled again and were reportedly planning to remarry when she died in 1962.
Stacy Conradt
Devastated, DiMaggio—who was born on November 25, 1914—stepped in and planned the whole funeral, banning almost all of Monroe's Hollywood contacts from attending (as well as the public). He had her buried at Westwood Village Memorial Park Cemetery in Los Angeles, in a crypt they had originally purchased together while they were married—his was located directly above hers. Afterward, DiMaggio had flowers delivered to her grave multiple times a week, a practice that continued for 20 years.
Despite their his-and-hers crypts, however, Joltin' Joe's eternal resting place isn't near Marilyn. It's not at the same cemetery, or even in the same city. He ended up nearly 400 miles away at Holy Cross Cemetery in Colma, California.
Stacy Conradt
Though most of us associate the Yankee Clipper with New York, he actually grew up in San Francisco, arriving in the Italian neighborhood of North Beach when he was just a year old and spending his entire childhood there. In 1939, after baseball success had brought him fame and fortune, he bought his parents a home in the Marina district. When they died, his widowed sister Marie moved in, and eventually, so did Joe. He was involved with the community, even helping his brother when he opened a restaurant on Fisherman's Wharf.
Stacy Conradt
When he passed away from lung cancer in 1999, DiMaggio's funeral was held at San Francisco's St. Peter and Paul Catholic Church, where he had been baptized, taken his first communion, and was confirmed and married. Given his personal ties with San Francisco, it's not that surprising that he ended up spending eternity in the area—especially since he sold his crypt at Westwood Village Memorial Park after Marilyn filed for divorce just nine months into their marriage.
Though he wasn't buried with her as originally planned, Marilyn was still on DiMaggio's mind when he left this world. According to Morris Engelberg, Joe's lawyer, his final words were, "I'll finally get to see Marilyn."
Peruse all the entries in our Grave Sightings series here.