17 Delightful Gingerbread Constructions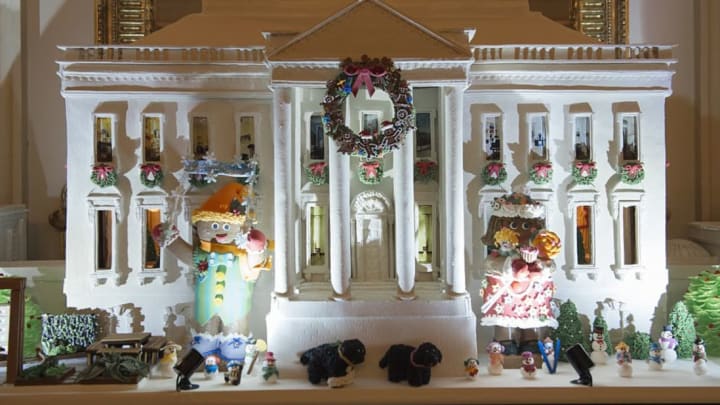 Getty Images / Getty Images
A gingerbread house can be just a house, or it can be a medium for fantastic creations, from mansions to spaceships. Check out these wildly creative gingerbread sculptures that go beyond just four walls and a roof.
1. FANTASY CASTLE
Christine McConnell constructed this huge gingerbread castle for a Christmas photo spread at Food.com. The entire castle is edible, with the exception of the lights. That means all the structural supports are made of edible materials, and the window glass is just sugar. You can see an album of the castle, its construction, and the intricate details here.
2. HOGWARTS
I made Hogwarts out of Gingerbread!
Redditor louisesiuol and her sister made an amazing gingerbread version of Hogwarts School of Witchcraft and Wizardry in 2013 for a competition, which they obviously won. You can see more pictures of the gingerbread school here.
Also in 2013, Mimicafe Union in New York made a gingerbread version of Hogwarts's Great Hall for the Bake Christmas Wish Fundraiser for the Make-A-Wish Foundation. You can check out photographs of that house here.
3. GRAND FLORIDIAN RESORT
Walt Disney World's Grand Floridian Resort displays a grand gingerbread house every year, and here's the 2016 version. Creating the 16-foot-tall house required 800 pounds of flour and over a thousand pounds of honey.
4. FALLINGWATER
Coley via Flickr // CC BY-NC-SA 2.0
This gingerbread replica of Frank Lloyd Wright's Fallingwater was an entry in Ritz-Carlton Half Moon Bay's Gingerbread House Contest in 2007. Another 2007 version of the same house comes with pictures of the building process, while still another was spotted at a Utah competition in 2010.
5. ST. FRANCIS ENCHANTED CASTLE
The St. Francis Enchanted Castle is one of two castles on display now at the Westin St. Francis in San Francisco. The other one is a castle made of sugar—both of which were crafted by Executive Pastry Chef Jean-Francois Houdré and his team.
6. AT-AT
Rachel Klemek at Black Market Bakery is responsible for this awesome gingerbread AT-AT, which is perfectly posed to look like it's trudging through the snowy planet Hoth from 1980's Star Wars: The Empire Strikes Back. The creation was exhibited at the Discovery Science Museum for Christmas 2011.
7. MENGER SPONGE
fungusamungus via Instructables // CC BY-NC-SA 2.5
Here's a delicious project for a hands-on lesson in geometry! Instructables user fungus amungus built this fractal gingerbread structure in the shape of a Menger sponge. Best of all, the directions are detailed so you can attempt your own version.
8. EMPIRE STATE BUILDING
Wally Gobetz via Flickr // CC BY-NC-ND 2.0
New York pastry chef Mark Tasker built this replica of the Empire State Building with gingerbread for the 2007 Christmas display at the New York Botanical Garden.
9. UP HOUSE
Dave King via Instructables // CC BY-NC-SA 2.5
Dave King added Dum-Dums to his gingerbread house to recreate the balloon house from the 2009 Pixar movie Up! He posted pictures at Instructables, but there's a cautionary tale to learn from King's piece: Always build your gingerbread house in the location it will be displayed, because moving it can cause a disaster, especially when there are heavy candies attached.
10. ROBOTZILLA GINGERBREAD HOUSE
boston09 via Instructables // CC BY-NC-SA 2.5
Instructables member boston09 entered a competition a few years ago with a gingerbread cottage featuring icing icicles and gumdrop shrubbery. One extra detail made this creation stand out: The house is about to be attacked by a giant graham cracker robot!
11. THE WINCHESTER MYSTERY HOUSE
Sarah Nuehring via Flickr // CC BY-NC-SA 2.0
Pam Sheridan won a gingerbread house contest in 1990 with this replica of the Winchester Mystery House in San Jose, California. As of 2013, the durable confection was still on display.
12. EWOK VILLAGE
On the forest moon of Endor, under a canopy of trees, lies a village made of chocolate, breakfast cereal, and gingerbread! Darcy Yums constructed an entire Ewok village to display at a Christmas charity fundraiser. You can see pictures of the building process and the finished product at The Infinite Yums.
13. GINGERPRISE II
Redditor ejustice brings us a highly detailed gingerbread USS Enterprise (dubbed the Gingerprise) that is posed to look like it is crashing through the clouds. The ship got a viral boost when DuckPop edited it into a scene from 1994's Star Trek Generations. Tastiest. Space disaster. Ever.
14. GRAND AMERICA HOTEL
Pastry chef Xavier Baudinet constructed a 2-foot-tall house of gingerbread and Rice Krispies for the Grand America Hotel in Salt Lake City. It contains 500 pounds of sugar, 800 pounds of royal icing, and 600 pounds of chocolate. Oh, and it's completely decorated inside with furniture made of chocolate! Check out this video report on the house.
15. FLYNN'S ARCADE
GeekFilter via Instructables // CC BY-NC-ND 2.5
Instructables member GeekFilter built a gingerbread version of the arcade from the 1982 movie Tron for their gingerbread contest in 2010. On the submission page, you'll see more pictures, including how this science-fiction gingerbread building stacks up against the real building used for the film.
16. DINE-IN GINGERBREAD HOUSE
Great Wolf Lodge has a life-size gingerbread house built every year, at all 13 locations! Every inch is edible, and families can make reservations to eat inside. Unfortunately, you have to order off the real menu instead of just munching on the walls. Reservation fees go to charity, and the gingerbread dining rooms will only be up until January 1.
17. THE WHITE HOUSE
Getty Images
Part of the White House's extravagant Christmas display is the annual gingerbread replica of the executive mansion. This year's gingerbread White House was constructed by pastry chef Susie Morrison and her team. It contains 150 pounds of gingerbread and 20 pounds of icing. The State Dining Room also has a display of 56 other gingerbread houses, representing each state and U.S. territory.
Portions of this list were originally published in three posts from 2010 and 2012.