Sony's New Projector Turns Any Surface Into a Touch Screen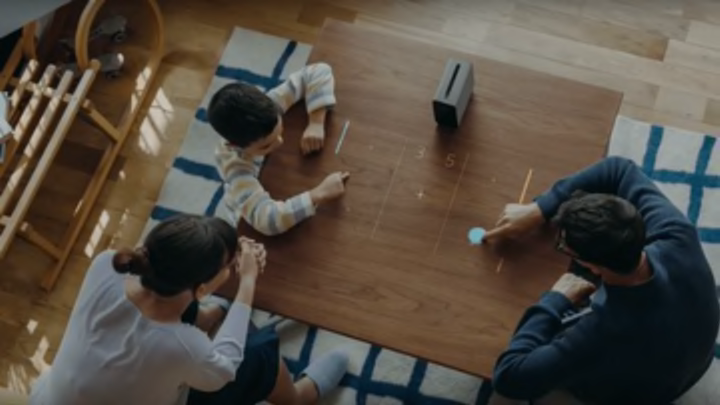 Sony / Sony
In its 70-year history, Sony has made some big splashes. Take the 1979 launch of the Walkman, which created millions of headphone-sporting pedestrians living in their own private music video. Or the 1994 debut of the PlayStation, which shook up the Nintendo-dominated gaming scene.
Now, the company may have found its next major chapter with Xperia Touch, a mobile projector that takes the bold step of allowing users to interact with the image being projected on a screen, wall, or other flat surface. Think of it as the world's biggest smart-touch interface.
Here's how Xperia works: Housed in a small, subwoofer-sized console (5.6 inches high) is a projection lens, speaker, and Android software. Adjust the lens and you can project up to an 80-inch, 1366 by 768 resolution image on the surface of your choice. You now have a portable home theater, but the Android capability is where the Xperia gets really interesting.
When displaying your Android menu on a surface—including tables or even the floor—cameras in the Xperia are able to pick up gestures and respond to commands given by your hand, similar to the typical smartphone. It also supports gaming activities and other virtual exchanges. One Engadget journalist was able to play virtual piano keys onscreen.
The catch? Like many of Sony's first-generation products, the Xperia doesn't come cheap; while its price and release date are still TBD in the U.S., it's set to go on sale shortly in Europe for €1599, or roughly $1645.
[h/t Engadget]