New Collection of Alexander Hamilton's Letters and Documents Now Online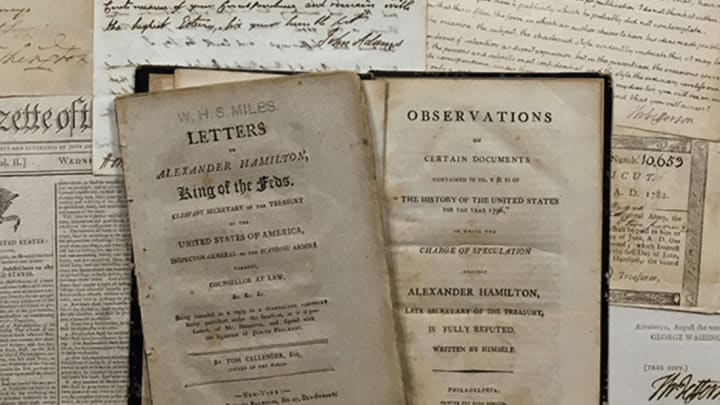 Seth Kaller / Seth Kaller
Extreme fans of the musical Hamilton—and of the Founding Father in general—can now vie for a little piece of his life (including a bit of his hair). A lock plucked from Hamilton's head is currently on display and for sale at the New York Antiquarian Book Fair along with a treasure trove of personal documents and letters from Alexander Hamilton and other Founding Fathers.
The Alexander Hamilton Collection, put together by historical document expert Seth Kaller, includes such treasures as a sexy love letter Hamilton wrote to wife Eliza, the infamous Reynolds Pamphlet in which he refuted accusations of financial impropriety by admitting that he had been blackmailed over an extramarital affair, notes he wrote on his legal clients, and multiple documents referring to his bad habit of dueling. There are also excerpts from the newspaper Hamilton founded, the New York Post, reporting on his death at the hands of Aaron Burr.
In the catalog available online, you can see images of the documents and read transcripts of letters like the one Hamilton sent Eliza during their courtship, describing his angst over being apart from her. "You are certainly a little sorceress and have bewitched me," he wrote, "for you have made me disrelish every thing [sic] that used to please me, and have rendered me as restless and unsatisfied with all about me, as if I was the inhabitant of another world."
Then, of course, there's the hair, a lock that "consists of approximately 20 auburn strands, with a few graying or whitening, ranging between 4 and 5 inches in length." Would anyone care to double check that strand count?
The documents and artifacts will be on display at the book fair until March 12, but are still in search of a permanent home. Whoever buys them also gets the domain ahamliton.com.
[h/t Smithsonian.com]