Take the Whimsy Out of Your Favorite Pastime With This Super-Serious 'Executive Coloring Book'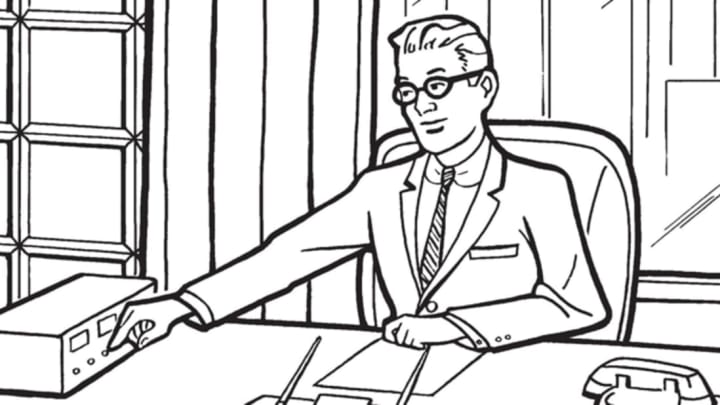 G.P. Putnam's Sons / G.P. Putnam's Sons
Believe it or not, adult coloring books are not a new phenomenon. Back in 1961, co-authors Marcie Hans, Dennis Altman, and Martin A. Cohen put together a tongue-in-cheek coloring book that poked fun at the stuffy heads running corporate life. Perhaps hitting a nerve, The Executive Coloring Book was a huge hit in its time, and now it is returning to shelves on Tuesday, March 28. Once again, the hilariously blunt book can charm readers while they de-stress—what's more relaxing than a good chuckle at the expense of those in the C-Suites?
It begins with our main character, who is a very important business man. "This is me. I am an executive. Executives are important. They go to important offices and do important things. Color my underwear important." The stern coloring book seems to have a lot of rules and demands, just like a real corporate setting. Follow the main character as he shows you the exciting world of commuting, fluorescent lighting, big desks, and sales charts. Self-starter colorers can arm themselves with colors like gray and brown and bring the deadpan captions to life.
The intentionally droll coloring book serves as a reminder that glitz and glamour portrayed in pop culture, like on The Wolf of Wall Street or Mad Men, can actually be quite a dull affair. Get a copy on Amazon for the business person in your life—and don't forget to add a box of monotone crayons.
All images from THE EXECUTIVE COLORING BOOK by Marcie Hans, Dennis Altman and Martin A. Cohen, to be published on March 28, 2017 by G. P. Putnam's Sons, an imprint of Penguin Publishing Group, a division of Penguin Random House, LLC. Copyright © 2017 by Marcie Hans, Dennis Altman and Martin A. Cohen.