How the 'Servant Girl Annihilator' Terrorized 1880s Austin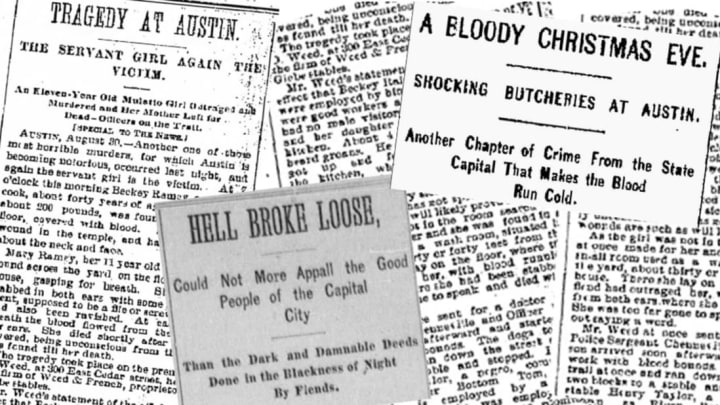 Public Domain / Public Domain
Before Jack the Ripper stalked the streets of London, another midnight murderer was prowling halfway across the world. In Austin, Texas, an individual who became known as the "Servant Girl Annihilator" was responsible for the deaths of eight people between late 1884 and Christmas Eve 1885. Attacking victims in their beds and then dragging them outside to mutilate their bodies, the killer eluded police, private investigators, and mobs of civilians who took to the unpaved streets of newly settled Austin in anger and panic. He—eyewitnesses claimed it was a man—has been called America's first serial killer, and his crimes remain unsolved to this day.
Just two decades prior to the murders, Austin was a "rustic cowtown with a population below 5000," writes Skip Hollandsworth, a journalist at Texas Monthly and author of The Midnight Assassin: Panic, Scandal, and the Hunt for America's First Serial Killer. By 1885, the time of the murders, the city had reached the "verge of modernity," boasting 14,500 residents, numerous restaurants and hotels, and an under-construction capitol building. According to Hollandsworth, "Austin had all the makings of an urban paradise." Instead, it became an urban hell.
THE MURDERS
The killer's first victim was Mollie Smith, a young black cook discovered in the snow near her employer's home on December 30, 1884 with a gaping ax wound in her head. Smith had also been stabbed in the chest, abdomen, legs, and arms, creating such a large pool of blood she appeared to almost be floating in it.
After that was another black cook—Eliza Shelly, found on May 7, 1885. Shelly's head was nearly split in two with an ax; the Annihilator's choice of target, and his modus operandi, were becoming apparent. Irene Cross, a servant and the third black woman targeted by the Annihilator, was attacked on May 23; she was stabbed multiple times with a knife and practically scalped.
It was around this time that short story author O. Henry gave the killer his nickname. "Town is fearfully dull," Henry wrote in a May 1885 letter to his friend Dave Hall, "except for the frequent raids of the Servant Girl Annihilators, who make things lively during the dead hours of the night."
The spine-tingling moniker was perhaps a bit of a stretch, however: Only the first few to die were servant girls. The next victim, 11-year-old Mary Ramey, was dragged outside and into a washhouse, raped, and stabbed through the ear on August 30. The following two victims were a pair, sweethearts Gracie Vance and Orange Washington. On September 28, 1885, they were found with their heads bludgeoned—according to a report in the Austin Daily Statesman, Gracie was "almost beaten into a jelly."
The Annihilator was escalating. On Christmas Eve 1885, he committed two separate crimes in entirely different locations—and unlike all of the previous victims, they were white: Susan Hancock, "described by one reporter as 'one of the most refined ladies in Austin,'" and 17-year-old Eula Phillips, both murdered in their homes. Susan's head was cleaved in two just before midnight on Christmas Eve, and her wounds showed that something sharp and thin had been stuck through her right ear into her brain. Eula's life ended around an hour after Susan was discovered in the early morning of Christmas Day. Once again, her head had been crushed by an ax. A writer for the Fort Worth Gazette reported that she lay on her back, her face "turned upward in the dim moonlight with an expression of agony that death itself had not erased from the features." She had been raped, and her arms were pinned down by timber.
Absent in every other killing, the wood pieces brought up a terrifying possibility. True, the lumber could be attributed to an opportunist Annihilator operating in a booming city filled with construction sites. Still, people wondered … What if another killer was at work? Did Austin perhaps have multiple serial killers on the loose? Until that point, no one had considered there could be more than one maniac involved.
"Of course, at that time the phrase 'serial killer' had not even been coined," Hollandsworth writes. "No one had thought of studying crime scenes to help create a psychological profile of a killer. Fingerprinting and blood-typing hadn't been invented yet." Police relied on dogs to track suspects, and a team of bloodhounds ran the lengths of Austin's unpaved streets nightly, sniffing and howling. The Annihilator "boldly crisscrossed his city, hunting down women regardless of race or class, striking quickly on moonlit nights and then vanishing just as quickly," Hollandsworth writes. Private investigators were brought in by police, who hoped they'd be able to catch something their officers couldn't, but their presence only whipped Austin into more of a panic.
And then the murders stopped.
Altogether, the Annihilator's body count totaled eight: six women, an 11-year-old girl, and a man. Though around 400 men were arrested in 1885 under suspicion of being the Annihilator, none were ever successfully tried. The list included Walter Spencer (the boyfriend of the first victim—acquitted after a two-day trial), "two suspicious-looking white brothers found with blood on their clothes," Eula's husband Jimmy Phillips, and Susan's husband Moses Hancock. Phillips, the prosecutors claimed, was a copycat killer before the term existed, using the murders of Austin's black working class as an excuse to kill his unfaithful and beautiful wife. Initially sentenced to seven years, Phillips's conviction was overturned within six months; Hancock's trial resulted in a hung jury. The Annihilator was still out there, but what was he—or they—doing?
THE SUSPECTS
James and Florence Maybrick. Some have suspected James of being both the Servant Girl Annihilator and Jack the Ripper. Image credit: Wikimedia Commons // Public Domain
Several theories exist about the real identity of the murderer, and the abrupt end to his killing spree. One possibility is that he was a Malaysian cook named Maurice, working at the Pearl House hotel in Austin. Maurice told acquaintances that he planned to travel by ship to London and left town in January 1886—several weeks after the Servant Girl murders ended. "A strong presumption that the Malay was the murderer of the Austin women was created by the fact that all of them except two or three resided in the immediate neighborhood of the Pearl House," the Austin-American Statesman reported in November 1888, around the time another famous serial killer—Jack the Ripper—was terrorizing the women of London. Is it possible that Maurice, responsible for the eight deaths in Austin, had traveled across the world to avoid captivity and continue his depraved midnight escapades? The newspaper thought there was a chance, but there's a lack of solid evidence, and a hundred years later, it's unlikely we'll ever learn the truth.
Author Shirley Harrison also believes that the Annihilator and the Ripper are one and the same, though she names Liverpool cotton merchant James Maybrick instead of Malaysian chef Maurice. It's an interesting hypothesis, described by Harrison in her book Jack the Ripper: The American Connection. According to Maybrick's own purported journals, which included confessions of killing prostitutes as well as a page signed "Jack the Ripper," Maybrick was in Austin on the dates the Annihilator murders occurred. Another detail that could point to an English Annihilator? Maybrick died, likely of arsenic and strychnine poisoning possibly administered by his wife, in May 1889—after both series of murders ended (or perhaps why they ended).
Yet another theory, laid out in a 2014 episode of History Detectives, accuses a young black man working in downtown Austin. Nathan Elgin, a cook and only 19 years old at the time of the Annihilator killings, was shot by police when he dragged a girl out of the saloon where he was drinking in February 1886. He died from his wounds, right around the time the murders—coincidentally or not—stopped.
It's hardly a closed case, especially as strangers continually flooded the city, looking for jobs at Austin's many construction sites. It's possible that the Annihilator moved on after the capitol building was finished in 1888, taking his bloodthirsty impulses with him. Devotees of the case like to tie the Servant Girl murders to subsequent crimes along the Eastern Seaboard and then in Galveston, or to the reportedly similar murders of women in port cities the world over. It's a way of connecting the dots among horrific crimes, but it raises a difficult question: What's scarier? That a man escaped over and over, continuing to maim and kill in multiple cities? Or that the modern era has given birth to countless such monsters, each uniquely capable of depraved crimes?
Additional Sources: The Midnight Assassin: Panic, Scandal, and the Hunt for America's First Serial Killer; The Servant Girl Murders: Austin, Texas 1885