6 Children Who Famously Followed in Their Parents' Footsteps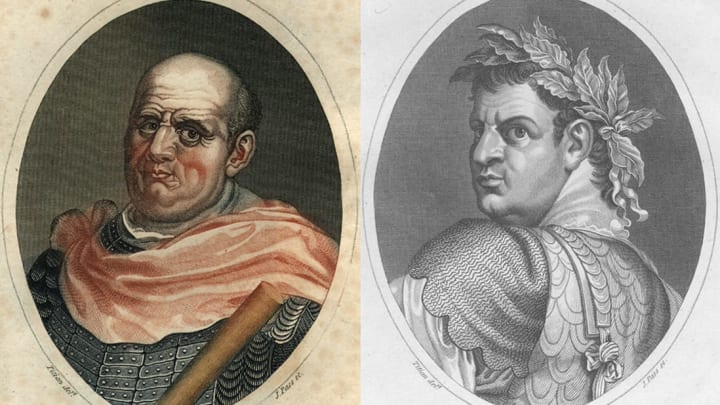 Hulton Archive, Getty Images / Hulton Archive, Getty Images
Theodore Roosevelt often brought his eldest son, Theodore, Jr., to work with him. Likewise with Jim Henson and his son, Brian. Marie Curie? Not so much. To celebrate "Take Your Child to Work Day," we look at several famous instances of children following the path set forth by their mother or father, and who may or may not have regularly accompanied them to the office, the lab, or the battlefield.
1. VESPASIAN AND TITUS
From humble beginnings, Vespasian rose to the rank of general and eventually Emperor of Rome, a title he held from 69 CE until his death in 79 CE. He had two sons but was particularly close to his eldest, Titus, who served as prefect of the Praetorian Guard under his father. Vespasian involved his son in many of his decisions as emperor, and after he died Titus took the throne, becoming the first son to directly succeed his biological father as Emperor of Rome. Among the numerous pieces of his father's legacy that Titus cemented was the Colosseum, which Vespasian began constructing in 70 CE and which his son finished the year after his death.
2. MARY WOLLSTONECRAFT AND MARY SHELLEY
Mary Wollstonecraft, circa 1797; Mary Shelley, circa 1830. / Hulton Archive, Getty Images
Raised by an abusive father, Mary Wollstonecraft took refuge in her work as a writer and translator. She became a renowned feminist, and in 1792 published her most famous work, A Vindication of the Rights of Woman, which stirred up considerable controversy for its assertion that women deserved a proper education. In 1797, she gave birth to her second daughter, Mary, and died 11 days later due to complications. Although she never knew her mother, Mary Wollstonecraft Godwin—who became Mary Shelley after marrying the poet Percy Bysshe Shelley in 1816—inherited her gift for writing, and at age 20, she published Frankenstein.
3. MARIE CURIE AND IRÈNE JOLIOT-CURIE
With three Nobel prizes between them, Marie Curie and her daughter Irène were pioneering scientists whose work revolutionized our understanding of radioactivity. Born in Poland, Marie Curie attended the prestigious Sorbonne in Paris and went on to, along with her husband Pierre, discover radium and polonium. The birth of Irène in 1897 didn't slow the husband-wife team down, and in time Marie and Irène would also work closely together. During World War I, mother and daughter operated mobile x-ray units that came to be known as "Petite Curies." Irène's work built upon her parents' research, and in 1935 she and her husband received the Nobel Prize in Chemistry for artificially creating a radioactive element. Both women likely died due to prolonged exposure to radiation.
4. THEODORE ROOSEVELT AND THEODORE ROOSEVELT JR.
THEODORE ROOSEVELT AND THEODORE ROOSEVELT JR. / Theodore Roosevelt: National Archive, Newsmakers. Theodore Roosevelt Jr.: Library of Congress, Wikimedia Commons // Public Domain
The 26th president and former Rough Rider instilled in his eldest son an appreciation for military history and battlefield heroism. Theodore Roosevelt Jr., or "Ted" as he was commonly known, proved his mettle as a major during World War I, where he fought in several battles and was wounded in France. After the war, he assumed a political career but reentered the military in the lead-up to World War II. Given the rank of Brigadier General, he lobbied his division commander to accompany troops during the D-Day invasion. At age 56, walking with the aid of a cane and carrying a heart condition he hadn't disclosed, Roosevelt Jr. was among the first soldiers to step foot on Utah Beach. Nearly a mile off course, he orchestrated a modified attack from the new position, calmly directing landing units as enemy fire rained down on their position. Roosevelt Jr. survived D-Day, but died of a heart attack weeks later. He was awarded the Medal of Honor posthumously, and years later, Theodore Roosevelt would also be awarded a posthumous Medal of Honor, making the Roosevelts one of only two father-son pairs of recipients.
5. ZULFIKAR AND BENAZIR BHUTTO
Pakistani President Zulfikar Alî Bhutto, whose daughter Benazir Bhutto is standing next to him, shakes hands with India's Prime Minister Indira Gandhi in June 1972. / AFP, Getty Images
Zulfikar Bhutto founded the Pakistan People's Party and from 1971 to 1977 served first as the country's president and then as the prime minister. Following a military coup, he was executed in 1979 and his daughter, Benazir, who had just returned home after attending college in the west, was placed under house arrest. Benazir inherited leadership of the PPP and, after years of careful maneuvering, became Pakistan's prime minister in 1988—the first female prime minister of a majority Muslim nation. Benazir Bhutto served just two years, followed by another stint in the '90s, all the while battling corruption charges brought by her opponents. In 2007, while attempting to mount another comeback, she was killed by a shooter/suicide bomber in Rawalpindi.
6. JIM AND BRIAN HENSON
Jim and Brian Henson / Jim Henson: John Gooch, Keystone/Getty Images. Brian Henson: Astrid Stawiarz, Getty Images.
The younger Henson began appearing on television when he was just 6 years old. That's when he appeared in the very first episode of Sesame Street, the iconic show that Jim Henson helped bring to life. At 14, Brian created puppets that his father used on The Muppet Show, and at 16 the elder Henson hired him as a puppeteer on 1981's The Great Muppet Caper. Brian's big break came in 1986 when his father named him one of the "puppeteers" (and voice) for the dwarf Hoggle in Labyrinth. After his father's tragic death in 1990, Brian Henson went on to produce and direct TV shows and films, including A Muppet Christmas Carol and Farscape, and today is chairman of The Jim Henson Company.
This story originally ran in 2017.