Climate Change Has Forced Mussels to Toughen Up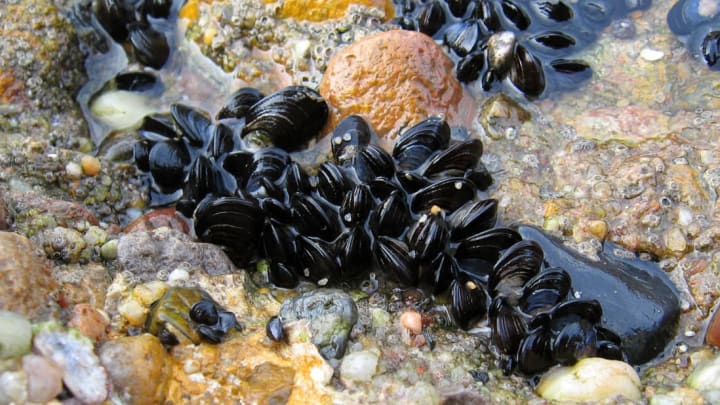 Andreas Trepte via Wikimedia Commons // CC BY-SA 2.5 / Andreas Trepte via Wikimedia Commons // CC BY-SA 2.5
Researchers writing in the journal Science Advances say blue mussels are rapidly evolving stronger shells to protect themselves against rising acid levels in sea water.
Bivalves like mussels, clams, and oysters aren't good swimmers, and they don't have teeth. Their hard shells are often the only things standing between themselves and a sea of dangers.
But even those shells have been threatened lately, as pollution and climate change push the ocean's carbon dioxide to dangerous levels. Too much carbon dioxide interferes with a bivalve's ability to calcify (or harden) its shell, leaving it completely vulnerable.
A team of German scientists wondered what, if anything, the bivalves were doing to cope. They studied two populations of blue mussels (Mytilus edulis): one in the Baltic Sea, and another in the brackish waters of the North Sea.
The researchers collected water samples and monitored the mussel colonies for three years. They analyzed the chemical content of the water and the mussels' life cycles—tracking their growth, survival, and death.
The red line across this mussel larva shows the limits of its shell growth. Image credit: Thomsen et al. Sci. Adv. 2017
Analysis of all that data showed that the two groups were living very different lives. The Baltic was rapidly acidifying—but rather than rolling over and dying, Baltic mussels were armoring up. Over several generations, their shells grew harder.
Their cousins living in the relatively stable waters of the North Sea enjoyed a cushier existence. Their shells stayed pretty much the same. That may be the case for now, the researchers say, but it definitely leaves them vulnerable to higher carbon dioxide levels in the future.
Inspiring as the Baltic mussels' defiance might be, the researchers note that it's not a short-term solution. Tougher shells didn't increase the mussels' survival rate in acidified waters—at least, not yet.
"Future experiments need to be performed over multiple generations," the authors write, "to obtain a detailed understanding of the rate of adaptation and the underlying mechanisms to predict whether adaptation will enable marine organisms to overcome the constraints of ocean acidification."