1. Bill Clinton accomplished much during the first years of his presidency.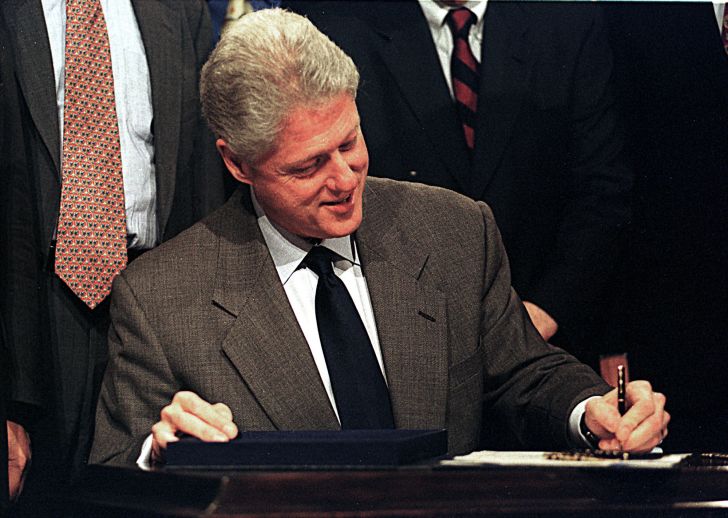 All presidents can lay claim to sweeping changes in policy, but Bill Clinton was very active with his signature. Among the policies introduced or changed during his first term in office: 
2. The impeachment of Bill Clinton during the Monica Lewinsky scandal was only the second time a president was impeached.
Clinton's second term was marred by revelations that he had been intimate with a White House intern named Monica Lewinsky starting in 1995 and continuing through 1997. During his deposition under oath for a separate sexual harassment case involving former Arkansas state employee Paula Jones, Clinton denied this affair with Lewinsky. But evidence mounted, and on August 6, 1998, Lewinsky testified about the relationship in front of a grand jury. (Lewinsky, too, had denied the affair during the Jones case, but was granted immunity by independent counsel Ken Starr for a truthful testimony this time around.) Clinton was eventually forced to acknowledge his involvement with Lewinsky in front of a grand jury and later in a press conference to the American people.
Since he originally denied any sexual relationship with Lewinsky under oath, the House Judiciary Committee voted to approve two articles of impeachment against the president in December 1998: One for perjury and another for obstruction of justice. This was the country's first presidential impeachment since Andrew Johnson's in 1868, where he was charged with improperly removing Secretary of War Edwin Stanton from office. Clinton was acquitted on both charges of perjury and obstruction of justice in February 1999.
3. Bill Clinton's saxophone solo on The Arsenio Hall Show was controversial at the time.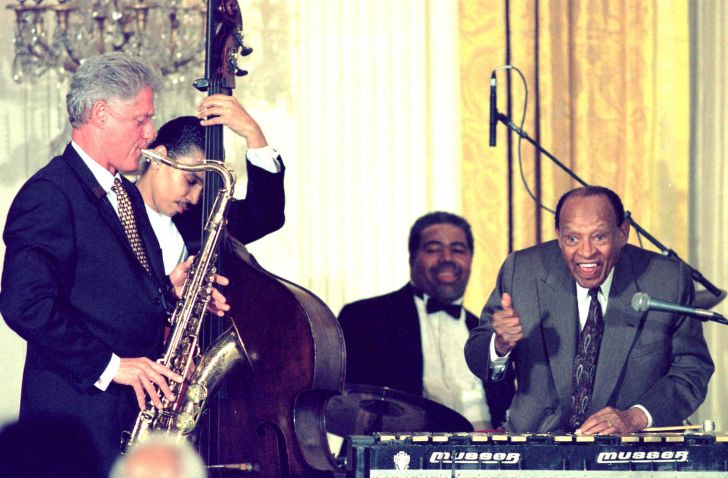 Clinton famously donned dark sunglasses and played "Heartbreak Hotel" on the saxophone during an appearance on The Arsenio Hall Show in June 1992, just one day after winning the California primary. Younger voters—whom Clinton was clearly trying to reach—were impressed, but longtime political observers felt it was in poor taste, with Barbara Walters saying, "There's something about a presidential candidate with shades on, playing the saxophone that's endearing on the one hand, but not very dignified." Conservative columnist George Will said it "coarsened" political conversation. 
4. A presidential Portrait of Bill Clinton contains a hidden message.
The Clinton portrait, which was painted by artist Nelson Shanks in 2006, is a seemingly straightforward depiction of the former president in front of a fireplace. Shanks later claimed that the painting contains a shadow over the mantle that was actually cast by a mannequin wearing a blue dress that Shanks used as a reference. The significance of a blue dress, of course, is that it was a garment that became debated during the Monica Lewinsky scandal. Shanks said he wanted to use a blue dress to literally and figuratively cast a shadow over the president. 
5. Bill Clinton's wife, Hillary, turned down his first marriage proposal.
Bill Clinton met his future wife, Hillary Rodham, while the two were both law students at Yale in 1970. When they graduated in 1973, Clinton took her on a trip to England and proposed marriage. Hillary turned him down, because she wanted time to think. Clinton proposed a second time when the two were back in the States. This time, she said yes. The two were married in Fayetteville, Arkansas, on October 11, 1975. 
6. Bill Clinton and Vice-President Al Gore share a key historical fact.
When Bill Clinton selected Al Gore as his running mate for the 1992 presidential election, he made a particular kind of history. It was the first time both a presidential candidate and his running mate were born after World War II.
7. Bill Clinton once pardoned his brother, Roger.
While in office, Clinton often had to cope with the negative attention garnered by his brother, Roger Clinton, who was once arrested in the 1980s for selling cocaine to an undercover police officer. (Clinton was governor of Arkansas at the time.) One of Clinton's final acts as president in 2001 was pardoning Roger, so he no longer had a criminal record. Unfortunately, Roger was arrested for drunk driving around the same time. He repeated the same offense in 2016.
Famous Bill Clinton Quotes: