14 Denver Slang Terms You Should Know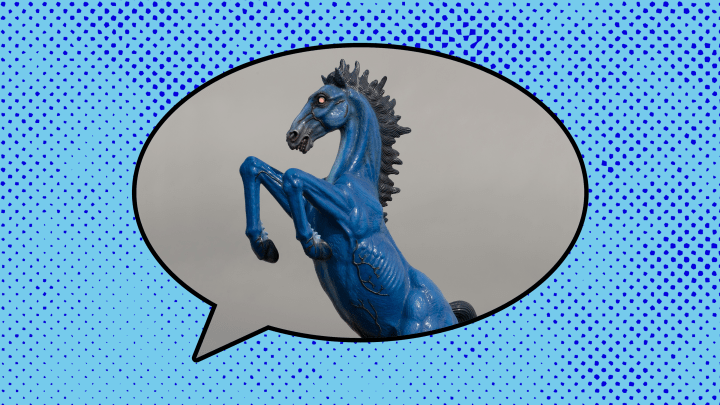 Behold: Denver Airport's 'Mustang' statue—or as Denverites call it, 'Blucifer.' / George Rose/Getty Images (statue), Justin Dodd/Mental Floss (speech bubble)
Denverites (a.k.a. people who live in Denver, Colorado) don't have much exciting slang that dates back to the days of cowboys or the Colorado Silver Boom. What we do have are a handful of terms that mean specific things within the confines of our city and state. Sometimes nicknames and shorthand are used to talk about landmarks and neighborhoods, and there are some very specific terms for cow smells, elevation, and a sculpture that killed its own artist. Here are a few words and phrases to learn before you visit.
1. Dispensary
Medical marijuana at a medical dispensary in Fort Collins, Colorado, in 2010. / Chris Hondros/GettyImages
In November 2012, Colorado passed Amendment 64 to the Colorado Constitution [PDF], making recreational use of marijuana products legal for adults. Instead of telling people you had to make a stop at "the weed store" or "the pot shop," a store selling recreational and medical marijuana became known as a dispensary; now, more than 10 years later, everyone knows the dispensary is only dispensing marijuana products.
Some insist on abbreviating this word into dispense, maybe because good slang doesn't have more syllables than the word it's replacing. As Mark Twain once said "Better to say 'dispensary' and let them assume you are a stoner than say 'dispense' and remove all doubt." (OK, Samuel Clemens never said that, but he also didn't say the version of this quote that you think he said.)
2. and 3. Western Slope and Front Range
Denver and the Rocky Mountains. / Walter Bibikow/Stone/Getty Images
If you look West from Denver, you'll see the Rocky Mountain range stretching North to South, dividing the rectangular state of Colorado into the part with the mountains and the part with the plains. The Continental Divide runs through the Rockies, and both the East and West sides of the Rockies get slang names in Colorado. The transition from the Rocky Mountains back to flat land on the Utah side is called the "Western Slope," but the one you'll hear more in Denver applies to the Eastern mountain range: the Front Range.
The Front Range area extends from Wyoming all the way down to Pueblo, Colorado, and contains around 84 percent of the state's population as of the 2020 Census. There are many major cities in Colorado that are only a short drive from the mountains, like Boulder, Denver, Fort Collins, and Colorado Springs. These make up something called the "Front Range Urban Corridor," but who wants to say all that when you could just say "Front Range"?
In Denver, the term applies to most of the major cities in the state with mountain views, including Denver itself. It's important to recognize when Front Range applies to you, because this term is widely used in local news and weather reports—so if there's going to be a strong Greeley Smell along the Front Range, close your windows, Denver.
4. Greeley Smell
Greeley, Colorado, is a city north of Denver in Weld County. It was named for newspaper editor Horace Greeley, but these days, it's better known amongst Denverites as the source of the Greeley Smell. If the air suddenly carries the aroma of cows, there's a strong wind blowing across the plains and storms are moving fast. For Denver, getting a whiff of that Greeley Smell means the weather is about to change.
Greeley has a long history of beef production that started with a man named Warren Monfort. After buying 18 head of cattle in 1930, Monfort founded the Monfort Feedlots [PDF] and developed large holdings in Greeley; by the 1970s, the company had created a streamlined process of processing beef. The company was so successful that it was bought and sold several times over the decades as it expanded beyond a family business. The operation is currently owned by JBS USA, the largest employer in Weld County.
Greeley, the town, smells like cow processing, probably because the pools of cow waste that is a byproduct of thousands of cows living near the city, and the Greeley Smell itself is mostly the aroma of cow manure. The city of Greeley has actually encouraged JBS to adopt "odor reducing technology," according to Coloradoan, and passed legislation to ban feedlots close to the city center, but the odor persists.
5. Flatlander
Flatlander is a slightly derogatory term for people who live at lower elevations used by those living at higher elevations. In Denver, the Mile-High City, the term can be applied to recent transplants and visitors to the state from Midwest and coastal cities.
The cruel twist is that people living in the Rocky Mountains can (and often do!), use flatlanders to refer to Coloradans who live in cities outside the mountains, like Denver. Even if a local spends their weekends on I-70 driving up into the mountains for recreational activities, they may still be called out for Flatlander behavior by those who call a higher elevation home. You can have a Flatlander car, wear Flatlander clothes, or just have a Flatlander demeanor, all just because you don't live in the mountains.
6. The Mousetrap
The Mousetrap outside of Denver doesn't catch vermin—it ensnares drivers. The intersection of two major interstate highways (the North/South running I-25 and the East/West running I-70) was given the nickname by a radio traffic reporter in the 1960s, and it stuck. The Mousetrap is a twisty crossroads with rising and falling ramps for switching highways, getting off the freeway, or changing directions on the interstates; it's so wacky because it was built in the early 1950s, before the interstate highway system.
The most notable incident in Mousetrap history occurred in 1984 when a military truck carrying six torpedoes overturned on one of the ramps, shutting down both the interstates and the Mousetrap for hours [PDF]. The torpedo incident led to the Mousetrap being completely redesigned in 1987 to get rid of the left exits and sharp turns, and the overhaul was finally completed in 2003. The interchange doesn't look so much like a gnarled trap anymore, but it's still a pretty bad bottleneck—so The Mousetrap keeps its name.
7., 8., and 9. LoDo, RiNo, and LoHi
Abbreviated nicknames for city neighborhoods are very common in large metropolitan cities, and Denver is no exception. If you're discussing the Lower Downtown area—where The Rockies play at Coors Field or where The Real World had a house that one time—you're talking about LoDo. If you're visiting an art gallery or hanging around the Convention Center, you're in RiNo, the River North District. (RiNo has a resident-led program to make RiNo an "arts district," so you'll often see bright orange signs, some in the shape of a rhino, that say "Art.") If you're standing in line at the Little Man Ice Cream Company or have walked west across the Millennium Bridge, you're in LoHi, or Lower Highland.
These area names are always evolving (SoBro for South Broadway has only become popular in the past few years), but the trio of LoDo/RiNo/LoHi are so commonplace, you'll get a side-eye if you ask a local what they're talking about when they mention them.
10. Cash Register Building
The Denver skyline, with the Wells Fargo Center—a.k.a. the Cash Register Building—in the center. / George Rose/GettyImages
There is a single building in the downtown Denver skyline so distinctive that it has become recognizably Denver. Currently named The Wells Fargo Center officially, everyone calls it the "Cash Register Building" because of the odd shape at the top: two uneven curves with a vertical wall connecting them, making it look like an old-timey, pre-digital cash register. It's the third tallest building in Downtown Denver and was helped into its icon status thanks to its inclusion in the Denver Skyline depicted on the Denver Nuggets uniforms from 1981 to 1993; it has also appeared in the animated Denver skyline in South Park. Architect Philip Johnson reportedly went for the cash register shape because the building was designed for a bank, though according to some sources, it was originally supposed to be built in the state of Texas.
11. The People's Republic
This phrase doesn't refer to an East Asian country—at least not in Denver. Instead, it's a nickname for the city of Boulder, Colorado, which has a reputation for being full of liberal hippies. The far left ideology that seems to emanate from the town makes it The People's Republic of Boulder to those living in the state capitol. There are a lot of Denver nicknames for other cities in Colorado, most of them used to abbreviate (the Springs instead of Colorado Springs and A-town for Aurora, to name just two) but The People's Republic is both longer and a vibe. Boulderites also don't even mind the term—that's how chill they are.
12. Blucifer
Blucifer is the name dreamt up by Denverites for the 32-foot-tall, monstrous blue fiberglass mustang statue with glowing red eyes that rears up just outside Denver International Airport. The sculpture was designed by an artist from New Mexico named Luis Jiménez; while he was working on it in 2006, part of the sculpture fell on him and severed an artery in his leg, killing him at the age of 65. Two years later, Mustang—which had been completed posthumously by Jiménez's team—was installed at DIA. As a tribute to the artist's father, who had owned and operated a neon shop, the horse's eyes are glowing red LED lights. Between killing its creator and its devilish red eyes, Denverites nicknamed the sculpture Blucifer—but despite the allusion to Lucifer, they love the big blue demon horse.
13. Colorado Kool-Aid
Colorado Kool-Aid is a term for Coors beer popularized by country music singer and Grand Ole Opry performer Johnny Paycheck in his 1977 song "Colorado Kool-Aid," which went:
"What's Colorado Kool-Aid?
Well, it's a can of Coors brewed from a mountain stream
It'll set you head on fire an' make your kidneys scream
Oh, it sure is fine"
Coors, of course, is a classic Colorado beer—the Coors Brewing Company was established in Golden, Colorado, in the 1870s. In recent years, smaller breweries have made their way inside Denver, and it's much easier to find a local IPA in the city nowadays. But if you deign to order a Colorado Kool-Aid at a bar or restaurant, you might still get a Coors if your bartender likes 1970s country music.
14. "Chili"
Most of the food in Denver is referred to familiar terms—you can get a pizza without having to call it anything special. There are some small tweaks to food language (what most of the nation calls a "Western Omelette" is called a "Denver Omelette" on the Front Range), and some interesting food lore (the sandwich known as "The Fools Gold Loaf," a monstrosity consisting of one jar each of peanut butter and jelly along with a whole lot of bacon, was reportedly made famous when Elvis craved one), but there's one food word that has an assumed meaning in Denver: Chili. It's not the brown or red kind with beans, but instead a slow roasted chile verde, preferably made with Colorado-grown green chilies and often including pork.
The dish can be eaten like a soup and is also used as a condiment that can be poured over breakfast, burgers, and burritos. Green Chili beat old Colorado classics like "microbrews" and Rocky Mountain Oysters (a.k.a. fried cow testicles) to be Colorado's Most Iconic Food in a 2019 Colorado Public Radio poll. If you see a "with Chili" option in on a menu—and it's everywhere—it means Colorado Green Chili. You can try making it for yourself with the recipe at DenverGreenChili.com.
Are you a logophile? Do you want to learn unusual words and old-timey slang to make conversation more interesting, or discover fascinating tidbits about the origins of everyday phrases? Then pick up our new book, The Curious Compendium of Wonderful Words: A Miscellany of Obscure Terms, Bizarre Phrases, & Surprising Etymologies, out June 6! You can pre-order your copy on Amazon, Barnes & Noble, Books-A-Million, or Bookshop.org.