The 10 Most Family-Friendly National Parks in the U.S.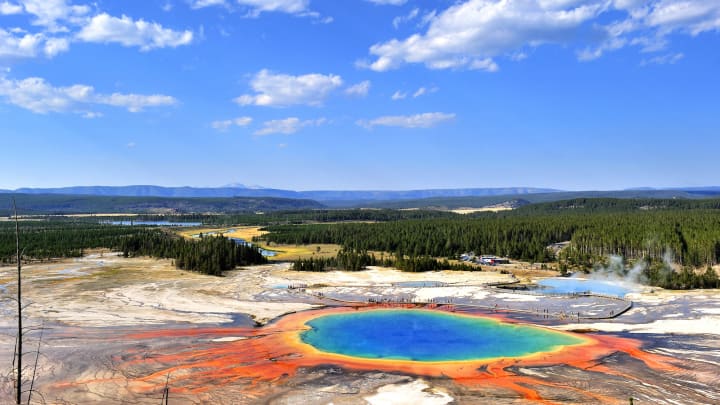 zorazhuang/iStock via Getty Images
One of the appeals of the U.S. National Park System is its diversity. Whether you're looking for a rugged hike up a cliff or a relaxing picnic by a lake, there's something for you in one of the country's more than 400 federally protected properties. Groups traveling with young children may be looking for a different kind of experience than the parks' more experienced guests. If you're planning a family vacation to a national park this year, check out the list below.
The Family Vacation Guide looked at a handful factors when ranking the most family-friendly national parks in America. Using data from TripAdvisor and All Trails, the site determined the best properties for younger visitors based on the number of family-friendly hotels, walking trails, landmarks, and attractions in the area.
Yellowstone National Park in Wyoming came out on top, with a kid-friendly rating of 9.62 out of 10 possible points. A variety of easy trails helped the park earn its top spot, as well as its offering of landmarks and attractions that keep young guests engaged over longer trips.
Coming in second place is Great Smoky Mountains National Park in Tennessee, with a kid-friendly score of 9.2 points. Despite the mountainous terrain, the park boasts 49 walking trails that are suitable for kids. Rocky Mountain National Park in Colorado, Yosemite in California, and the Grand Canyon in Arizona also make the top five.
If your family vacations tend to be hectic, you may be looking to travel to a place where you have room to breathe. After looking through the list of the 10 most family-friendly national parks, read about the least-visited national parks in the U.S. here.
Yellowstone, Wyoming

Great Smoky Mountains, Tennessee

Rocky Mountains, Colorado

Yosemite, California

Grand Canyon, Arizona

Glacier, Montana

Acadia, Maine

Death Valley, California

Grand Teton, Wyoming

Mount Rainier, Washington