Each State's Favorite Star Wars Movie, Mapped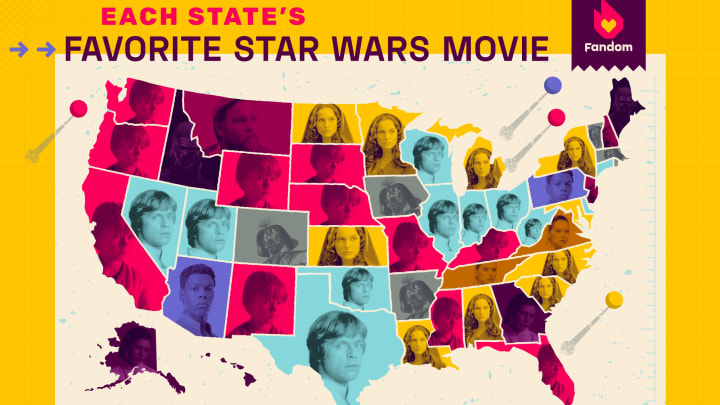 Fandom.com
Star Wars lovers across the country are observing May the 4th—or Star Wars Day—this Thursday, but how they choose to celebrate varies. Some fans of the franchise may want to revisit the original movies, while others prefer the sequel trilogy. To see which entry in the Star Wars canon your state favors, check out the map below.
This graphic was put together by Fandom.com, which hosts fan-made pages on everything from George Lucas to Droopy McCool on its Wookiepedia hub. After analyzing data from its pages, the site broke down the popularity of the nine movies in the Skywalker Saga by state.
According to most states in the U.S., the Star Wars series peaked with its first film. Star Wars Episode IV: A New Hope (1977) is the favorite title of 13 states, including Texas, Illinois, and Nevada. The other movies in the original trilogy are less popular. Star Wars Episode V: The Empire Strikes Back (1980) is only preferred by two states, and Star Wars Episode VI: The Return of the Jedi (1983) dominates six.
Many Star Wars fans agree that the first three films are the best in the series. Opinions on the later installments are more varied. According to this map, the prequel series is more popular than the sequel series. Star Wars Episode I: The Phantom Menace (1999) is beloved by eight states. All three films in the sequel trilogy—Episode VII: The Force Awakens (2015), Episode VIII: The Last Jedi (2017), and Episode IX: The Rise of Skywalker (2019)—account for just six states between them.
Even if you've seen all nine films hundreds of times, there's likely a lot about the Star Wars universe you don't know. Here are some facts about the sci-fi franchise to read this May the 4th.
Fandom.com
A version of this story originally ran in 2022; it has been updated for 2023.