11 Holiday Cookies From Around the World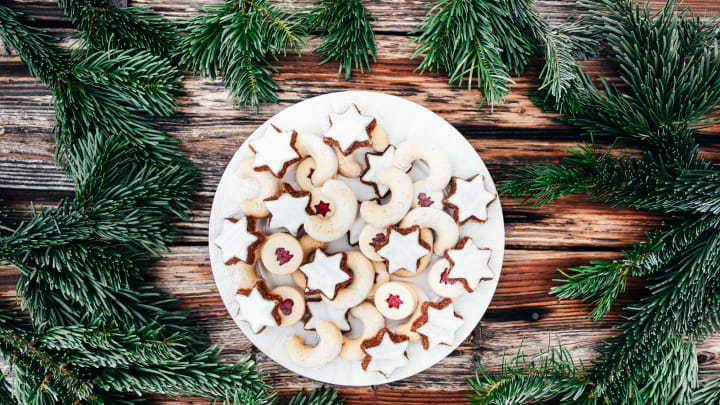 Natalia Ruedisueli/Moment/Getty Images
Across many cultures, cookies are synonymous with the holidays. They're festive, giftable, and more likely to please a crowd than fruit cake. If you want to bring something new to your annual cookie exchange, consider one of these traditional holiday treats from around the world.
1. Chrusciki
Darius Dzinnik/500Px Plus/Getty Images
Chrusciki started as a pre-Lenten snack in Poland, but the cookies' festive shape makes them a popular treat at Christmastime as well. Consisting of twisted strips of fried dough, they're known by the nickname "angel wings" in the U.S. Their powdered sugar coating (a recurring theme on this list) contributes to their wintry vibe.
2. Pizzelle
Pam McLean/Stockbyte/Getty Images
With their intricate, snowflake-like patterns, pizzelle fit right in to the holiday season. They originated in south-central Italy around the 8th century, making them one of the oldest cookies in known history. Prior to the invention of electric pizelle makers, the anise-flavored batter had to be poured into hand-held irons and suspended over a fire. 
3. Vanillekipferl 
Anna Mardo/Moment/Getty Images
According to legend, Austrians invented Vanillekipferl in 1683 to commemorate their defeat of the Ottoman Empire. The pastry's crescent shape is said to mimic the moon symbol on the Turkish flag. Today, the vanilla sugar-dusted walnut cookies are a common Christmas treat in Germany, the Czech Republic, Switzerland, and Hungary as well as Austria. 
4. Sandbakkelse
Norwegian sandbakkelse are known for their distinctive shape. They're baked in special fluted pans and served narrow-side-up so they resemble upside-down cupcakes. Made from a simple vanilla and almond batter, they're typically served around Christmas in Norway.
5. Melomakarona
Steve Outram/Photographer's Choice RF/Getty Images
Made with orange, cloves, and cinnamon, baking a batch of melomakarona is a quick way to make your house smell like Christmas. The Greek dessert is famous for its decadent honey coating. Once the cookies come out of the oven, they're submerged in a spiced syrup. We recommend eating them after opening presents to avoid creating a sticky mess.
6. Zimtsterne
Tina Terras & Michael Walter/Moment/Getty Images
It's easy to see how this star-shaped confection came to be associated with the Christmas season. Zimtsterne is a simple cookie made from almond and cinnamon. Though it's most famously connected to German cuisine, it's also a popular part of holiday spreads in Switzerland. 
7. Brunkager
ClarkandCompany/E+/Getty Images
Brunkager, or "brown cake," is Denmark's take on gingerbread cookies. They're made with traditional winter spices like cinnamon, ginger, and cloves and contain pieces of almonds incorporated into the dough. If you really want to celebrate the holiday season like the Danes, enjoy these cookies with a cup of tea beside a roaring fire for maximum hygge.
8. Ma'amoul
Sherif A. Wagih/Moment/Getty Images
Ma'amoul is a celebratory snack in Lebanon and other countries in the Middle East. The plain biscuits are stuffed with a luxurious date filling that reveals itself once you take a bite. They're served in Middle Eastern Christian households for Easter and Christmas, but the cookies are most commonly eaten during Eid al-Fitr to celebrate the end of Ramadan. 
9. Hamantaschen
stellalevi/E+/Getty Images
Hamantaschen is a traditional part of Purim throughout the Jewish diaspora. The triangular cookie is meant to symbolize the three-cornered hat worn by the holiday's villain, Haman. It's typically stuffed with a fruit or poppy seed filling.
10. Hojarascas
MiguelMalo/E+/Getty Images
If cinnamon is your favorite winter spice, add hojarascas to your holiday cookie menu. This Mexican shortbread cookie is flavored with cinnamon in the dough and an extra sprinkling of cinnamon sugar once it comes out of the oven. The simple base frees bakers to mold the cookies into whatever festive shape they desire.
11. Pryaniki
izhairguns/E+/Getty Images
Pryaniki, or Russian spice cookies, vary in their presentation. The humblest version is a bite-sized cookie with a plain sugar glaze. More impressive pryaniki are baked into loaves and branded with elaborate stamps. No matter its size and shape, the cookie's flavor profile of honey and winter spices makes it perfect for dunking in tea around Christmas or any time of year.