The Most Popular Website in Each Country, Mapped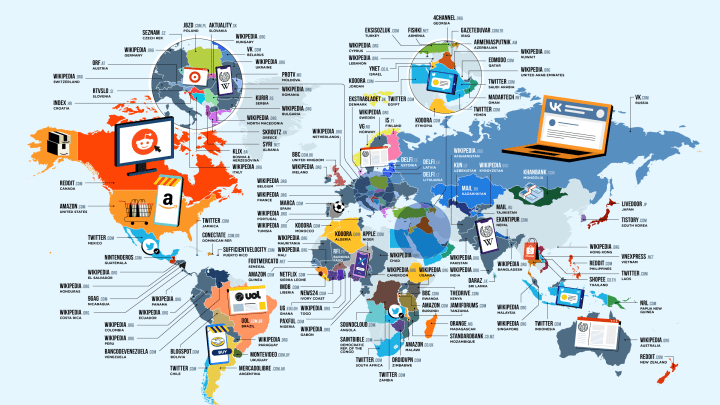 Discover if your favorite is on the list. / Hostinger
True to its name, the World Wide Web attracts users across the globe. The appeal of the internet may be universal, but the way people use it varies depending on where they live. To see the most popular website in each country, check out the map below.
The team at Hostinger put together this graphic, ranking data from Semrush's Open .Trends report published last month. Their analysis doesn't include Facebook, YouTube, or search engines, as they would overwhelm the map. Outside of those URLs, Wikipedia is the most-visited website overall, dominating traffic in 41 countries including France, India, and Australia.
Once the No.1 site is accounted for, the web-surfing preferences of different countries are fairly diverse. Twitter, the second-most popular site on the map, is the most heavily trafficked site in just 10 countries, including Mexico, Indonesia, and South Africa. Amazon—the U.S.'s top site—is the favorite of four countries, as is the Arabic sports website Kooora.
If online giants were included in the ranking, the map would look a lot different. Google is the world's most popular website by far, with international users spending a combined 213.2 billion hours on the site yearly. You can learn more about the internet's top dogs here.
Hostinger