Spot the Skull Among the Jack-O'-Lanterns in This Halloween Brainteaser
There's a skull hidden among the pumpkins in this spooky Halloween scene. If you're still stumped after a minute of searching, look for the face with the round eyes.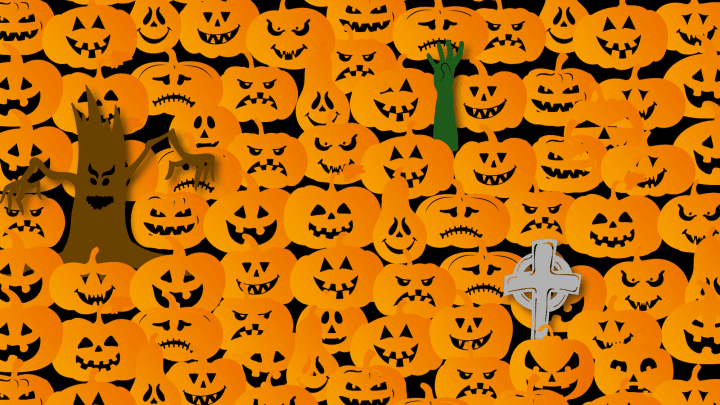 instantprint
Pumpkins come in all shapes and sizes, from petite decorative gourds to blue ribbon-winning behemoths. The illustration below shows a collection of pumpkins that have been carved into jack-o'-lanterns for spooky season. There is a diverse range of grins and grimaces on display, but one of the faces doesn't belong. See how long it takes you to spot the skull hiding among the pumpkins. 
instantprint
The UK-based online printer instantprint published this hidden image brainteaser ahead of Halloween on October 31. Along with the menacing jack-o'-lanterns, it features gravestones, a creepy tree, and an undead hand reaching up from the ground. One of the seasonally appropriate additions is harder to spot. 
Look close enough and you will notice that one of the pumpkins is actually a skull. It is the same shade of orange as the surrounding squashes, so it may take some serious searching to recognize it. If you're still having trouble after a minute, focus on the eyes; unlike the dozens of jack-o'-lanterns populating the scene, the eyes of the stowaway skull are round. And if that hint doesn't lead to success, you can check the solution on the next page of this article. 
You can find more Halloween-themed hidden image puzzles here. For a challenge that is even trickier than a brainteaser, try you're hand at carving a pumpkin in real life. Here are some expert tips for carving a jack-o'-lantern like a pro.