The Best and Worst Political Campaign Songs (But Mostly the Worst)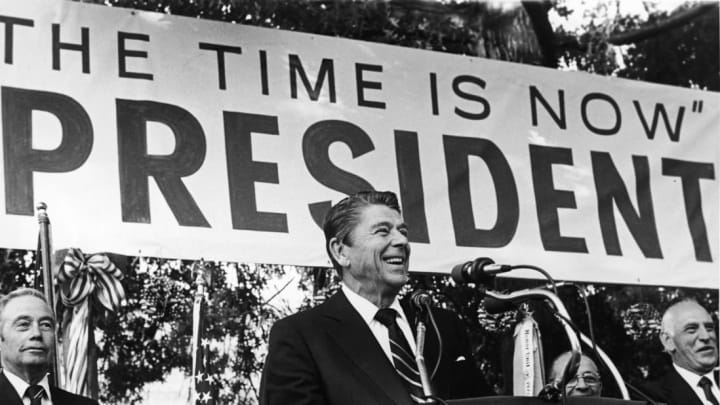 Hulton Archive/Getty Images / Hulton Archive/Getty Images
With presidential campaigns already gearing up for 2020, candidates are beginning to rally their bases, retool their talking points, and select their campaign songs—those upbeat little ditties that play at rallies, speeches and pretty much whenever a candidate walks on stage.
The art of choosing the right campaign song is not as straightforward as it may seem. For hundreds of years now, U.S. presidential candidates, world leaders, and even a few dictators have found themselves flummoxed, mocked, and, more often than you'd think, sued for selecting the wrong tune.
Here's a list of a few of the most notable, scandalous, ridiculous, or downright brilliant campaign songs ever used.
1. Saddam Hussein: "I Will Always Love You"
Iraqi dictator Saddam Hussein's selection of Whitney Houston's "I Will Always Love You" for his sham campaign in 2002 is perhaps the most wonderful, if nonsensical, choice of a campaign song in political history. Syrian pop star Mayyada Bselees' Arabic cover of the soaring love ballad (written and originally performed by Dolly Parton) was broadcast on dawn-to-dusk radio spots from Baghdad to Basra endorsing the mustachioed autocrat—just before the U.S.-led bombing campaign began in 2003.
2. Ronald Reagan: "Born in the U.S.A."
When Ronald Reagan chose Bruce Springsteen's "Born in the U.S.A." as his campaign song in 1984, a collective gasp echoed across the nation. Anyone who has actually listened to the lyrics knows it's a seething anti-war anthem, delineating, among other things, U.S. military failures in Vietnam: "I had a buddy at Khe Sahn/Fighting off the Viet Cong/They're still there, he's all gone."
3. Hillary Clinton: "Captain Jack"
Hillary Rodham Clinton hasn't had much better luck choosing her campaign ditties. In 2000, she used Billy Joel's "Captain Jack" at a rally—a song her opponent, Rudy Giuliani, gleefully pointed out is about things like getting high and masturbating.
Eight years later, during the Democratic presidential primary, Clinton let her fans go online and vote on her campaign song—a nice, democratic idea that turned into a bit of a debacle when conservative pundits began offering their own suggestions. David Brooks of The New York Times offered Hall & Oates' "Maneater." Jon Sanders of Townhall.com suggested R.E.M.'s "It's the End of the World as We Know It," and Rush Limbaugh struck below the belt with Sir Mix-a-Lot's booty-lovin' "Baby Got Back."
Clinton ended up going with Celine Dion's travel-themed love song, "You and I."
4. Silvio Berlusconi: "Thank Goodness for Silvio"
For nearly a decade, Italy's playboy-president, Silvio Berlusconi, had been campaigning to an original tune, the title of which loosely translates to "Thank Goodness for Silvio." Anyone familiar with Berlusconi's Bunga Bunga debacle won't be surprised to find out that "Thank Goodness for Silvio" comes with a series of campaign music videos, which have played regularly over the years on Italian television, and feature beautiful women hanging out in beauty salons, walking on treadmills, and performing water aerobics, while singing longingly into the camera about how great Il Cavalere really is.
5. John Quincy Adams: "Little Know Ye Who's Coming"
George Washington also went with an original tune, "God Save Great Washington," a rather thinly veiled knock-off of "God Save the Queen"—an interesting choice for the Redcoat-vanquishing general. But Washington's vaguely pro-royalist jam is nothing compared to John Quincy Adams' campaign song a few decades later, which unlike most campaign songs that try for a more positive approach, actively threatened voters if they didn't vote for him: "Fire's a-comin', swords a-comin'/pistols, guns and knives are comin'/...if John Quincy not be comin'," the singer crooned. Despite the threats, Adams lost the 1828 race to Andrew Jackson.
6. Franklin Delano Roosevelt: "Happy Days Are Here Again"
It wasn't until 1932, during Franklin Delano Roosevelt's presidential campaign, that a pre-existing campaign song was used—and it happened rather by accident. At a campaign rally one day, the man charged with introducing Roosevelt did such a terrible job, the soon-to-be president's advisors wanted to play something—anything—to get the bad taste out of the audience's mouth before FDR took the stage. The chirpy ditty, "Happy Days Are Here Again," from the 1930 musical Chasing Rainbows, just happened to be lying around. The jangly tune was such a hit, Democratic candidates used it for the next few decades, forever associating it with the party.
7. George W. Bush and Others: "Right Now"
For a few years, beginning in 2006, Van Halen's rousing jam "Right Now" became the unofficial theme song of the Republican party, with George W. Bush, Sarah Palin, and John McCain all rocking out to the hit that was MTV's 1992 Video of the Year. That is, until someone pointed out that the song comes from an album entitled For Unlawful Carnal Knowledge, which refers to criminal sodomy, and features a not-so-family-values acronym. The video laments, "Right now oil companies and old men are in control."
The Van Halen kerfuffle was just one of many problems Republican candidates in the U.S. have faced in recent years. In 2008, for instance, John Mellencamp, Boston, Foo Fighters, Jackson Browne, Heart, and a composer named Christopher Lennertz all asked the McCain/Palin campaign to stop grooving to their tunes. In 2012, Tom Petty asked GOP Rep. Michele Bachmann to quit blasting "American Girl." (He also balked when George W. Bush co-opted his defiant anthem, "I Won't Back Down," in 2004.)
8. Angela Merkel: "Angie"
German chancellor Angela Merkel ran into similar trouble in her reelection campaign in 2005, when she chose the Rolling Stones' break-up song, "Angie," as her theme song—without the band's permission, and apparently without actually listening to the lyrics, which aren't ideal for an incumbent: "With no loving in our souls, and no money in our coats/You can't say we're satisfied … /All the dreams we held so close seemed to all go up in smoke/…Ain't it time we said goodbye?"
9. Bob Dole: "I'm a Dole Man"
In 1996, Republican presidential hopeful Bob Dole also went with the name-related theme, changing the lyrics to the 1960s classic "I'm a Soul Man" to "I'm a Dole Man." A representative for the original song, which was written by Isaac Hayes and David Porter, performed by Sam & Dave, and at the top of the charts in 1967, demanded that the Dole campaign pay $100,000 in damages for every time the song was played on the campaign trail. A settlement was later reached—and Dole never played that song again.
10: Barack Obama: "Hold On, I'm Comin'"
When Barack Obama's campaign used Sam & Dave's "Hold On, I'm Comin'" in 2008, the Sam half of the R&B duo (Sam Moore) told them to stop because he had not endorsed the candidate. As the Washington Post reported at the time, Moore had other problems with the use of the tune: "When the song was first recorded by Dave and myself, it was pulled off the market because it had such sexual orientations. I don't want to get graphic with this, but how do you take a song about getting girls and turn it into a political thing? Somebody's really desperate!"
11: Hugo Chavez: Impromptu Hillary Clinton ditty
The melodramatic former president of Venezuela, Hugo Chavez, didn't have a campaign song, exactly, but he did interrupt one of his own speeches to sing a little ditty to Hillary Clinton. "I'm not much loved by Hillary Clinton," he crooned. "And I don't love her either, lada da da!" The song was short, but it was a crowd-pleaser—the assembled students cheered him on for several minutes afterward.