12 Comics to Get Your Kids on Free Comic Book Day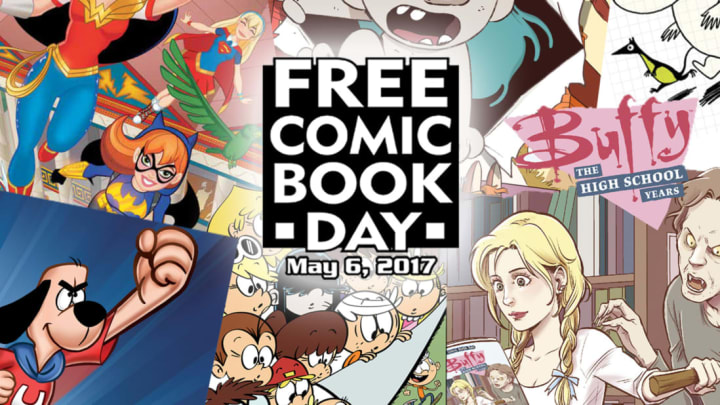 Clockwise (l to r): DC Comics, Nobrow Press, Drawn & Quarterly, Dark Horse Comics, Papercutz, American Mythology Productions / Clockwise (l to r): DC Comics, Nobrow Press, Drawn & Quarterly, Dark Horse Comics, Papercutz, American Mythology Productions
Every year, comic book shops around the world celebrate Free Comic Book Day with in-store events, creator signings, cosplay, and (of course) free comics. This year's events will be held on Saturday, May 6, and most shops will have up to 50 different free comics spanning a wide range of genres for all types of readers. Free Comic Book Day is an especially great opportunity to introduce the joy of comics to young readers. Below is a list of some of the free comics you and your kids (from early readers up to teenagers) can try to snag at your local comic shop (get there early!). You can see a full list of what will be available here.
Dark Horse Comics
What is it?
Joss Whedon and Dark Horse Comics team up to bring us more adventures of Buffy's early years as a 16-year-old who is still getting the hang of taking out vampires. Unlike most Buffy comics that stick pretty close to the tone of the Whedon-directed TV program, this FCBD comic is a little lighter and more cartoony in style. It also includes a Plants vs. Zombies backup story based on the popular video game.
Who's it for?
Of course hardcore Buffy fans will be interested in this, but it is intended for younger, pre-teen readers as opposed to more standard Buffy fare, which is usually a bit darker and more sophisticated.
DC Comics
What is it?
To accompany a new toy line and an animated YouTube series, DC has been putting out a series of graphic novels about a superhero high school featuring cute teen versions of their most popular female heroes (and anti-heroes) like Wonder Woman, Supergirl, Harley Quinn, and Poison Ivy. As the show begins its second season, a third graphic novel is soon to be released. This comic previews a story from that book, Summer Olympus.
Who's it for?
These are made to appeal to young girls—the toys are designed to look like Barbie dolls—and the lighthearted, school-oriented nature of the stories is appropriate for early readers.
Boom! Studios
What is it?
Boom! Studios has hit a sweet spot with their fantasy and adventure comics for teen and pre-teen girls. This is thanks mostly to the success of their supernatural summer camp series Lumberjanes, and their Free Comic Book Day sampler has excerpts from three series that should have a similar appeal. The first is a new story from David Petersen's popular Mouse Guard, a long-running fantasy adventure series about medieval mice. The second is from a new series about Brave Chef Brianna, who is trying to start her own restaurant in a place called Monster City. And the third, Coady and the Creepies, is firmly in the Lumberjanes domain as it features an all-girl punk rock band, one of whom is secretly a ghost.
Who's it for?
A lot of Boom! Studios books aim for the type of readers that enjoy Cartoon Network shows like Adventure Time, so this is going to be a good choice for boys and especially girls ages 12 and up.
Oni Press
What is it?
John Allison had a recent hit adapting his webcomic Giant Days into a popular new monthly comic for Boom! Studios, but over at Oni Press, his other webcomic, Bad Machinery, is now in its seventh collected volume. Both comics are related in that they are spin-offs of Allison's last long-running webcomic Scary Go Round, but where Giant Days focuses on the daily lives of three university-age young women, Bad Machinery is about a group of boarding school kids solving surreal mysteries around town.
Who's it for?
These are smartly written comics with a decidedly British humor that will probably appeal to pre-teen readers. The Scooby-Doo-like mysteries are kind of wacky but often take a backseat to the snappy repartee between the large cast of quirky teens.
Nobrow Press
What is it?
Luke Pearson's delightful Hilda series stars a precocious and adventurous young girl who lives in a world populated by magical creatures. Last year's Hilda and the Stone Forest ended on a cliffhanger when Hilda woke up transformed into a troll, and this FCBD comic features a preview of the upcoming sequel. As a bonus, it also includes a preview of Jen Lee's upcoming Garbage Night, about a group of teenage animals journeying across a desolate wasteland where humans have gone missing.
Who's it for?
Hilda is one of the great all-ages comics right now (and is soon to become an animated series for Netflix). It's great for early readers and older, but the subject matter of Garbage Night may skew closer to teenage readers.
IDW Publishing
What is it?
These guys need no introduction, though you may forget that the Ninja Turtles originated as a comic book back in 1984 before conquering every other possible medium out there. They're still going pretty strong as an ongoing comic series, and this issue kicks off a big new story involving longtime antagonist Krang as well as a brand-new villain.
Who's it for?
Probably boys, and probably in that pre-teen age range as there is a certain amount of inevitable ninja violence to be expected.
Action Lab Entertainment
What is it?
The popular French animated series arrived in the U.S. last year and will debut its second season this June. To coincide with the show, Action Lab Entertainment is putting out a new graphic novel series based on the series. It's about a teenage girl who has a crush on a boy she knows. She has a double life as a superhero named Ladybug who reluctantly accepts help from an unneeded sidekick named Cat Noir who, little does she know, is actually her crush.
Who's it for?
Primarily for girls aged 8-12 who will appreciate this female hero who can take care of herself.
Papercutz
What is it?
Based on the hit Nickelodeon animated series, this new series of graphic novels from Papercutz follows the adventures of 11-year-old Lincoln in his full house with 10 sisters. The comics are written and drawn by the show's creator and animation crew, so fans should have no reason to be let down.
Who's it for?
Any kid with siblings will appreciate Lincoln's plight. Like the show, these are written for kids in the 9-12 age range.
Drawn & Quarterly
What is it?
Drawn & Quarterly, the prestigious publisher of high-quality literary graphic novels, has built up a collection of wonderful international children's comics over the years, many of which are sampled here. It includes reprints of famous works like Tove Jannson's Moomin and Shigeru Mizuki's Kitaro, plus brand new comics like Elise Gravel's imaginative collection of sketches If Found…Please Return and Anouk Ricard's hilarious ensemble comedy Anna & Froga.
Who's it for?
These are all great comics for early readers, although the humor and storytelling may be a little subtle and culturally different than some kids are used to.
American Mythology Productions
What is it?
"Speed of lightning, roar of thunder..." The latest character to be transported from the childhoods of adults to today's comic book market is Underdog. The 1960s cartoon series with a memorable, rhyming catchphrase, "There's no need to fear, Underdog is here," was a fun send-up of Superman, and this comic should have the same appeal.
Who's it for?
To be honest, probably parents who remember watching the show when they were kids, but that doesn't mean younger readers won't appreciate what we used to enjoy about this character.
Image Comics
What is it?
A pioneering but dysfunctional "first family in space" crash lands on a primitive planet, and their only chance of survival is the help of a native wildling. This is the latest adventure series from writer Joe Kelly, co-creator of Cartoon Network's Ben 10, and inspired by the old Hanna-Barbera adventure series like Jonny Quest and Herculoids. The first full volume of this series is now on sale, and this Free Comic Book Day sampler presents the first chapter.
Who's it for?
This is pretty safely in the all-ages category with pre-teen boys being the main target.
Tokyopop
What is it?
Descendants is the surprise made-for-Disney Jr. hit movie about the teenage children of Disney villains like Maleficent and the Evil Queen who are sent to prep school with all the "good" children of characters like Belle and Sleeping Beauty. The manga adaption of the movie from TokyoPop is excerpted here in the FCBD sampler.
Who's it for?
If you have a daughter in the 6-12 age range they probably already know about Descendants and will want to read this.