6 Smart Questions to Ask When Buying a Bike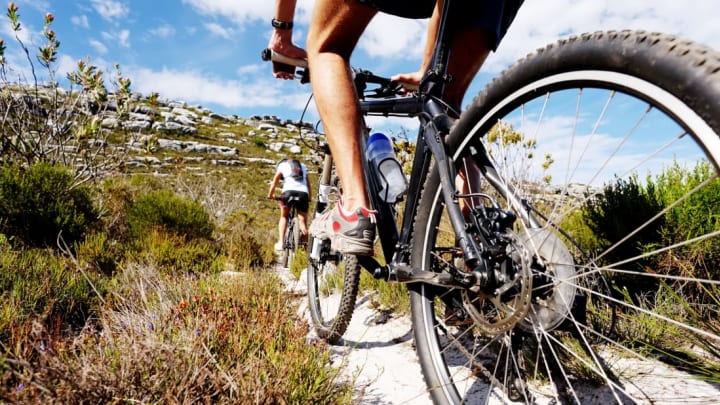 iStock / iStock
Since May is National Bike Month, it's prime time to get outside and spin your wheels. Haven't been on a bicycle since your childhood 10-speed? Well, you know what they say about riding a bike. But while the actual act of pedaling should feel like second nature, knowing what bike to get isn't so easy. Walking into a bike shop can be totally intimidating: There are tons of models to choose from, additional components and accessories for sale, and, often, serious cyclists in spandex hanging around—it's enough to make any newbie nervous.
A good bicycle shop employee will ask you several questions (about your experience, where you plan to ride, etc.) to help narrow down what bikes you might like. But being ready with some questions of your own will help you feel confident as you browse and purchase a new two-wheeler.
Consider this your cheat sheet. Keep reading for the top questions you should ask a salesperson to make sure you're in a good shop and buying the right bike for you. Then go out and enjoy the ride!
1. DO YOU ALLOW TEST RIDES?
Why ask this? If you're buying from a good shop, they'll likely get you set up and fit the bike for you. While that helps with ensuring a comfortable ride, it can't "give you the real-world sensation of actually riding the bike on the open road," says Sam Dodge, Global Business Manager of GURU Sports.
He suggests testing a couple bikes for a short ride around the block and treating it as though you're tasting wine. Compare the models closely, taking note, for instance, if one of them seems to brake more smoothly or handle bumps better. "Once you are happy with the functionality of the bike, you can shift your focus towards the more important options—like what color you are going to buy!"
2. IF I BUY A BIKE, WHAT LEVEL OF FIT DO YOU OFFER?
iStock
Why ask this? If your bike isn't adjusted to fit your body, it won't be comfortable to ride—and could lead to injury. "Some shops along with the tune-up plans will offer a basic fit at time of purchase," says Dodge. "At the very least, the shop should set your saddle height correctly and advise you on adjustments that might need to be made on the bike."
Once you're on the bike, the salesperson might notice that you could be better off, for instance, if you swap out the saddle (read: seat) or handlebar that came with the bike with another type. While you're on the subject, ask this follow-up question, too: Does the fit come with a follow-up session a few weeks down the road? It's good to know you can pop back in if you need to make additional adjustments.
3. WHAT'S THE DIFFERENCE BETWEEN THE GROUPSET ON THESE BIKES?
Why ask this? One of the details that affects the price of a bike is its groupset, which refers to mechanical components like the shifters, chain, and cassette. Some of the pricier ones might weigh less and shift a bit more smoothly, but it's not necessarily worth your extra dollars if you're a cycling novice—so inquiring might help you choose a less expensive (but still fantastic for you) option.
4. DO YOU OFFER FREE TUNE-UPS? AND WHAT'S INCLUDED?
iStock
Why ask this? Many shops will do a basic tune-up of your bike for free within the first year, sometimes longer. If you're in a shop that doesn't, it might be worth checking out another store. "It is definitely worth looking at what is being offered and understand what is included in that free tune," says Dodge. However, don't assume that a flat tire or worn-out brakes will be replaced free of charge without asking. "Most good shops will explain their policy so that your expectations are set at the time you're buying. Ultimately they want to see you again and make sure you are happy with your purchase."
5. DOES THE SHOP OFFER ANY SORT OF BIKE MECHANIC 101 COURSES?
Why ask this? It's smart to be able to handle a little simple maintenance—like changing a tire or fixing a chain that's slipped off—on your own, because you might be riding miles away from a shop when a problem like these pops up. "A flat tire is a nearly inevitable rite of passage for the new cyclist," says Dodge. "Having the right tools and knowledge to get you back on the road is a great life skill to have."
6. DOES THE SHOP HOST A WEEKLY GROUP RIDE? ARE ALL LEVELS WELCOME?
Why ask this? It's more fun to ride with friends! Plus, when you're starting out, it can make you more confident, says Dodge: "If you are not super comfortable with the road or trails, this is a great opportunity to learn the best places to ride." Bonus: You'll easily pick up the best etiquette and rules of the road—which is great because no one likes a rude rider. "It's always better to a get thumbs-up and not the middle finger from other cyclists and motorists."