Which Americans Have The Longest Commutes? Take a Look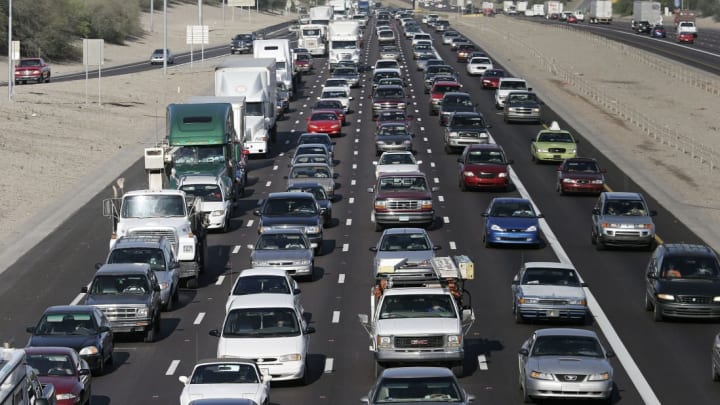 Jeff Topping/Getty Images / Jeff Topping/Getty Images
A long commute affects more than just whether or not you'll get to work on time. Spending hours getting to and from the office (especially by car) can make you feel worse about your job and affect your health. While certain gifts for people with long commutes could help, it might not be enough to make the experience less stressful.
So which U.S. areas have the most soul-crushing commutes? Chase Sawyer, a statistician who runs the visualization site Overflow Data, recently mapped out the answer, as CityLab reports.
Using data from the Census Bureau's American Community Survey collected between 2011 and 2015, Sawyer created an interactive graphic that examines average commute time across the U.S. Unsurprisingly, commute times near New York City and Washington, D.C. are some of the longest. (Ditto for the Denver area.) Commute times in much of the Midwest are rather short, and in Alaska, they're virtually nonexistent.
You can play with the interactive version of the graphic on the Overflow Data site.
The data, organized by county, shows that Pike County, Pennsylvania (which is part of the New York-Newark-Jersey City metropolitan area) technically has the longest average commute time in the nation, clocking in at 44 minutes. Most of the other super-long commutes are taken by New York City workers, including in the Bronx and Brooklyn, where the average commute times are all more than 40 minutes long. Meanwhile, in some Alaskan counties, average commutes can be as short as five minutes long (meaning many people likely live and work in the same location).
Bear in mind that not every commute looks the same, and how you get to work is as important as how long it takes you. Workers in Brooklyn and the Bronx might be spending an hour on the train each way, but research has shown that workers who take public transit are much happier than those who drive. So a 40-minute commute in a metropolitan area on a train might be nowhere near as awful as a gridlocked commute in a suburban area would be. We're looking at you, Southern California.
[h/t CityLab]
This article was originally published in 2017 and has been updated.