Archaeologists Are Recreating Recipes from 17th-Century Ships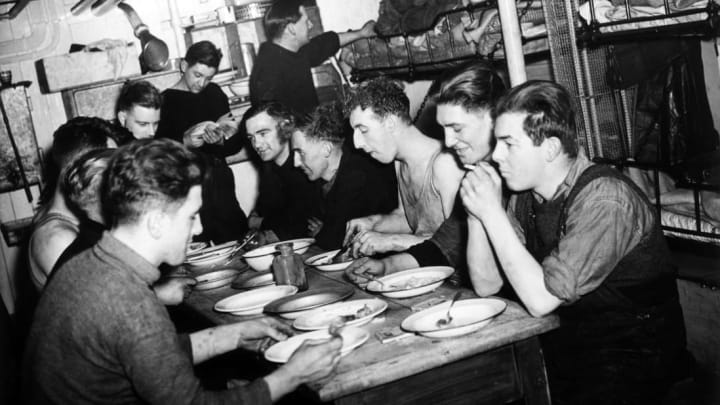 Arthur Tanner/Getty Images / Arthur Tanner/Getty Images
If ships' logs and sailors' diaries are to be believed, the gastronomic situation during early voyages across the Atlantic was dire.
"Lady Sea will not tolerate or conserve meat or fish that is not dressed in her salt," wrote Spanish explorer Eugenio de Salazar in his complaint-filled 1573 letter that's now dubbed "The Landlubber's Lament." He griped that water is rationed "by the ounce, as in a pharmacy," and he described wooden plates "filled with stringy beef joints, dressed with some partly cooked tendons." Other food, Salazar said, is so "rotten and stinking" that you'd be better off losing your sense of taste and smell just to get it all down.
Most chefs would be happy to leave this grim slice of food history behind. But a group of archaeologists in Texas has just begun an unusual experiment to faithfully recreate the menu onboard a typical transatlantic sailing ship. By doing so, they hope to learn more about sailor nutrition.
"We use modern standards to extrapolate health from the past," project leader Grace Tsai, a doctoral student in Texas A&M University's nautical archaeology program, tells Mental Floss. "But you won't know [the food's] nutritional value until you actually make it with a historical recipe and get that tested in a lab."
Over the last few months, Tsai and her colleagues have been perfecting 17th-century recipes for provisions like ship's biscuit (a long-lasting dry cracker) and salted meat. On August 19, they loaded their canvas sacks and heavy barrels into the hold of a 19th-century tall ship named Elissa that's moored in Galveston. They'll perform nutritional and microbial analysis on the food every 10 days over the next three months.
Erika Davila
Without canning or refrigeration, salting was indeed the most popular way to preserve food for long journeys. And when sailors would reach new lands, they preserved whatever animals they could hunt. Richard Wilk, an anthropologist at Indiana University who is not affiliated with the project, said there are some accounts of hungry sailors in the Southern Hemisphere stuffing casks with salted penguins. "Basically, if it was meat and they could salt it and dry it, then they could carry it around with them," Wilk tells Mental Floss.
Nearly every account from European vessels between the 16th and 18th centuries lists salted beef, which is similar to corned beef, among the provisions, Tsai said. So her team butchered a steer and a hog to make salted beef and salted pork. They based their cuts of meat on the bones that were found at the shipwreck of the Warwick, an English galleon carrying supplies to Jamestown, Virginia, that sank in 1619 off the coast of Bermuda during a hurricane. They followed a recipe from a 1682 English text on salting food, ordered salt from France, and consulted local environmental officials in Texas to find the purest river water to make their brine.
Though it was probably warm and flat, beer could make or break a voyage, too. Useful as a social lubricant, beer was also often cleaner than drinking water, and it provided some calories, nutrients, and probiotics, Tsai noted. One bit of American lore that suds enthusiasts love to cite is that beer might have played a role in the lost Mayflower pilgrims' decision to settle down at Plymouth, Massachusetts. "We could not now take time for further search or consideration, our victuals being much spent, especially our Beere," Governor William Bradford explained in his diary.
Tsai plans to add casks of 17th-century-style English beer to the Elissa in November. To make their own brew even closer to the original, the Texas team is trying to secure a yeast culture from 220-year-old bottles of beer found at a British shipwreck in Australia. (Tsai said a sponsor of the project, Texas's Karbach Brewing Company, will eventually make a commercial version of their historical beer.)
Changes in temperature and humidity, and the rocking of the waves, could have affected the food on early transatlantic voyages, too. That's why the researchers are storing their supplies in the Elissa instead of a lab. They expect to find not just colonies of microbes, but insects, too. "The ship's biscuit would almost always grow weevils," Tsai said. And English sailors, sticklers for tradition, didn't use an airtight container for the crackers, but a canvas bag. Exposed to sea air and humidity, the biscuits often became moldy and mushy over time.
The team made this salted beef using a 17th-century recipe. / Grace Tsai
In some ways, the project in Texas isn't a totally new idea. In recent years, brewers have attempted to resurrect Egyptian ales and Iron Age meads. Experimental archaeologists have tried to recreate Stone Age barbecues and butchering techniques. Food historian Ken Albala of the University of the Pacific pointed out that sites like Hampton Court Palace in London, Colonial Williamsburg, and Plimoth Plantation serve historical meals regularly, though those institutions tend to be less adventurous about preserving and curing. "Modern people are indeed very frightened about food poisoning, so things like this that can go wrong are usually beyond their comfort zone," Albala, who is not involved in the Texas project, tells Mental Floss.
Tsai saw those limitations firsthand while doing research at Colonial Williamsburg. Dressed like a colonial boy (the adult clothes were too big for her), she went behind the scenes at the living history museum for two weeks to learn more about handling the watertight oak barrels she'll be using for the project. She noticed that the cooks at Colonial Williamsburg were using a brine recipe for salted beef that called for 35 pounds of salt to 8 gallons of water, but her 17th-century recipes say the brine is ready when it floats an egg. "That's actually a lot less salt," Tsai said. While historical reenactors may alter recipes for public safety reasons, the Texas team is aiming for authenticity.
When the team opens the barrels, they'll look for caloric content, water content, sodium, vitamins, and minerals. Tsai is particularly interested in what kinds of bacteria she'll find growing on the food—not just the disease-causing bugs, but probiotics, too.
"We barely ever eat anything that has probiotics anymore, and even when we do it's a strict genre," Tsai said. She suspects that sailors ingested a more diverse group of microbes than we do today, and investigating these organisms could shed light on changes in the human gut microbiome as modern diets have become bound to better hygiene standards.
A barrel of salted beef is hoisted into the Elissa. / Grace Tsai
"If they do it correctly, the food should still be palatable, but whether it's going to stand up to modern scientific standards of 'ok to eat,' I can't really guess," Albala said. "Of course, on many ships in the past, the food did indeed go bad. Sometimes they ate it anyway because they had no choice. It would have been a luxury to toss it."
Because of safety concerns (and institutional review board restrictions), Tsai and her colleagues won't get to eat the meat they're storing on board the Elissa. But she has an idea of how the salted beef might taste after preparing some she got from Colonial Williamsburg. "You know that metallic taste you get when you have a bloody nose? It tasted like that."