11 of the Best-Loved Regional Candies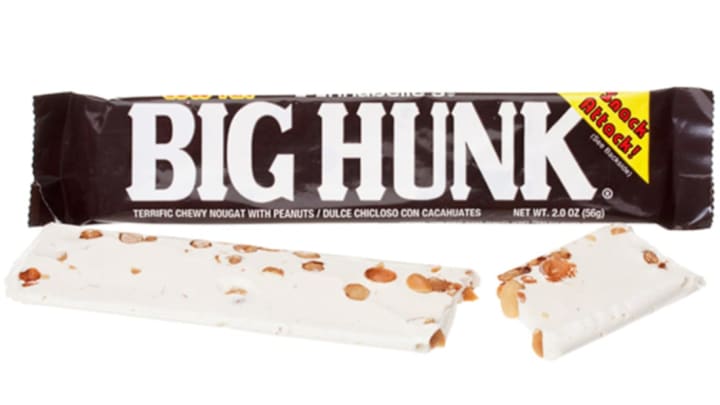 Candy Warehouse / Candy Warehouse
Some regional candies, like Almond Roca from the Pacific Northwest, become widely available all over the country. But some never break out of their region. Most of these candies are available beyond their state of origin, but you have to hunt to find them. What sweet treat is your home state known for?
1. Big Hunk
These candy bars are slabs of nougat embedded with roasted peanuts, made by Annabelle Candy Company in Hayward, California. The company also makes the lesser known Abba-Zaba, which are white taffy bars surrounding a peanut butter center. Both candies enjoy a cult following in California, although they can be hard to find in other parts of the country.
2. Goo Goo Cluster
Wikimedia Commons
The Goo Goo Cluster is a southern treat made of caramel, marshmallow and peanuts, all covered with chocolate. They had their 100th birthday in 2012, and are available all over the state of Tennessee.
3. Cherry Mash
Wikimedia Commons
This midwestern favorite, made since 1876 in St. Joseph, Missouri, has a chocolate and crushed peanut exterior, and a cherry nougat center. The company's website has a crowd-sourced map of places where you can buy the candy. It's widely available in the midwest, and only occasionally found elsewhere.
4. The Idaho Spud
Wikimedia Commons
The Idaho Spud is dark chocolate coated with coconut, and a chocolate marshmallow center. Idaho Candy Company has been making them for 95 years.
5. Red Coconut Balls
Courtesy of Hawaii Candy
These confections have been made on the Hawaiian island of Oahu since the 1930s. They look like some kind of insane bite-sized macaroon. The company, Hawaii Candy, also makes a line of mochi candy, including a peanut butter variety. We're a little alarmed by that one.
6. Candy Sunshine
This candy is a recent attempt to recreate a discontinued Wisconsin favorite called Candy Raisins, which were apparently devoid of raisins. They're little yellow-orange gumdrops, and we can't seem to find a clear description of their taste. Honey? Violets? Ginger? We're almost curious enough to order a bag from the company's website.
7. Peanut Chews
Courtesy of Candy Warehouse
These chewy candies are a Philadelphia tradition, first made to serve as soldiers' rations during World War I. They're chewy molasses and peanut rectangles, coated with chocolate. We recommend the dark chocolate variety. The makers of Peanut Chews, Goldenberg Candy Company, was purchased by Just Born in 2003, the same company that makes Mike and Ike and Hot Tamales.
8. Aplets & Cotlets
Courtesy of Liberty Orchards
Aplets & Cotlets are a fruity version of Turkish Delight—nuts in jellied apple and apricot juice, coated lightly with powdered sugar. They originated at Liberty Orchards in Washington state. They're difficult to find in stores outside the West Coast, but it's possible to buy them online. Some people prefer the Cotlets because they're tangier.
9. Melty Bar
This candy is another Wisconsin favorite made in the town of Oshkosh. It's chocolate with chocolate on top—whipped chocolate surrounded by a milk chocolate exterior. Did we say chocolate enough times? The company's website calls it "The aristocrat of candy bars."
10. Nut Goodie
Wikimedia Commons
These treats hail from Minnesota. When it was first marketed in 1912, it cost 5 cents. It has a maple center with chocolate and peanuts on the outside. Yes, please.
11. Sponge Candy
Courtesy of All That Chocolate
Sponge Candy has a crunchy, quickly dissolving center that tastes like molasses. The outside is coated with chocolate. Sponge Candy is made in New York, and is too delicate to be shipped in warmer months. Unlike the rest of the candies on the list, this is not a name brand candy, but it is a regional favorite nevertheless.