11 Museums Devoted to Musicians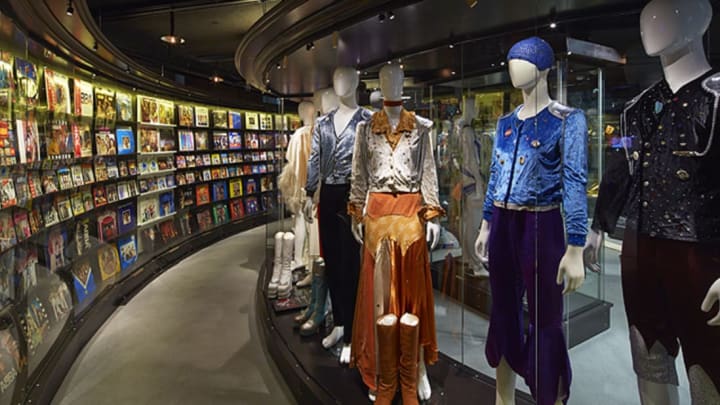 ABBA the Museum / ABBA the Museum
Museums aren't just staid institutions that chronicle the history of the world, or the development of arts and sciences; there are also plenty of venues that let you learn about your favorite musical acts. Take a look at 11 of our favorite museums devoted to rock groups, classical composers, and more.
1. ABBA the Museum
This museum follows Sweden's most famous pop group from its early days to its "Dancing Queen" heyday and beyond. There are more glittery costumes and gold records than ABBA had pop hits, but you'll also find interactive elements, including a disco-inspired dance floor and a red telephone that visitors can answer if it rings (apparently, only four people have the number—we're betting we can guess who).
2. Graceland Mansion
Courtesy of Elvis Presley Enterprises, Inc.
Elvis Presley bought this nearly 14-acre property in Memphis in 1957 (buying price: $100,000), and called Graceland home until his death in 1977; it opened as a museum five years later. Visitors can see the King's touring costumes, his car collection, and the "Jungle Room," but not everything is open to the public: the mansion's entire second floor, including Presley's bedroom and the bathroom where he died, is completely off-limits.
3. The Beatles Story
Courtesy of Mark McNulty
Even superfans will find out something they didn't know about the Fab Four by visiting this museum, located in the Beatles' hometown of Liverpool, England. You'll find items like Lennon's glasses; one of George Harrison's first guitars; a gallery of little-seen photos of the band by Paul Berriff (who rediscovered the collection in his attic in 2010); and a recreation of the Cavern Club, a basement bar where the band performed—and where Beatlemania began.
4. "Chasing Rainbows" at Dollywood
Courtesy of Dollywood
This museum opened on the grounds of Dollywood in 2002. It's filled with Dolly memorabilia, including stage costumes and outfits from movies like 9 to 5, and a plethora of awards the spunky performer has won throughout the years. Plus, milestone moments in Dolly's life are documented as they happen: She received an honorary doctorate from the University of Tennessee in 2011, and her cap and gown, as well as the dress she wore to the ceremony, are now on view.
5. Anne Murray Centre
Courtesy of Anne Murray Centre
Canadian singer Anne Murray is so revered in her hometown of Springhill, Nova Scotia—known mostly for coal mining—that a museum devoted to her legacy opened there in 1989. The small institution operates from May to October, and visitors can check out artifacts from Murray's life, including outfits, gold records and instruments. There's also a teeny recording studio where superfans can lay down a virtual duet with the songstress.
6. Mozarthaus
Courtesy of Mozarthaus Vienna/David Peters
Vienna's most famous export (no, not chocolate) is the subject of this museum, located in an apartment that Mozart occupied from 1784 to 1787. (The composer was born in Salzburg, but wrote his most famous works, including The Marriage of Figaro and The Magic Flute, in Vienna.) Much of the museum is about Mozart's music, but you can also get a glimpse at how he spent his free time—there's an entire room devoted to games, a particular passion.
7. The Allman Brothers Museum at the Big House
Courtesy the Allman Brothers Band Museum at the Big House
The members of the Southern rock band used this Macon, Georgia residence as a home base during their earliest years, and it reopened as a museum in 2009. Visitors can explore the sprawling home's rooms—including ones decorated to look as they did when Duane and Gregg Allman lived there in the early '70s—and see the band's old instruments, clothes, photos and more.
8. Ramones Museum & Bar
Courtesy of Luca Volpi via Wikimedia Commons

A museum about New York's most famous punk rockers is in … Berlin? Yup: Die-hard Ramones fan Flo Hayler opened the venue after his collection of memorabilia grew too large to keep in his apartment. Now, those items—along with T-shirts, photos, band members' leather jackets, and much more—are on display; the venue also occasionally hosts punk-rock concerts.
9. Bob Marley Museum
Courtesy of Wikimedia Commons

Five years after Bob Marley's death in 1981, his wife Rita turned their Kingston, Jamaica home into an institution focused on his life and legacy. The house, shaded by palm trees, showcases Marley's personal artifacts, such as his awards and gold records, and clothes he wore while performing. The museum also holds a weeklong celebration of Marley's birthday each February.
10. Willie Nelson and Friends Museum and General Store
Courtesy of Willie Nelson and Friends Museum and General Store
This shrine to the country legend is just one of several famous music museums in Nashville—it's across the street from the Grand Ole Opry House. The institution holds many artifacts from Nelson's lengthy career, including the guitar he used for his debut at that famed neighbor in 1963. (Some were even purchased during auctions held by the IRS in the early '90s, when Nelson owed the government upwards of $16 million.)
11. The Kalakuta Republic Museum
Afrobeat musician Fela Kuti's onetime home in Lagos, Nigeria reopened as a museum celebrating his life and activism in late 2012. Some of the items on view are normal day-to-day pieces—including the performer's flamboyant clothing and shoes—while others, such as newspaper clippings and Kuti's writings, honor his legacy as a political firebrand.