One Photographer's Quest to Document Every Frank Lloyd Wright Structure in the World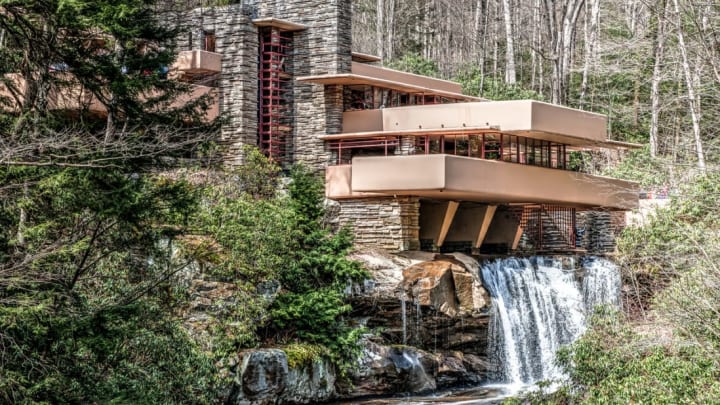 iStock / iStock
From California's Marin County Civic Center to the Yokodo Guest House in Ashiya City, Japan, Frank Lloyd Wright's influence spans countries and continents. Today, 532 of the architect's original designs remain worldwide—and one photographer is racking up the miles in an attempt to photograph each and every one of them, according to Architectural Digest.
Andrew Pielage is the Frank Lloyd Wright Foundation's unofficial photographer. The Phoenix-based shutterbug got his gig after friends introduced him to officials at Taliesin West, the late designer's onetime winter home and studio that today houses the Frank Lloyd Wright Foundation and Taliesin, the Frank Lloyd Wright School of Architecture.
Higher-ups at Taliesin West allowed Pielage to photograph the property in 2011, and they liked his work so much that they commissioned him for other projects. Since then, Pielage has shot around 50 Wright buildings, ranging from Fallingwater in Mill Run, Pennsylvania, to the Hollyhock House in Los Angeles.
Pielage takes vertical panoramas to "get more of Wright in one image," and he also prefers to work with natural light to emphasize the way the architect integrated his structures to correspond with nature's rhythms. While Pielage still has over 400 more FLW projects to go until he's done capturing the icon's breadth of work, you can check out some of his initial shots below.
[h/t Architectural Digest]