Airbnb is Giving Away a One-Night Stay in Denmark's LEGO House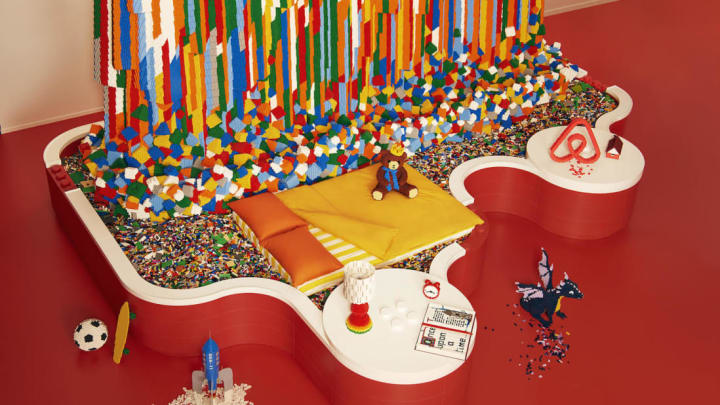 Airbnb / Airbnb
The LEGO toy company opened its 130,000-square-foot LEGO house in Billund, Denmark, at the end of September. The attraction, which contains 25 million interlocking bricks used to make everything from furniture to dinosaurs, is a LEGO-lover's fantasy. Now fans of the toy brand can enter for a chance to spend the night there.
For one night only, one lucky family will be invited to stay at the LEGO house after hours as part of a collaboration with Airbnb. The vacation begins with superstar LEGO set designer Jamie Berard greeting the guests upon arrival. Later, the family heads to the dining room to construct their food orders out of LEGO bricks. After the plastic requests are sent to the kitchen, edible versions of the meals are served by robot waiters.
The rest of the day consists of exploring the house's galleries and experience zones. Guests can appreciate life-sized LEGO sculptures, browse iconic sets, or assemble their own one-of-a-kind creations. But the highlight of the trip has to be the suite where the family spends the night. The armchairs, books, alarm clocks, television, and pet cat are all constructed out of LEGO bricks. One of the only features that isn't made of blocky plastic is the bed, which is nestled in a pool of bricks beneath a rainbow LEGO waterfall.
Airbnb
"This really is a dream come true for any family with a passion for LEGO," James McClure, Airbnb's General Manager for Northern Europe, said in a statement. "I doubt there will be much sleeping as there is so much to enjoy in this incredible space."
To enter, candidates must answer the question, "If you and your family had an infinite supply of LEGO bricks, what would you build?" in 50 to 550 characters. Submissions are open through November 16 and the winner and up to three guests will be flown to Denmark to commence their stay on November 24. The chosen visitors should be prepared to follow the house rules: LEGO-proof slippers are recommended, play is mandatory, and diving in the LEGO pool in search of that "one rare brick" is forbidden.