The Getty Center, Surrounded By Wildfires, Will Leave Its Art Where It Is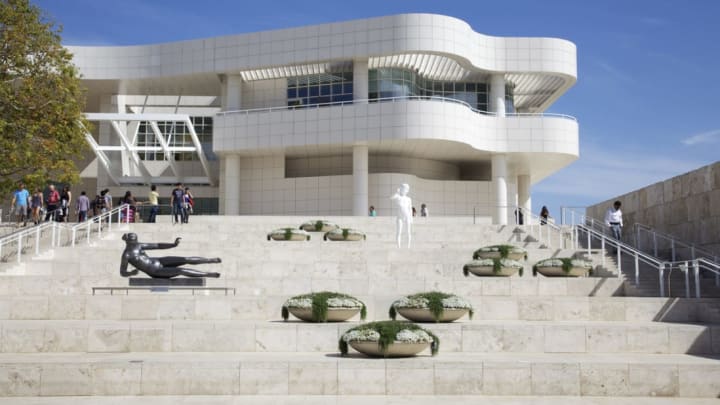 iStock / iStock
The wildfires sweeping through California have left countless homeowners and businesses scrambling as the blazes continue to grow out of control in various locations throughout the state. While art lovers worried when they heard that Los Angeles's Getty Center would be closing its doors this week, as the fires closed part of the 405 Freeway, there was a bit of good news. According to museum officials, the priceless works housed inside the famed Getty Center are said to be perfectly secure and won't need to be evacuated from the facility.
"The safest place for the art is right here at the Getty," Ron Hartwig, the Getty's vice president of communications, told the Los Angeles Times. According to its website, the museum was closed on December 5 and December 6 "to protect the collections from smoke from fires in the region," but as of now, the art inside is staying put.
Though every museum has its own way of protecting the priceless works inside it, the Los Angeles Times notes that the Getty Center was constructed in such a way as to protect its contents from the very kind of emergency it's currently facing. The air throughout the gallery is filtered by a system that forces it out, rather than a filtration method which would bring air in. This system will keep the smoke and air pollutants from getting into the facility, and by closing the museum this week, the Getty is preventing the harmful air from entering the building through any open doors.
There is also a water tank at the facility that holds 1 million gallons in reserve for just such an occasion, and any brush on the property is routinely cleared away to prevent the likelihood of a fire spreading. The Getty Villa, a separate campus located in the Pacific Palisades off the Pacific Coast Highway, was also closed out of concern for air quality this week.
The museum is currently working with the police and fire departments in the area to determine the need for future closures and the evacuation of any personnel. So far, the fires have claimed more than 83,000 acres of land, leading to the evacuation of thousands of people and the temporary closure of I-405, which runs right alongside the Getty near Los Angeles's Bel-Air neighborhood.