15 Fascinating Facts About David Bowie
The music industry lost one of its most iconic artists when David Bowie passed away from liver cancer on January 10, 2016. Bowie's death came as a surprise to music fans around the world, as he kept his diagnosis quiet. Which isn't all that surprising when you consider the often-elusive nature of Bowie over the years. Here are 15 things you might not have known about David Bowie, who was born on January 8, 1947.
1. David Bowie changed his name so he wouldn't be confused with Davy Jones of The Monkees.
Lovely David Bowie letter to a 14 yr old American fan, 1967. "I hope one day to go to America". pic.twitter.com/YtbA7K8hu1

— Paul Kirby (@paul1kirby) January 11, 2016
David Bowie was born in London on January 8, 1947 as David Robert Jones. But as he readied to embark on his musical career as a teen, there was a problem: Davy Jones, the lead singer of The Monkees, was already a known quantity in the music industry, and the aspiring artist was afraid they might be confused. So David Jones changed his name to David Bowie.
In 1967, 14-year-old Sandra Dodd sent Bowie what would be his first fan letter from America, in which she asked him about his name. Bowie quipped: "In answer to your questions, my real name is David Jones and I don't have to tell you why I changed it. 'Nobody's going to make a monkey out of you' said my manager."
2. No, David Bowie's eyes WERE not two different colors.
While people often claim that Bowie had heterochromia, a genetic condition that results in having two different colored eyes, that is incorrect. Both of his eyes are blue; the ocular oddity that you do notice is what is known as aniscoria, or a permanently dilated pupil—which happened when Bowie was 15 years old and got into a fight with his friend, George Underwood, over a girl. "I was so aggrieved I walked over to him, basically, turned him around and went 'whack' without even thinking," Underwood explained. (His fingernail sliced into Bowie's eye.)
Fortunately, there were no hard feelings; the two later collaborated on an album as The King Bees and Underwood went on to design the album covers for some of Bowie's most famous records, including The Rise and Fall of Ziggy Stardust and the Spiders from Mars.
3. David Bowie's eye took a beating on more than one occasion.
In 2004, while performing in Oslo, Norway, a "fan" threw a lollipop onto the stage, which somehow managed to strike Bowie in the eye—and get stuck. A member of his crew was able to remove it, and Bowie went on with the concert. Rebel rebel indeed.
4. David Bowie was boyhood friends with Peter Frampton.
Despite Bowie being more than three years older than Peter Frampton, the two struck up a friendship as youngsters. Both attended Bromley Technical High School, where Frampton's dad was Bowie's art teacher. The two shared a unique bond over music, and remained close friends until Bowie's death. "He really introduced me, along with George Underwood, to Buddy Holly and Eddie Cochran, people I wasn't aware of at that age," Frampton once said of his childhood friend. The two would collaborate a number of times over the years.
5. David Bowie and Elton John were pals as teens, too.
Back in their teens—when Bowie was still known as David Jones and Elton John went by Reginald Kenneth Dwight—the two future rock icons became fast friends and would frequently get together to talk about music. But shortly after Bowie's death, John admitted that they had a falling out and hadn't talked much in about 40 years.
"David and I were not the best of friends towards the end," John said. "We started out being really good friends. We used to hang out together with Marc Bolan, going to gay clubs, but I think we just drifted apart. He once called me 'rock 'n' roll's token queen' in an interview with Rolling Stone, which I thought was a bit snooty. He wasn't my cup of tea. No; I wasn't his cup of tea."
6. As a teen, David Bowie founded the Society for the Prevention of Cruelty to Long-Haired Men.
In 1964, when he was just 17 years old, Bowie formed The Society for the Prevention of Cruelty to Long-Haired Men, an organization aimed at protesting the treatment that he and other men with long hair received on the streets of London. He took the matter seriously, as you can see from the BBC interview above.
That BBC spot led to an interview with the London Evening News, where Bowie explained that the organization was "really for the protection of pop musicians and those who wear their hair long. Anyone who has the courage to wear their hair down to his shoulders has to go through hell. It's time we were united and stood up for our curls."
7. His first hit, "Space Oddity," was perfectly timed.
On July 11, 1969, Bowie released the single "Space Oddity." The timing could not have been more perfect. Nine days after its release, the BBC ran the song over its coverage of Apollo 11's lunar landing. It would end up being his first big hit in the UK.
8. David Bowie's brother was a major inspiration for his music.
In 1985, Bowie's half-brother Terry Burns, who battled mental health issues throughout his life, escaped from the hospital where he had been admitted and killed himself. In Nicholas Pegg's The Complete David Bowie, the writer revealed that Burns had quite an impact on Bowie's writing. He was reportedly the inspiration for a number of his songs, including "Aladdin Sane," "All the Madmen," and "Jump They Say."
9. Being Ziggy Stardust led David Bowie to question his sanity.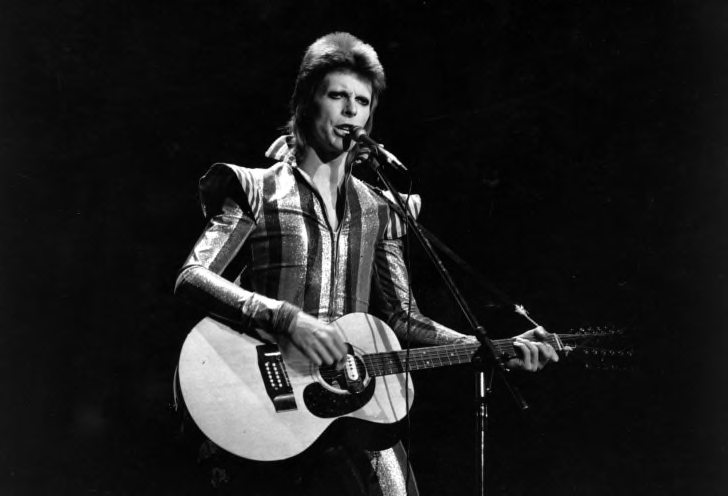 Though Bowie had many alter egos over the years, Ziggy Stardust was the most famous of them. From 1972 to 1973 he toured in character as the glam rock persona until he abruptly announced that he would be retiring Ziggy during a concert in 1973. "Not only is this the last show of the tour, but it's the last show that we'll ever do," Bowie said of Ziggy Stardust and the Spiders from Mars.
He later admitted that Ziggy "wouldn't leave me alone for years. That was when it all started to go sour ... My whole personality was affected. It became very dangerous. I really did have doubts about my sanity."
10. For a time, David Bowie feared a wizard might steal his urine.
Four years after his Ziggy Stardust period, Bowie became the Thin White Duke. It was during this period that he struggled with both drug and emotional problems. In David Buckley's book, Strange Fascination: David Bowie—The Definitive Story, the author wrote that by 1975, Bowie was "living a cocooned existence [in Los Angeles], disconnected from the real world." He was apparently subsisting on a diet of peppers and milk, and exhibited some truly strange behaviors—like keeping his urine in his refrigerator so that "no other wizard could use it to enchant him."
11. David Bowie was a bit of a futurist.
Not only was Bowie ahead of his time when it came to his art, but he also seemed to foretell the rise of the internet. In 1999, while discussing a newfangled invention known as the world wide web with Jeremy Paxman of the BBC, the host suggests that the internet's potential has been "hugely exaggerated." Bowie was quick to make it clear that he didn't agree. "I really embrace the idea that there's a new demystification process between the artist and the audience," Bowie said "The interplay between the user and the provider will be so in sympatico it's going to crush our ideas of what mediums are all about."
12. David Bowie was a pioneer of music streaming.
In September 1996, Bowie became the first major artist to release a single via internet download only with "Telling Lies." It took about 11 minutes to download. (Times have changed.) That was just the beginning: In 1998, Bowie announced that he'd be launching his own internet service provider, known as BowieNet.
13. David Bowie was a voracious reader.
While he was mostly known for his musical output, Bowie was a major bookworm who often read a book a day. In 2013, the curators at the Art Gallery of Ontario compiled a list of the artist's 100 favorite books as part of an exhibition, "David Bowie Is." It was an eclectic list, encompassing everything from Alfred Döblin's Berlin Alexanderplatz to Gustave Flaubert's Madame Bovary to Michael Chabon's Wonder Boys.
14. David Bowie's son created a book club in Bowie's honor.
In late 2017, Bowie's son—filmmaker Duncan Jones—announced via Twitter that he would be paying tribute to his father's love of reading with an online-based book club.
My dad was a beast of a reader. One of his true loves was Peter Ackroyd's sojourns into the history of Britain & its cities. I've been feeling a building sense of duty to go on the same literary marathon in tribute to dad. Time allowing...#Read-ItBig'nsTheBrain

— Duncan Jones (@ManMadeMoon) December 27, 2017
Alright gang! Anyone who wants to join along, we are reading Peter Ackroyd's "Hawksmoor," as an amuse cerveau before we get into the heavy stuff. You have until Feb 1. ❤️

— Duncan Jones (@ManMadeMoon) December 27, 2017
The club kicked off with Peter Ackroyd's Hawksmoor.
15. A lock of David Bowie's hair sold for $18,750.
In June 2016, just a few months after the singer's passing, a lock of Bowie's hair—which had been snipped in 1983 by a wig mistress at Madame Tussauds in London—went up for auction as part of Entertainment & Music Memorabilia Signature Auction held by Heritage Auctions and sold for a hair-raising $18,750.
"David Bowie changed music forever and fans are hungry for related precious objects that bring them closer to their favorite musician," Margaret Barrett, Heritage's director of entertainment and music auctions, said at the time. "What brings you closer than a lock of hair?" (The bidding started at $2000 and early estimates thought it might only go as high as $4000.)