It Just Snowed In the Sahara Desert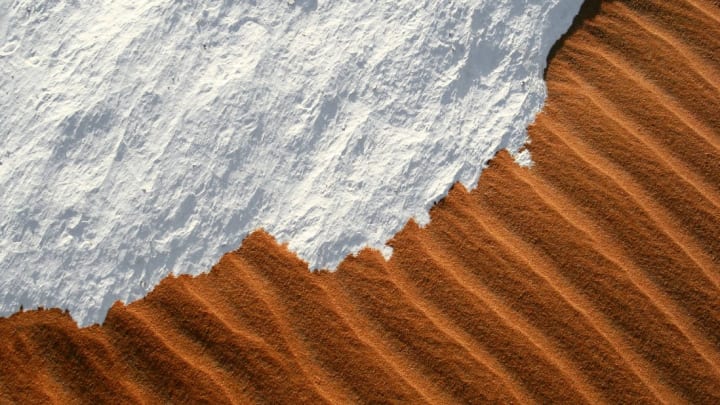 iStock / iStock
The Sahara isn't always scorching. This week, a cold spell hit the town of Aïn Séfra in northern Algeria, and the world's largest hot desert was blanketed in up to 16 inches of the white stuff in some places, The Independent reports.
The rare snowfall began early on Sunday, January 7, with the resulting precipitation melting by late afternoon. The phenomenon marked the region's third snowfall in nearly 40 years, with other surprise wintry events occurring in February 1979 and December 2016.
Aïn Séfra is located in the Saharan Atlas Mountains in the northern Sahara Desert. Thanks to the region's altitude, it's "not surprising that the area would see some snow if the conditions were right" a spokesperson for the Met Office, the UK's national weather service, told The Independent. "With the setup over Europe at the moment, which has given us cold weather over the weekend, a push southwards of cold air into that region and some sort of moisture would bring that snow."
Kids enjoyed the freak snowfall, making snowmen and sledding down sand dunes, while adults had to deal with their vehicles getting stranded on icy roads, according to Forbes. By the day's end, temperatures climbed to 42°F and sand dunes returned to their ordinary brown—just long enough for residents of Aïn Séfra to experience both the highs and lows of an ordinary snow day.
[h/t The Independent]