11 Nouns That Only Have a Plural Form
Inside the wonderful world of 'pluralia tantum.'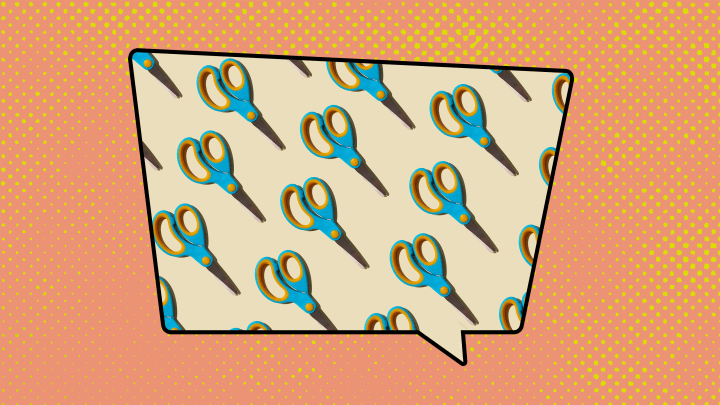 Language is weird. / Javier Zayas Photography/Moment/Getty Images (scissors), Justin Dodd/Mental Floss (speech bubble)
Of all the grammar concepts we have, "plural" seems to be one of the most straightforward. You got one thing? It's singular. Got more than one thing? It's plural. But alas, language is always less straightforward than we expect. The way we conceptualize something—as one thing or many things—doesn't always match up with the way our word for it behaves. There are some nouns that only have a plural form, regardless of how we think of them. They are known as pluralia tantum, Latin for "plural only." Here are 11 of them.
1. Scissors
Scissors has a plural verb agreement. We say, "the scissors are over there," not "the scissors is over there." Scissors likes to hang on to its s. We can say "give me a pair of scissors," but not "give me a scissor." True, there is a sense in which scissors are two objects, two blades, being used as one tool, and many similar tools are also pluralia tantum: pliers, tongs, tweezers, forceps. But not all such tools are plural. A clamp, a bear trap, and a flat iron are also tools made of two joined parts, and they are singular.
2. Goggles
You wouldn't call these "a goggle." / Fiordaliso/Moment/Getty Images
Goggles, glasses, and binoculars only show up in the plural. They are also generally conceived of as unitary objects, though they are made up of two connected parts. When new words are coined for things that function in front of the eyes, they will usually inherit the grammatical plurality (Blue Blockers, RayBans), but not always (see View-Master, Google Glass).
3. Pants
In the rarefied world of fashion reporting, you may see pant show up as a singular noun ("a floral pant is a must-have for spring"), but for the rest of us, pants is strictly plural. The tendency toward plural forms for clothing that provides separate enclosures for the two legs is strong: shorts, jeans, bloomers, tights, leggings, trousers, chaps, etc. The tendency for new such words to be coined with plurality is also strong: bell bottoms, skinnies, capris. We even say things like, "Levis are popular," even though the brand name is actually not plural, but possessive—Levi's.
4. Panties
The word underwear is a mass noun that takes singular agreement ("your underwear is showing") but there are a cluster of pluralia tantum underwear words. In addition to panties, we have drawers, boxers, briefs, and tighty whities. Interestingly, thong is singular (perhaps because leg enclosure has little to do with it?), and so is bra (though it shares the shape characteristics of glasses and goggles).
5. Clothes
Pluralia tantum are often objects that involve some kind of connected pairing of two identical things, but they can also be terms for large collections of dissimilar things. Clothes, for example, can refer to shirts, pants, skirts, jackets, or underwear (we never say clothe to mean a singular item of clothing). Similarly, manners can refer to ways of talking, eating, or greeting.
6. Riches
Plural is the name of the game for 'riches.' / Peter M. Fisher/The Image Bank/Getty Images
There are a number of pluralia tantum that refer to possession or ownership. In addition to riches, there are furnishings, belongings, earnings, and valuables.
7. Jitters
There are also a few pluralia tantum having to do with mood or feelings. You can have the blues or be in the doldrums, but not "have a blue" or "be in a doldrum." Likewise, jitters, willies, and heebie-jeebies always come in groups.
8. Shenanigans
Words for activities that might be individually very different in their specifics but similar in some general aspect will sometimes be pluralia tantum. You may indulge in shenanigans, heroics, or hysterics, or sometimes all three.
9. Remains
There is a small group of pluralia tantum for what's left after the dust has settled. They may be remains, ruins, or leftovers.
10. Annals
There does happen to be a singular noun annal. It means the recorded events of one year. But we almost never see it this way. Most of us use annals in the way we use other plurals from set, antiquated phrases—pluralia tantum like alms and amends.
11. Suds
They're suds, not 'sud.' / Iryna Veklich/Moment/Getty Images
Suds is a strange one. Usually a word for a mass of stuff made of of teeny, tiny individuated parts will be a mass noun. For example, the words rice, sand, sugar, and salt are all mass nouns. Mass nouns have singular verb agreement ("the rice is cooked"). Suds is a plural noun and has plural agreement ("the suds are everywhere"). Does this mean we care more about individual soap bubbles than individual grains of rice? Probably not. Is that what a sud even is? A bubble? It doesn't matter anyway, because we can know what suds are without knowing what a sud is. That's the beauty of pluralia tantum.
A version of this story ran in 2013; it has been updated for 2023.
Are you a logophile? Do you want to learn unusual words and old-timey slang to make conversation more interesting, or discover fascinating tidbits about the origins of everyday phrases? Then get our new book, The Curious Compendium of Wonderful Words: A Miscellany of Obscure Terms, Bizarre Phrases, & Surprising Etymologies, out now! You can pick up your copy on Amazon, Barnes & Noble, Books-A-Million, or Bookshop.org.