55 Super Facts About the Super Bowl
Want to be the smartest person in the room while watching this year's Super Bowl? Bust out a few of these fun facts about Big Games past.
1. Super Bowl Sunday is the second biggest eating day of the year.
According to the U.S. Department of Agriculture, Super Bowl Sunday is America's "second-largest food consumption day." (Only Thanksgiving Day beats it.)
2. Those rumors about sewage systems failing because of all the flushing toilets during halftime are just that: rumors.
A persistent rumor says that sewage systems in major cities occasionally fail during Super Bowl halftimes, because a large volume of people supposedly all flush their toilets simultaneously. Don't worry! There's absolutely no evidence to support this claim.
3. Peyton Manning is the only starting quarterback to win a Super Bowl with two different teams.
Peyton Manning is the only starting quarterback to win a Super Bowl with two different teams: the Indianapolis Colts in 2007 and the Denver Broncos in 2016. Depending on the outcome of Super Bowl LV, Tom Brady could join Manning.
4. Phil Simms was paid a lot of money to say he was celebrating his Super Bowl win by "going to Disney World."
Phil Simms was paid $75,000 to shout "I'm going to Disney World" on the field moments after his Giants won Super Bowl XXI. Disney also paid Denver's John Elway the same amount of money to yell the same thing—just in case his team won.
5. Two teams are tied for most Super Bowl wins.
The Pittsburgh Steelers and the New England Patriots are tied for the record for most Super Bowl wins, having captured six Vince Lombardi Trophies apiece. The San Francisco 49ers and Dallas Cowboys have each won five.
6. The New England Patriots have both won and lost the most Super Bowls.
Which team has lost the most? That would be a tie between the Denver Broncos and the New England Patriots, who've each dropped five Super Bowl matchups.
7. Super Bowl fans would really like to see "Weird" Al Yankovic take the stage at halftime.
A 2014 Change.org petition to "Have Weird Al Yankovic Headline the Super Bowl XLIX Halftime Show" received more than 100,000 signatures.
8. Super Bowl I was far from a sell-out event.
The priciest tickets to Super Bowl I, which was played on January 15, 1967, cost $12. Adjusted for inflation, that's the equivalent of about $89 today. And even at that bargain price, the event still didn't sell out.
9. The Pittsburgh Steelers were the first Super Bowl-winning team to visit the White House.
In 1980, the Pittsburgh Steelers were the first Super Bowl-winning team to visit the White House. They visited with Jimmy Carter in a joint ceremony with the Pittsburgh Pirates, who had won the 1979 World Series.
10. When it comes to accommodations, a Super Bowl host city is sometimes forced to get creative.
When Jacksonville, Florida, hosted Super Bowl XXXIX in 2005, the city didn't have enough hotel rooms to meet the NFL's requirements. So in their bid to serve as the Big Game's host, they had to recruit five docked cruise ships as "floating hotels" for the event.
11. Maryland sports fans had good reason to not love New York back in 1969.
Maryland sports fans must have really hated the Big Apple in 1969. On January 12 of that year, the New York Jets upset the Baltimore Colts in Super Bowl III. Nine months later, the New York Mets prevailed over the heavily favored Baltimore Orioles in the '69 World Series.
12. The Super Bowl I halftime show included 300 pigeons.
The Super Bowl I halftime show consisted of two marching bands, acclaimed trumpeter Al Hirt, two men in jet packs, and 300 pigeons.
13. Western Pennsylvania produces a lot of star quarterbacks.
Western Pennsylvania is quarterback country. Six Hall of Fame QBs hail from this region, five of whom (Johnny Unitas, Joe Namath, Joe Montana, Dan Marino, and Jim Kelly) played in at least one Super Bowl each as quarterbacks. The sixth, George Blanda, competed as a placekicker in Super Bowl II.
14. There's a simple way to determine who will be the "home" team.
In odd-numbered Super Bowls, the NFC team is the designated "home" team while AFC teams enjoy that honor during the even-numbered Super Bowls.
15. Super Bowl XLIV broke a longstanding TV ratings record.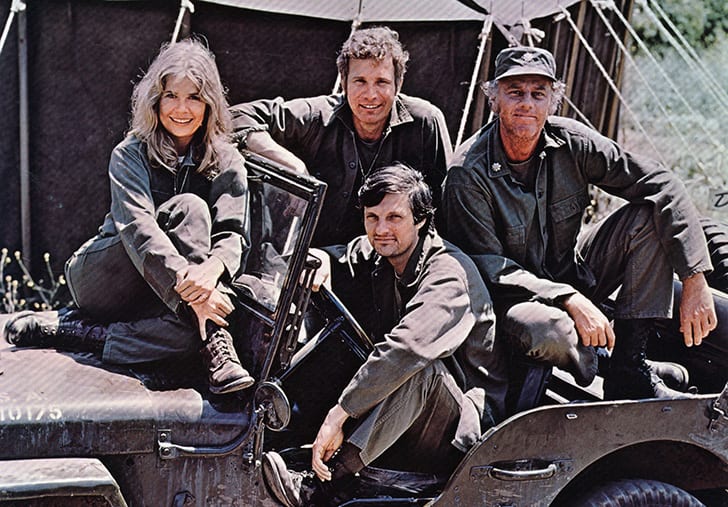 In 1983, 105.97 million people tuned in to the final episode of M*A*S*H, making it the most-watched TV broadcast in American history. It took more than a quarter-century, but in February 2010, Super Bowl XLIV finally broke that record when 106.5 million people watched the New Orleans Saints beat the Indianapolis Colts. The seven Super Bowls that followed, from 2011 to 2017, all broke even that record, with Super Bowl XLIX—which was played on February 1, 2015—currently holding the top spot, with 114.4 million viewers on average.
16. A record dollar amount is being (legally) bet in 2021.
It's expected that more than 23 million Americans will (legally) bet approximately $4.3 billion on Super Bowl LV in 2021—a record amount, due in part to people in states like Colorado, Illinois, and Michigan being able to legally wager on the game for the first time.
17. In 1971, a member of the losing team was named MVP for the first (and so far only) time.
Although the Baltimore Colts beat Dallas in Super Bowl V in 1971, Cowboys linebacker Chuck Howley was named the game's MVP. He's the only player in history to earn this honor as a member of the losing team.
18. The Vince Lombardi trophy is crafted by a company everyone knows.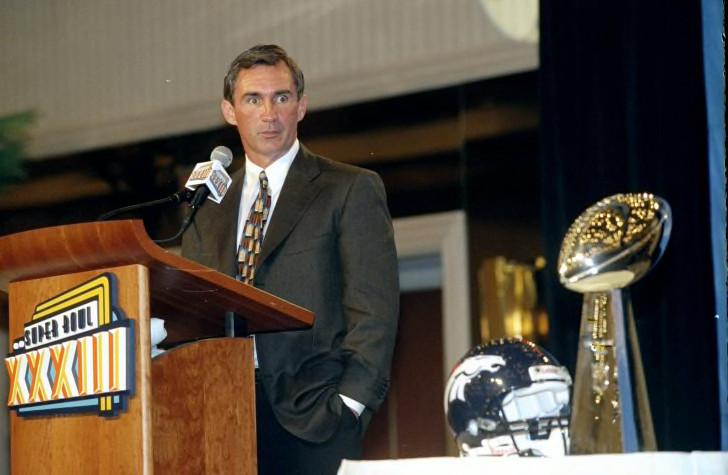 The Vince Lombardi Trophies—a new one of which is handed out every year—are made out of sterling silver by Tiffany & Co. It takes the famed jeweler four months to craft the trophy.
19. A power outage put a halt to Super Bowl XLVII.
A power outage at New Orleans's Superdome put Super Bowl XLVII on hold for 34 minutes.
20. Installing new sod for a Super Bowl game is a pretty big task.
A fresh layer of high-quality, natural sod is installed on the field prior to each Super Bowl played on natural grass. For Super Bowl 50, the company West Coast Turf harvested 75,000 square feet of premium grass on the NFL's behalf.
21. Boston's former mayor had to send a lot of Dunkin' products to New York when they lost to the Giants in Super Bowl XLII.
In 2008, then-Boston Mayor Thomas Menino lost a high-stakes bet to his Gotham counterpart when the Giants upset the Patriots in Super Bowl XLII. Because of New England's defeat, Menino had to send a truckload of Massachusetts delicacies—including 42 pounds of Dunkin' Donuts coffee (because it was the 42nd Super Bowl) and 12 dozen Boston cream pies (a reference to Tom Brady's number)—to New York City, where the food was donated to charity.
22. Jim McMahon embraced the pre-Super Bowl spotlight.
A few days before Super Bowl XX in 1986, Bears QB Jim McMahon mooned a TV news helicopter that was flying over one of Chicago's practice sessions.
23. There has never been a shutout in the Super Bowl.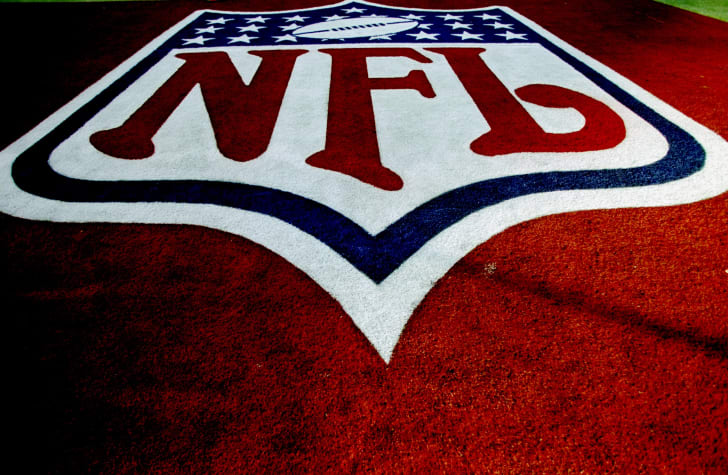 There has never been a shutout in the Super Bowl. The Miami Dolphins hold the record for fewest points scored in a Super Bowl; in 1972, they lost to Dallas, 24-3.
24. Only one Super Bowl game has gone into overtime.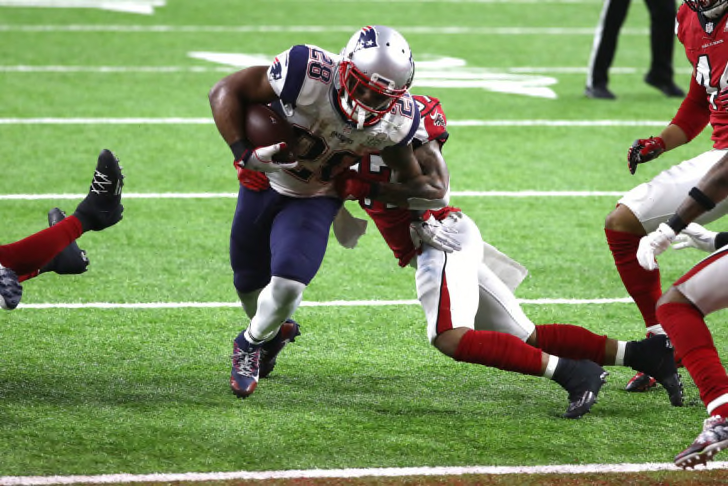 Super Bowl LI was the first one to ever go into overtime. The Patriots defeated the Atlanta Falcons 34-28.
25. For the first time ever, there were no cheerleaders at Super Bowl XLV.
Super Bowl XLV was the first one in history that didn't include cheerleaders. That's because neither of the game's participating teams—the Pittsburgh Steelers nor the Green Bay Packers—has a professional cheerleading squad.
26. Cleveland has neither played in nor hosted a Super Bowl.
Cleveland is the only current NFL city that has neither hosted a Super Bowl nor seen its own team, the Browns, make an appearance in one.
27. There was a major mishap when the second half kicked off in Super Bowl I.
During Super Bowl I in 1967, NBC was still in commercial when the second half kicked off. Officials asked the Packers to kick off again.
28. The 1989 halftime show was broadcast in 3D.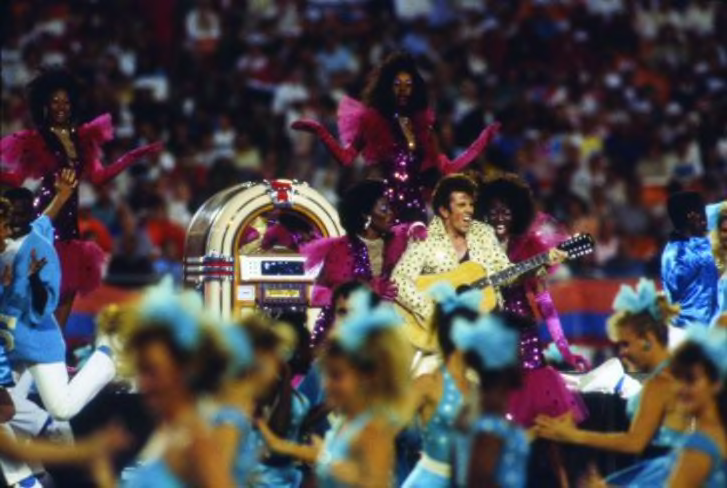 The 1989 Super Bowl halftime show was broadcast in 3D (a novelty for the time). In it, a magician dressed like Elvis Presley ("Elvis Presto") had the entire stadium participate in a round of the classic "Is this your card?" trick.
29. In 1977, a frisbee-catching dog provided some pre-game entertainment.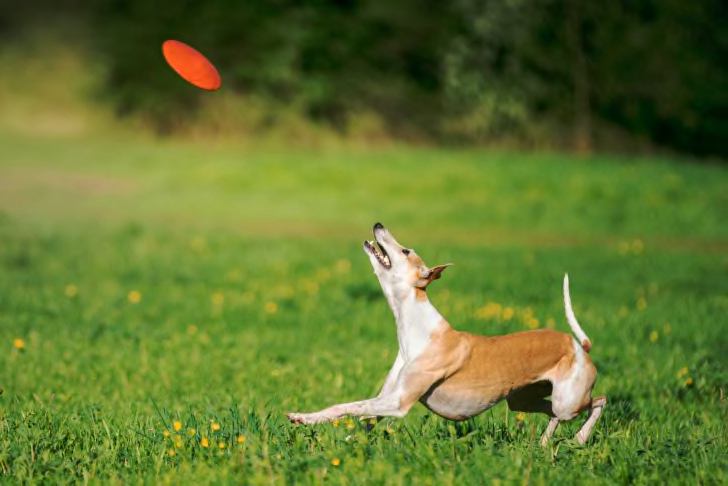 Another unusual spectacle was the 1977 Super Bowl pre-game show, which included a Frisbee-catching dog named Ashley Whippet.
30. Lisa Simpson correctly guessed the winner of Super Bowl XXVI.
Springfield's resident wunderkind really knows her football. In an episode of The Simpsons which aired on January 23, 1992, Lisa correctly guessed that Washington would beat Buffalo in Super Bowl XXVI, which was played three days later.
31. No sitting president has ever attended a Super Bowl.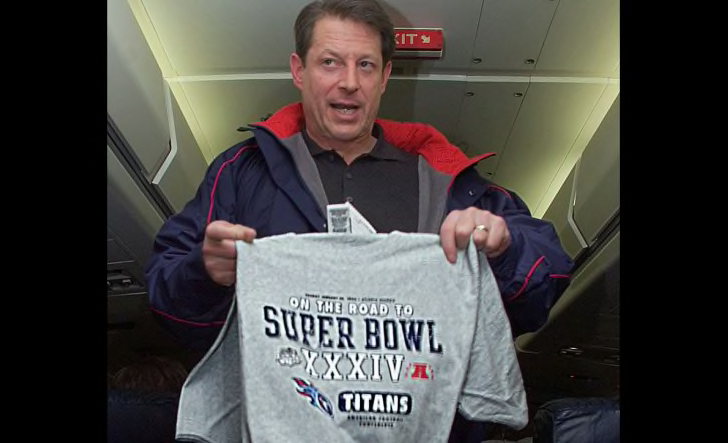 No sitting president has ever attended a Super Bowl. However, four sitting vice presidents—Spiro Agnew, George H.W. Bush, Al Gore, and Mike Pence—have made Big Game appearances.
32. The NFC had a 13-year winning streak.
From 1985 to 1997, the NFC won 13 straight Super Bowls. During that streak, the NFC clubs outscored their AFC opponents by a cumulative score of 490-219.
33. Things got messy at the White House celebration for Super Bowl XXI.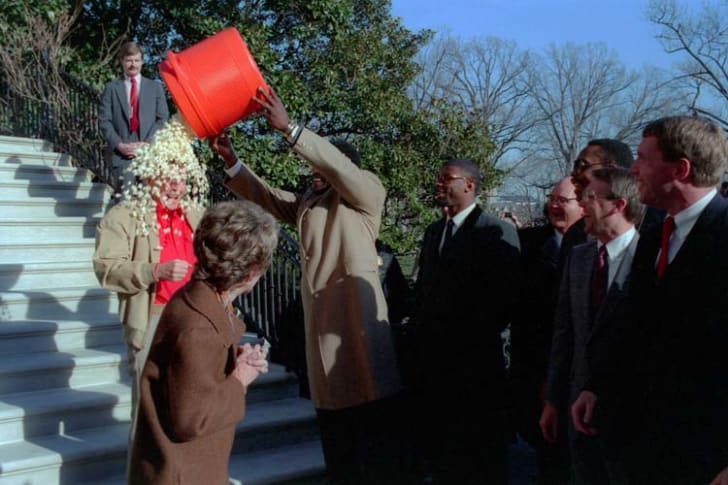 While celebrating the Giants' Super Bowl XXI victory with President Reagan at the White House, linebacker Harry Carson emptied a Gatorade tub of popcorn over the Gipper's head.
34. John Candy caused a momentary bit of distraction.
On San Francisco's Super Bowl XXIII game-winning drive in 1989, Joe Montana saw a celebrity spectator; in mid-huddle, he nonchalantly asked his teammates, "Hey, isn't that John Candy over there?"
35. Joe Salave'a had the perfect answer to a reporter's question on Super Bowl Media Day 2000.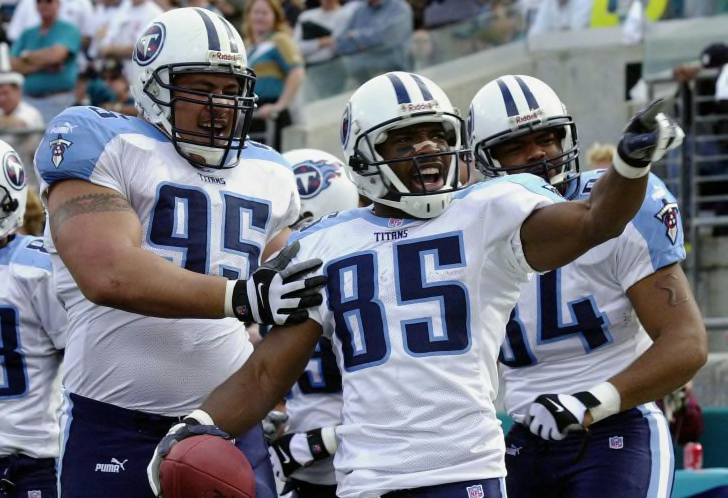 On Super Bowl Media Day in 2000, a reporter asked then-Titans defensive tackle Joe Salave'a, "What's your relationship with the football?" He replied: "I'd say it's strictly platonic."
36. There's been a fair amount of back-to-back Super Bowl victories.
Back-to-back Super Bowl victories aren't as rare as you might think. The Packers, Dolphins, 49ers, Cowboys, Broncos, Patriots, and Steelers have all pulled off this feat. In fact, Pittsburgh is the only team to have won back-to-back Super Bowls on two separate occasions.
37. The Super Bowl has given some popular TV shows a great start.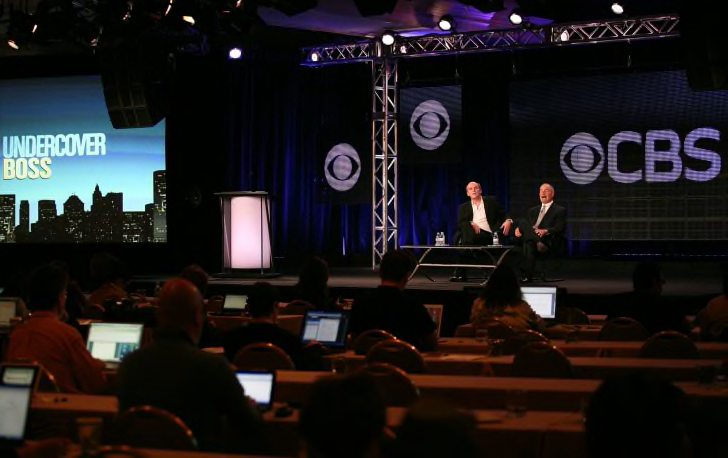 The Wonder Years, Family Guy, and Undercover Boss all made their premieres immediately after the Super Bowl.
38. The 1985 Chicago Bears were nominated for a Grammy.
The 1985 Bears recorded a hit rap song called "Super Bowl Shuffle," which was nominated for a Grammy Award for Best Rhythm and Blues Performance by a Duo or Group with Vocal. (It lost to Prince & the Revolution's "Kiss.")
39. Joe Montana had a perfect Super Bowl record.
Joe Montana not only emerged victorious from all four of his Super Bowl appearances, he did it without throwing a single interception in any of those games.
40. A streaker interrupted the 2004 Super Bowl.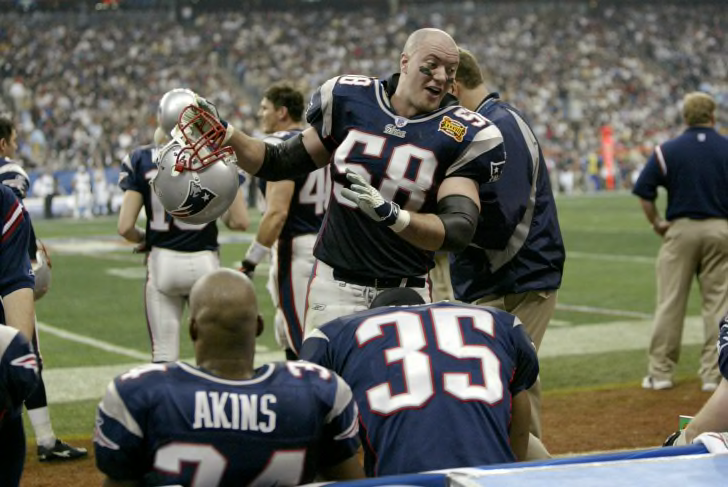 Just before the second-half kickoff in the 2004 Super Bowl, a man disguised as a referee stripped down to a G-string and streaked across the field. Patriots linebacker Matt Chatham was able to knock him to the ground, enabling security to apprehend the hooligan.
41. The coin used for Super Bowl XLIV's coin flip was out-of-this world.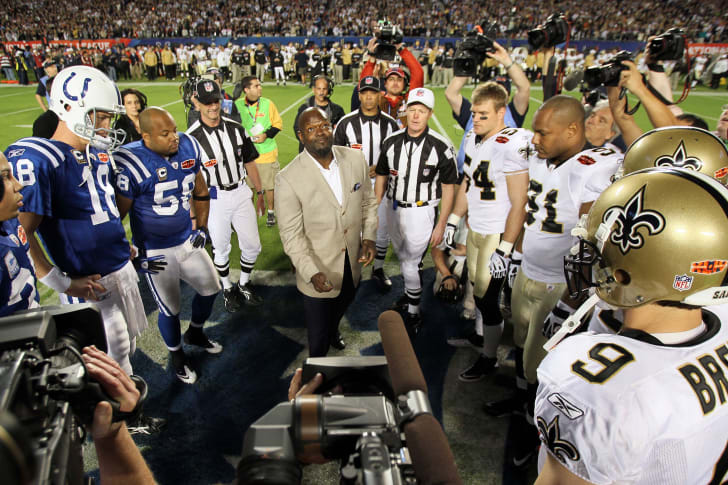 In 2010, Super Bowl XLIV featured an unusual piece of memorabilia: The coin that was flipped right before the game had previously spent 11 days orbiting the Earth on a NASA space mission.
42. For several years, a California Aquarium hosted an Otter Bowl.
For several years, the Aquarium of the Pacific in Long Beach, California, hosted an annual Otter Bowl on Super Bowl Sunday, where a group of these adorable mammals play around with a football while a staffer narrates the action. The event was canceled in 2019 so that the aquarium and its visitors could pay tribute to Brook, a popular, 21-year-old sea otter resident who passed away shortly before the event following a diagnosis of congestive heart failure. The event returned for 2020, but is not slated to take place in 2021.
43. Tom Brady is the NFL's most winning quarterback.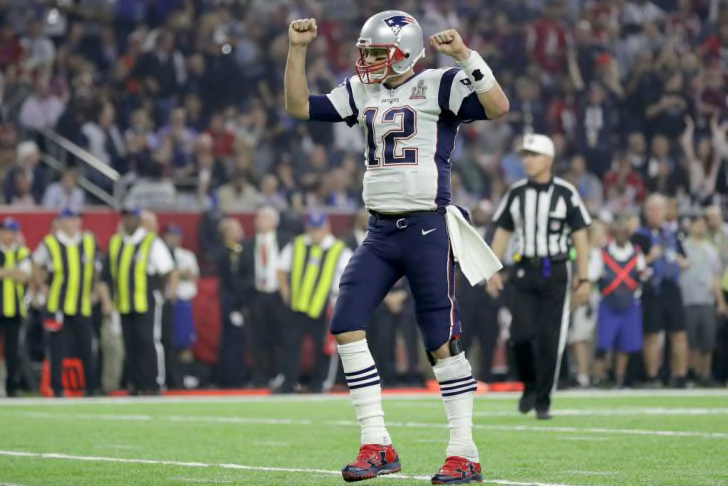 Longtime New England Patriot and newly minted Tampa Bay Buccaneer Tom Brady has won six Super Bowls, more than any other starting quarterback. Terry Bradshaw and Joe Montana won four apiece.
44. The player who scored the first-ever Super Bowl touchdown was hungover.
The very first Super Bowl touchdown was scored in 1967 by Packers wide receiver Max McGee (who was hungover at the time). 
45. Super Bowl players get pretty hefty bonuses.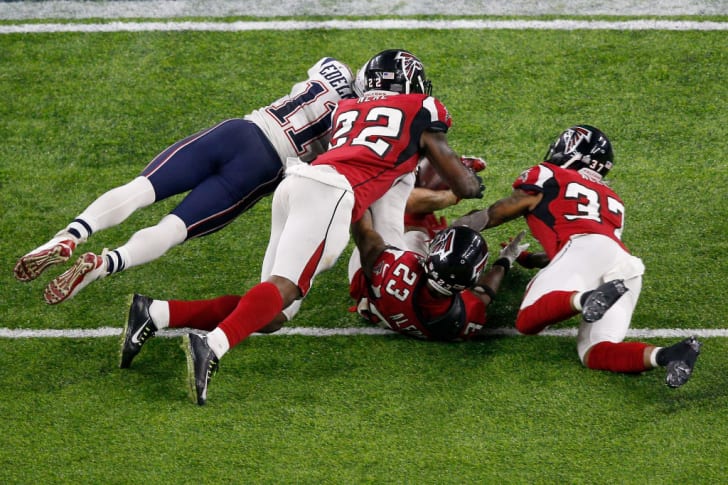 Super Bowl bonuses are a thing. For 2021, every player on the triumphant team will pocket an extra $150,000 just for winning (whether they played or not). Members of the losing team will each earn a not-too-shabby $75,000 bonus.
46. University of Alabama and Purdue University have a good track record when it comes to quarterbacks.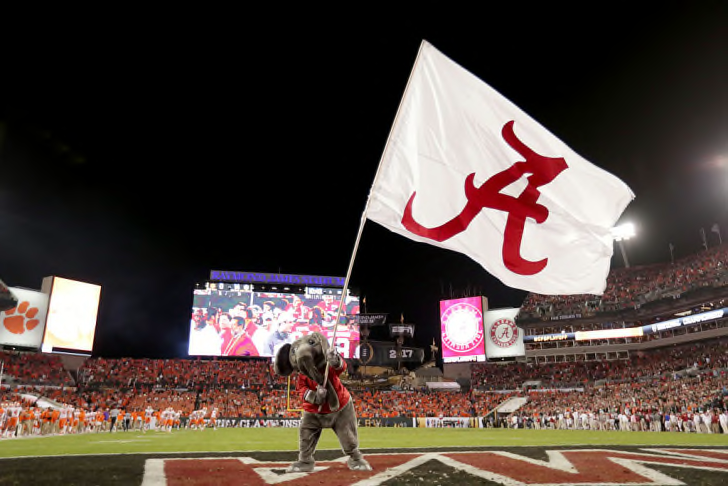 Two colleges have produced three Super Bowl-winning starting quarterbacks: the University of Alabama (Bart Starr, Joe Namath, and Ken Stabler) and Purdue University (Len Dawson, Bob Griese, and Drew Brees). The University of California, Berkeley, meanwhile, holds the record for number of quarterbacks to play in the Super Bowl, with five: Joe Kapp, Craig Morton, Vince Ferragamo, Aaron Rodgers, and Jared Goff were all at one time Golden Bearas.
47. The Super Bowl used to go by a much longer name.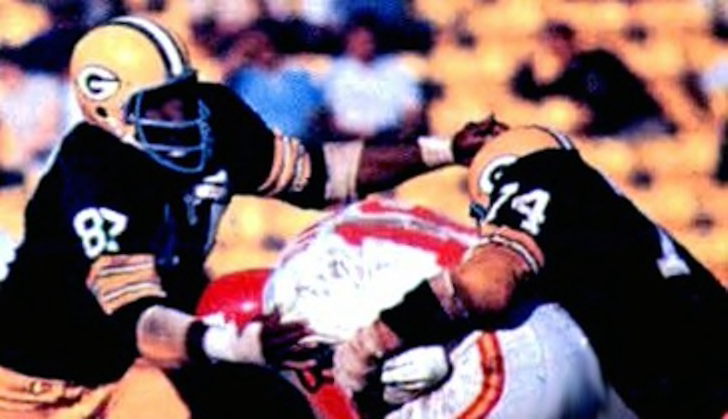 The event we now call the "Super Bowl" originally went by a duller name: "The AFL-NFL World Championship Game." Although "Super Bowl" has been used unofficially since the very first game, the term wasn't officially recognized by the league until a few years later, with the name first appearing on the cover of the program in 1969 and on the ticket in 1970.
48. Forty years after winning Super Bowl VII, the Miami Dolphins were (finally) invited to the White House.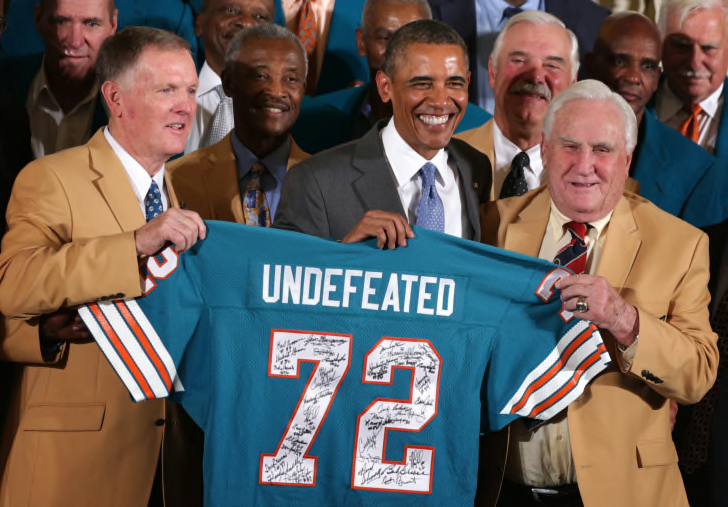 In 2013, 40 years after winning Super Bowl VII, the famous perfect-season Miami Dolphins were invited to the White House by Barack Obama.
49. A (presumably) excited fan stole Don Shula's watch in 1973.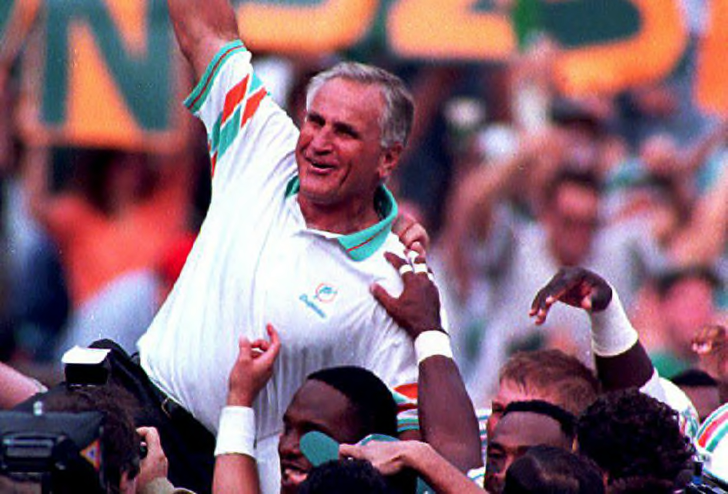 As Don Shula was being carried off the field after the Dolphins' Super Bowl win in 1973, a fan reached up to shake his hand—and stole his watch.
50. The Super Bowl XXX website was banned by some servers.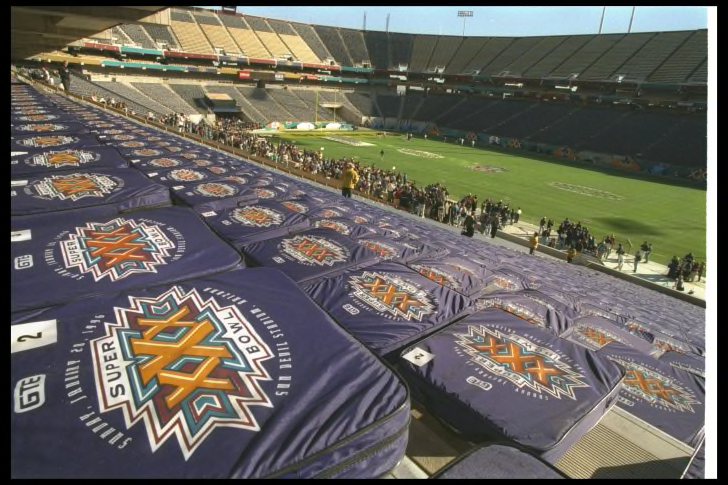 During the 1995-1996 season, some proxy servers blocked the Super Bowl website because it was Super Bowl XXX.
51. Hunter S. Thompson wrote about a couple of Super Bowls.
Hunter S. Thompson covered Super Bowls VII and VIII for Rolling Stone.
52. Ratings for the 1993 Super Bowl went up during Michael Jackson's halftime show.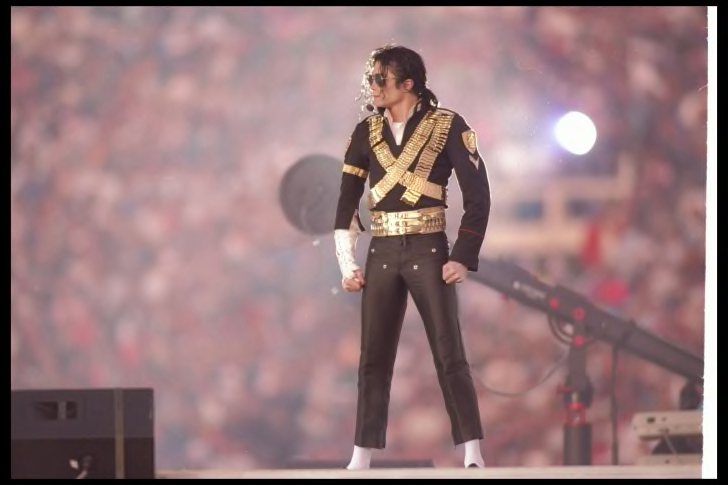 In 1993, Michael Jackson's halftime performance had higher ratings than the game itself.
53. Tom Brady is the oldest quarterback to win a Super Bowl.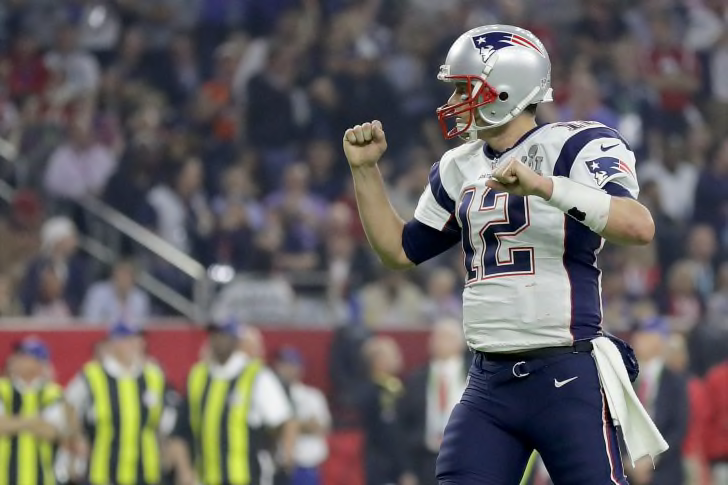 In 2019, Tom Brady became the oldest quarterback to win a Super Bowl at age 41—he beat Peyton Manning, who led the Broncos to a Super Bowl win in 2016 at age 39.
54. Kyle Shanahan made Super Bowl history in 2020.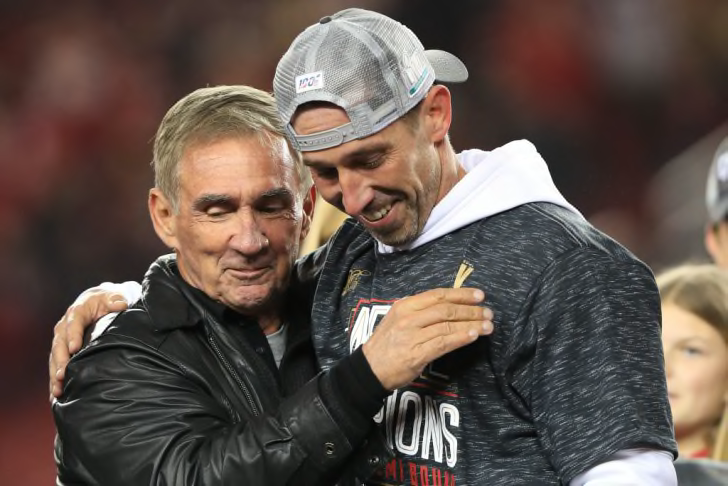 San Francisco 49ers head coach Kyle Shanahan made his Super Bowl debut in 2020—making he and his dad, Mike Shanahan (who led the Denver Broncos to consecutive Super Bowl victories in XXXII and XXXIII) the first father-son duo to each make a Super Bowl appearance as head coach.
55. A number of COVID-19 safety precautions have been put in place for Super Bowl LV.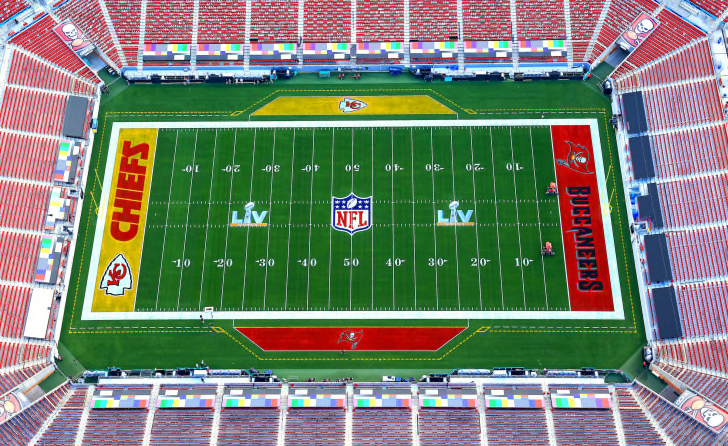 Super Bowl LV will look a lot different than previous games due to the COVID-19 pandemic. The game, which will take place at Raymond James Stadium in Tampa, Florida, will be implementing a number of health restrictions and precautions. While the stadium can hold a crowd of 75,000, the total number of onlookers will be just a fraction of that.
According to an NFL press release, "All fans in attendance will be provided with personal protective equipment (PPE) and required to adhere to safety protocols, including: Wearing a complimentary KN95 mask at all times; maintaining a social distance of at least six feet from other fans; maintaining social distance when entering, exiting, and moving about the stadium; washing their hands regularly and making use of hand sanitizing stations; presenting all tickets on mobile devices; making cashless purchases to reduce high-touch interactions; and staying home if experiencing COVID-related symptoms."
Of this year's attendees, "The NFL is bringing 7500 vaccinated healthcare workers to the game this year," NFL events director Daphne Wood said. "A gift to our most important MVPs who have put everything on the line to help us as a nation recover from COVID-19."