46 Amazing Facts About All 45 American Presidents
In March 1789, the U.S. Constitution was officially enacted and the office of the President of the United States was established. The following month, General George Washington was sworn in as the first Commander-in-Chief and since then, 45 men have held the job (one in two non-consecutive terms, which is why we have 46 presidencies total). Below is an interesting tidbit about each person who has held the highest office in the land.
1. George Washington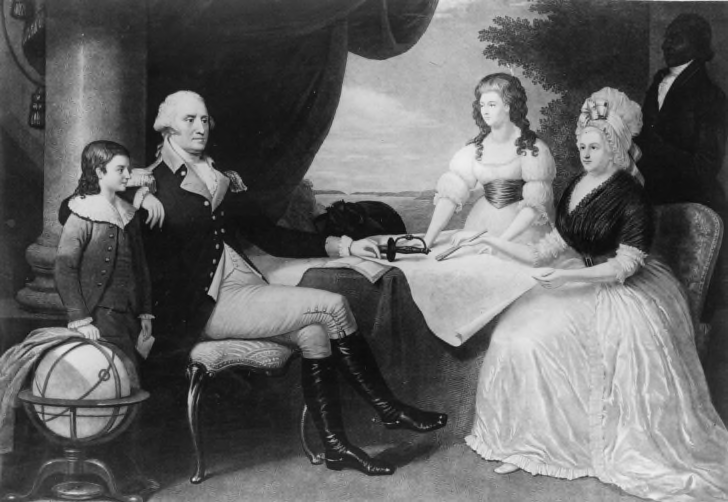 Not only is George Washington the father of the country, he's technically the highest-ranking member of the nation's military. On July 4, 1976, the country's bicentennial, a joint resolution was passed to posthumously promote Washington to the title of General of the Armies of the United States, ensuring that no other member of the military could ever outrank him. This effectively makes George Washington the United States's only six-star general. 
2. John Adams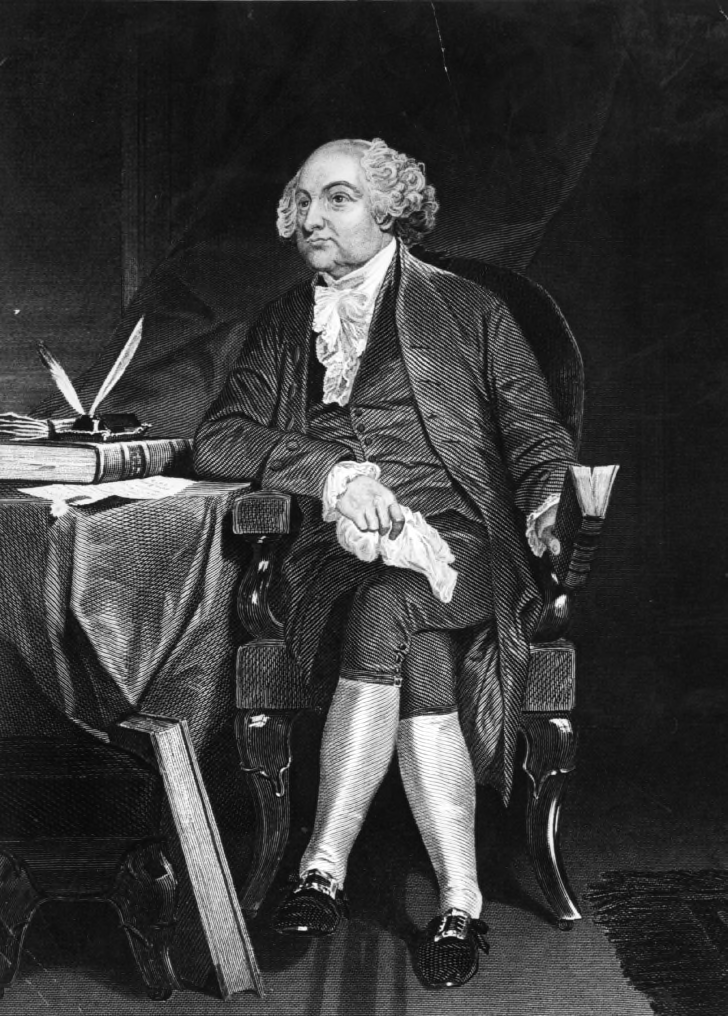 John Adams signed a congressional act creating the United States Marine Band in 1798, which is now the oldest active professional musical organization in the U.S. Known as the President's Own, they played at the first ever New Year's celebration at the president's house and, later, at Thomas Jefferson's inauguration.
3. Thomas Jefferson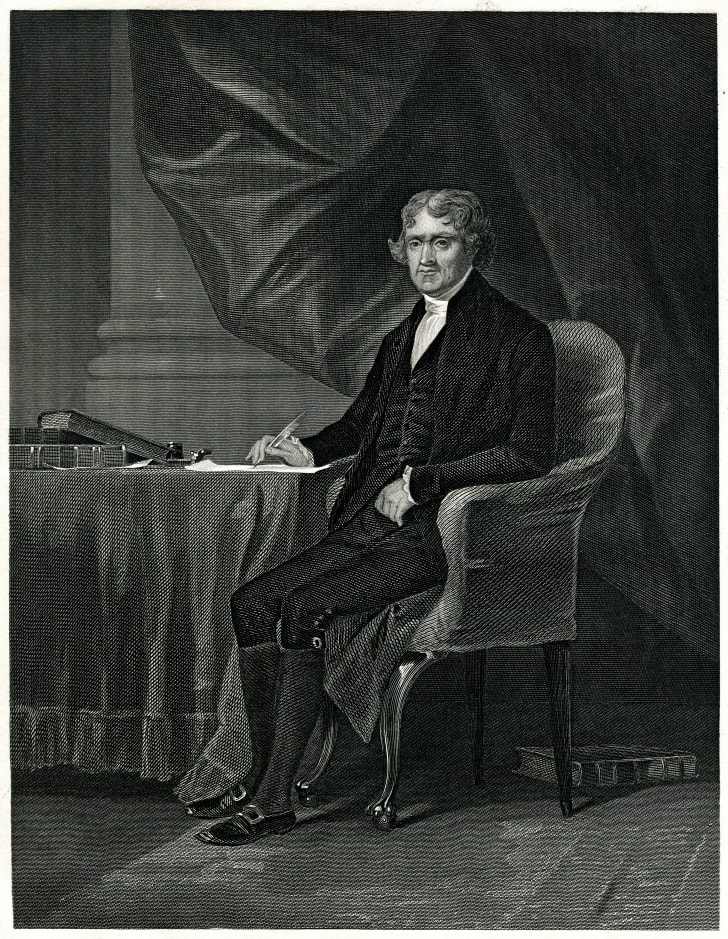 Thomas Jefferson offered to sell his personal library when the Library of Congress was burned by the British during the War of 1812. He sold them 6487 books from his own collection, the largest in America at the time.
4. James Madison
James and Dolley Madison were crazy for ice cream. They had an ice house built on the grounds of their Montpelier estate so that they could enjoy ice cream and cold drinks all summer long, and they were known to serve bowls of oyster ice cream at official government functions.
5. James Monroe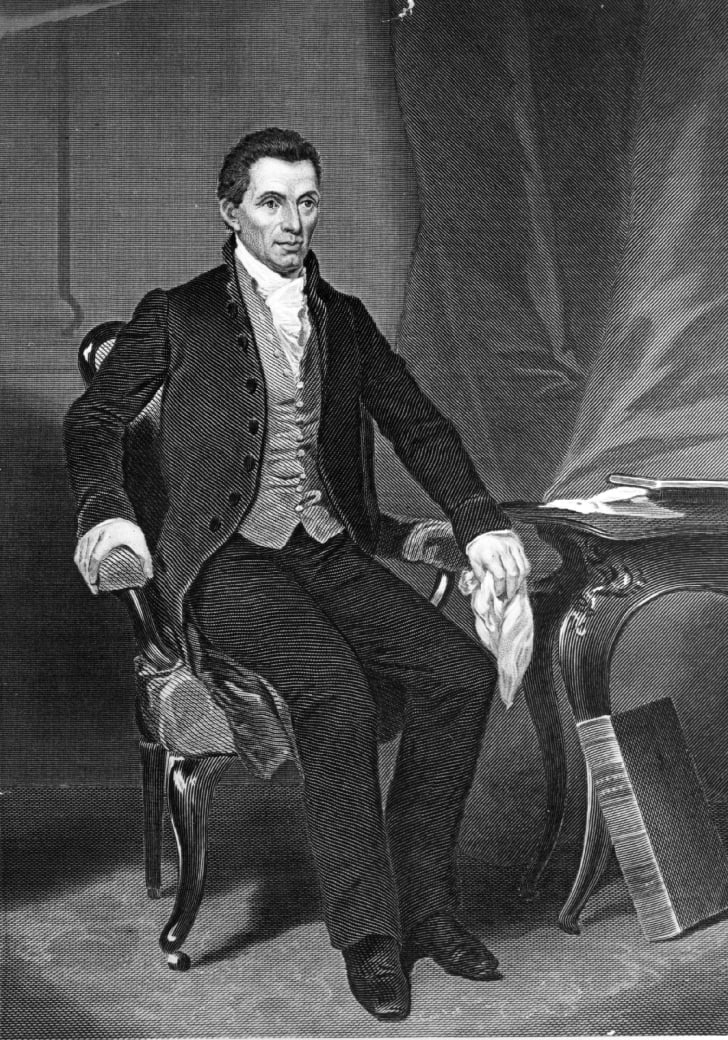 James Monroe and his wife, Elizabeth, attended Napoleon's coronation at Notre Dame Cathedral in 1804 while he was serving as the American ambassador in the U.K.
6. John Quincy Adams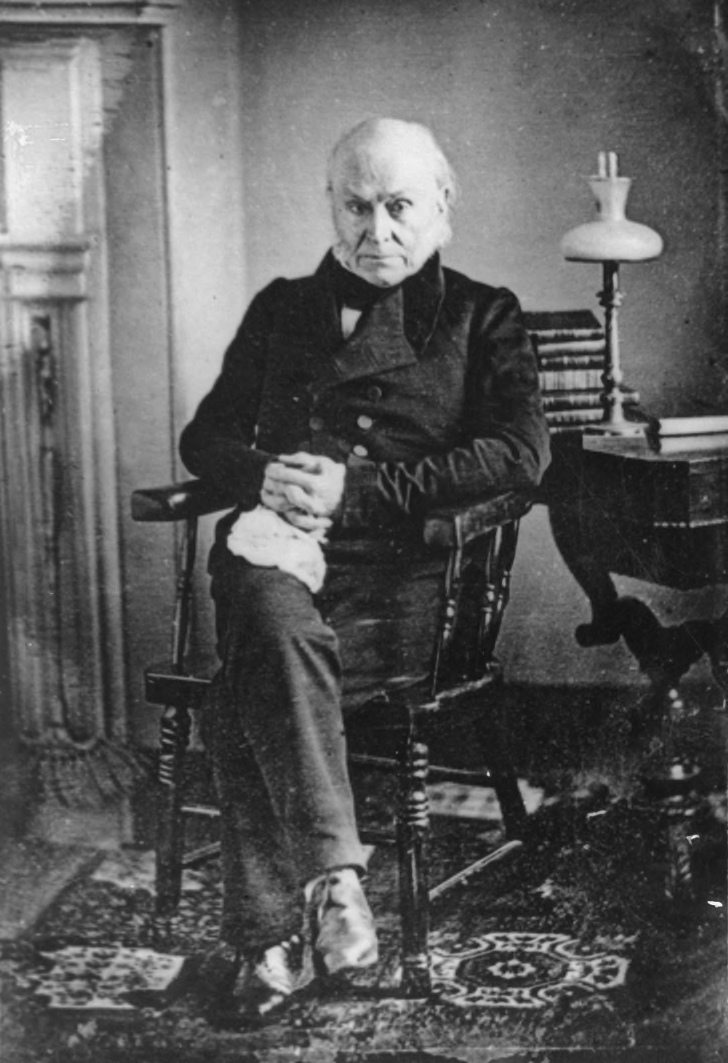 John Quincy Adams enjoyed skinny-dipping. He was known to take 5 a.m. plunges in the Potomac River as part of his morning exercise routine.
7. Andrew Jackson
Andrew Jackson despised banks and made it his mission to defund the Second Bank of the United States (he succeeded). So, it seems particularly ironic that his portrait has graced the $20 since 1929.
8. Martin Van Buren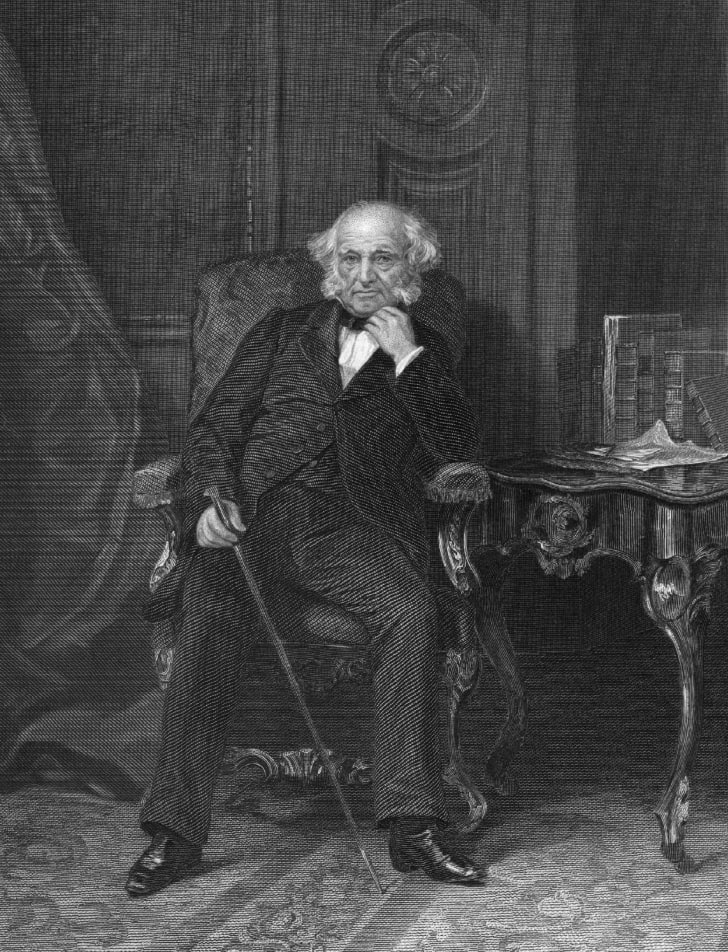 Born in New York in 1782, Martin Van Buren was the first president to have been born after the American Revolution, technically making him the first American-born president. (The seven before him were all born in the American colonies.)
9. William Henry Harrison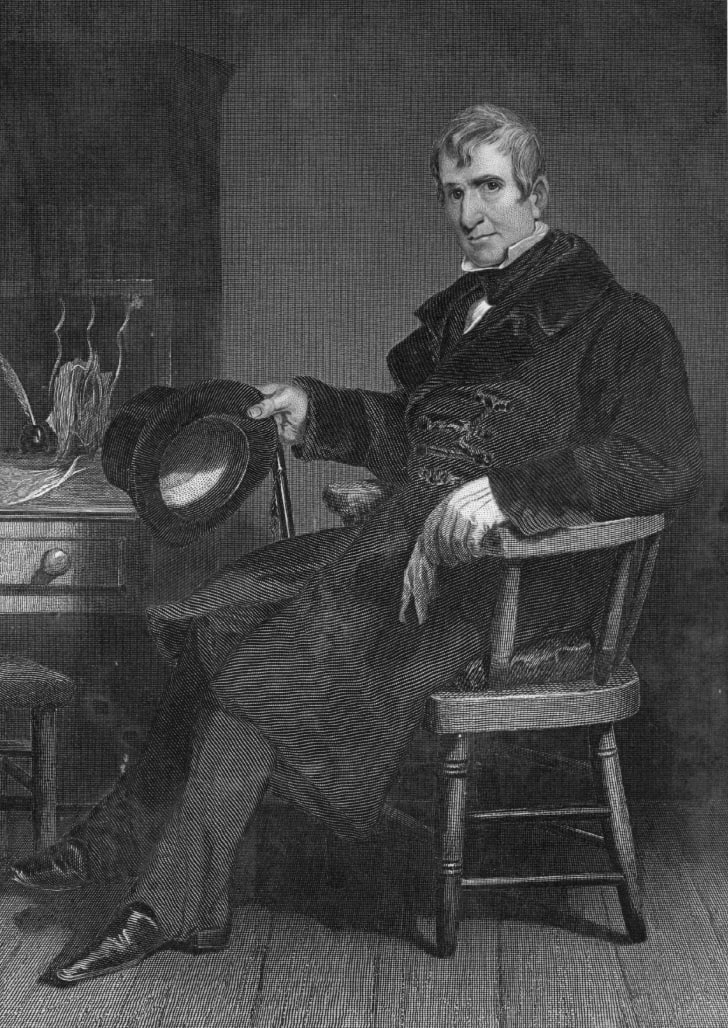 Harrison kept a goat as his pet, but never bothered to name him. (He called him Billy goat.) He also had a beloved cow he called Sukey.
10. John Tyler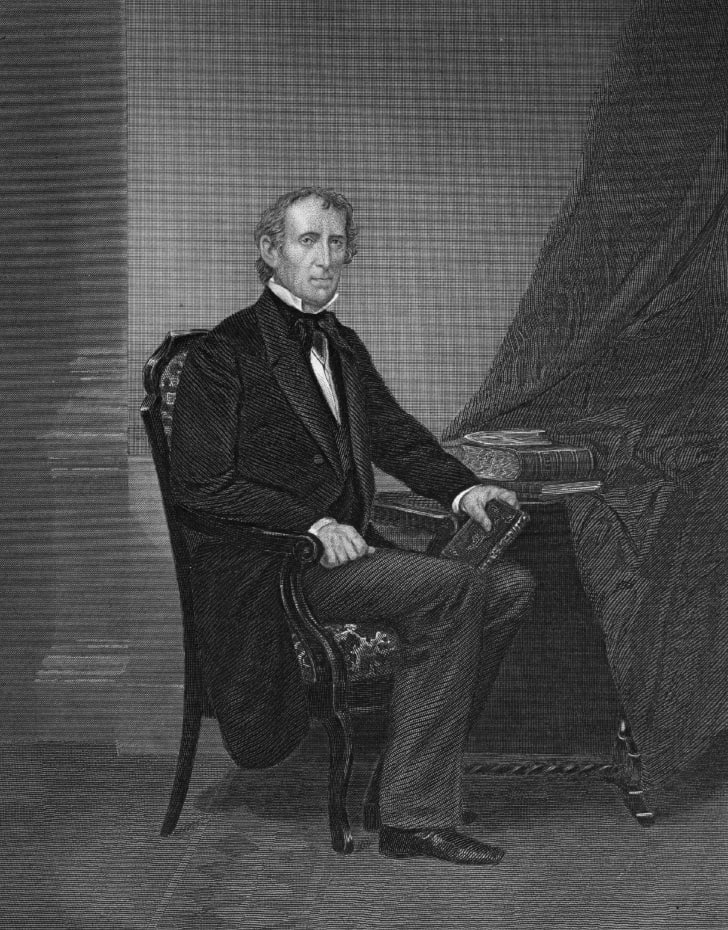 John Tyler loved music and had considered becoming a concert violinist before deciding to follow his father's advice and study law. Often, he would play music for guests at the White House and in his later years he devoted himself to perfecting his skill at violin and fiddle. In 2004, when he was sculpted in bronze as part of a presidents' memorial in South Dakota, the artists included his violin in his statue.
11. James K. Polk
When he was 17, James Polk needed surgery to have some kidney stones removed. He had some brandy to numb the pain but was awake for the entire procedure—anesthesia wouldn't be invented for another 30-some years.
12. Zachary Taylor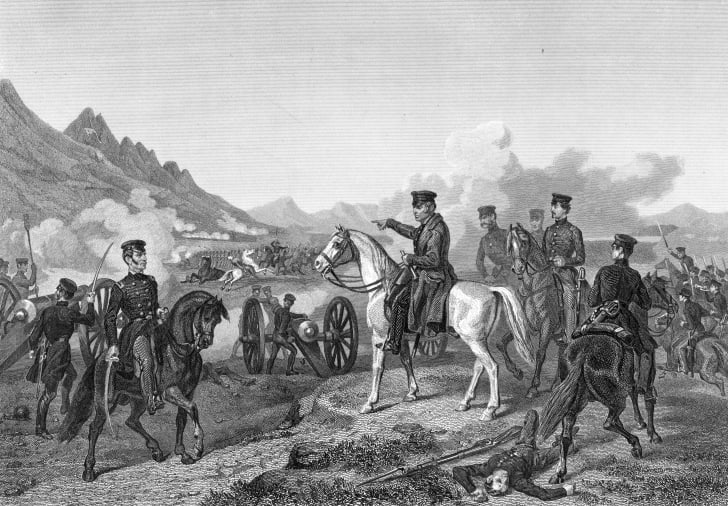 Zachary Taylor was a war hero whose beloved horse, Old Whitey, was nearly as popular as he was—numerous times while the steed was grazing on the White House lawn, visitors would approach him to pluck a hair from his tail for a souvenir.
13. Millard Fillmore
A voracious reader, Millard Fillmore was known to keep a dictionary on him in order to improve his vocabulary.
14. Franklin Pierce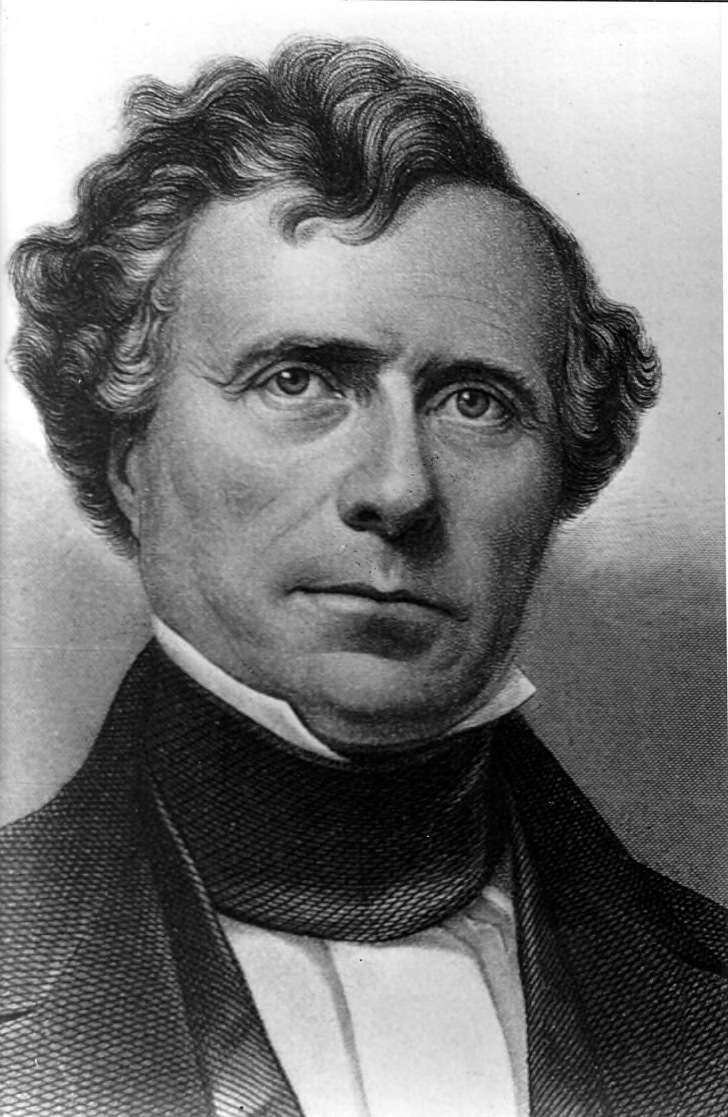 Franklin Pierce had a number of nicknames, including "Handsome Frank," but likely the most embarrassing was "Fainting Frank." As a brigadier general in the Mexican-American war, he sustained a groin and knee injury during a battle in 1847 when he was thrown against the pommel of his horse. He only briefly passed out from the pain, but the nickname stuck around for life.
15. James Buchanan
Though James Buchanan was engaged once in his late twenties, she broke it off. He became the only president who was a lifelong bachelor.
16. Abraham Lincoln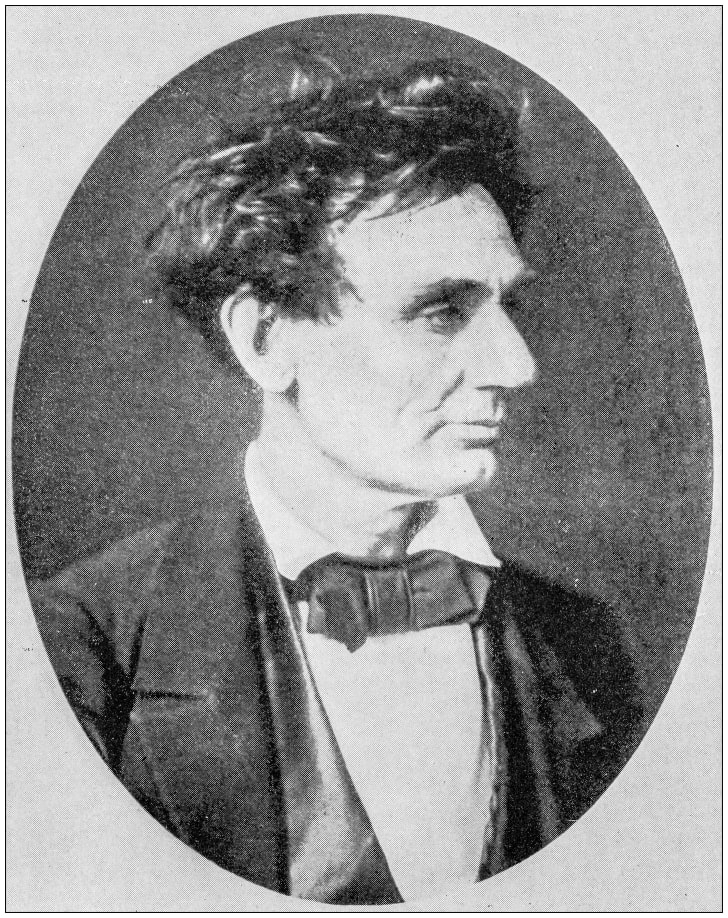 Before Abraham Lincoln found his "look" with his famous beard, he was known for his fairly unkempt appearance. One reporter referred to his "thatch of wild republican hair" with his "irregular flocks of thick hair carelessly brushed" across his face.
17. Andrew Johnson
In his day, Andrew Johnson was known as the best dressed president. Growing up, his mother sent him to apprentice with a tailor, and he frequently made his own clothes and suits.
18. Ulysses S. Grant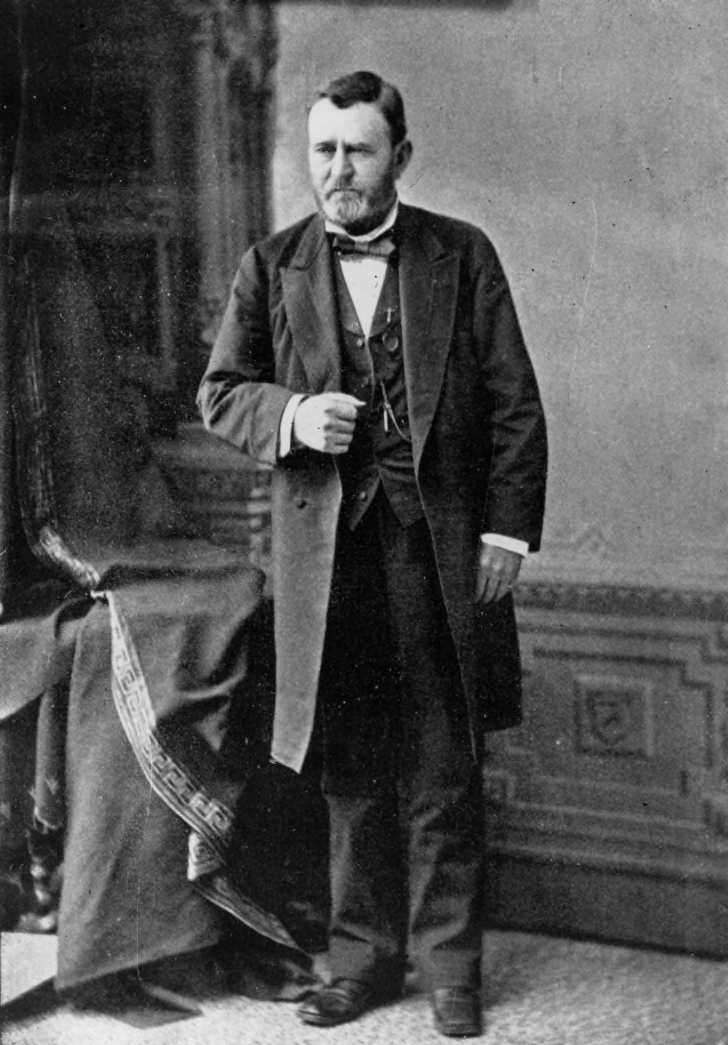 In an attempt to unite the North and South, Ulysses S. Grant made Christmas a national holiday in 1870.
19. Rutherford B. Hayes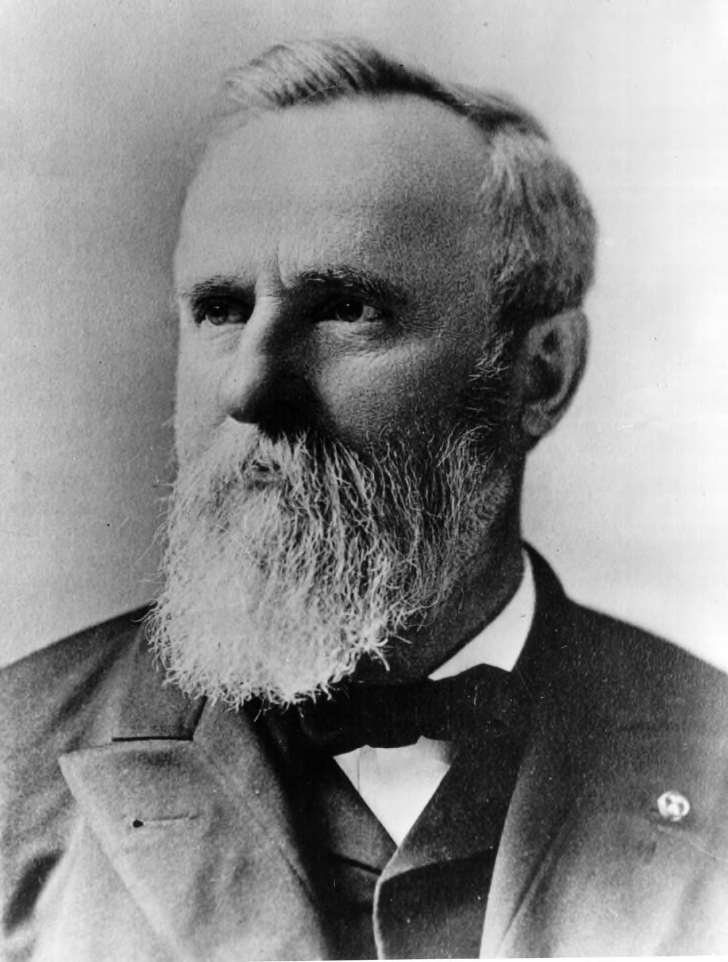 The first Siamese cat to arrive in America was sent as a gift to Hayes and his wife, Lucy, by the American consul in Bangkok. Siam the cat landed at the White House in 1879 after traveling by ship to Hong Kong then San Francisco, and then by train to Washington, D.C.
20. James A. Garfield
As a child, James Garfield dreamed of being a sailor. He read a number of nautical novels which fueled his imagination, but a teenage job towing barges was as close to a seafaring life as he saw.
21. Chester A. Arthur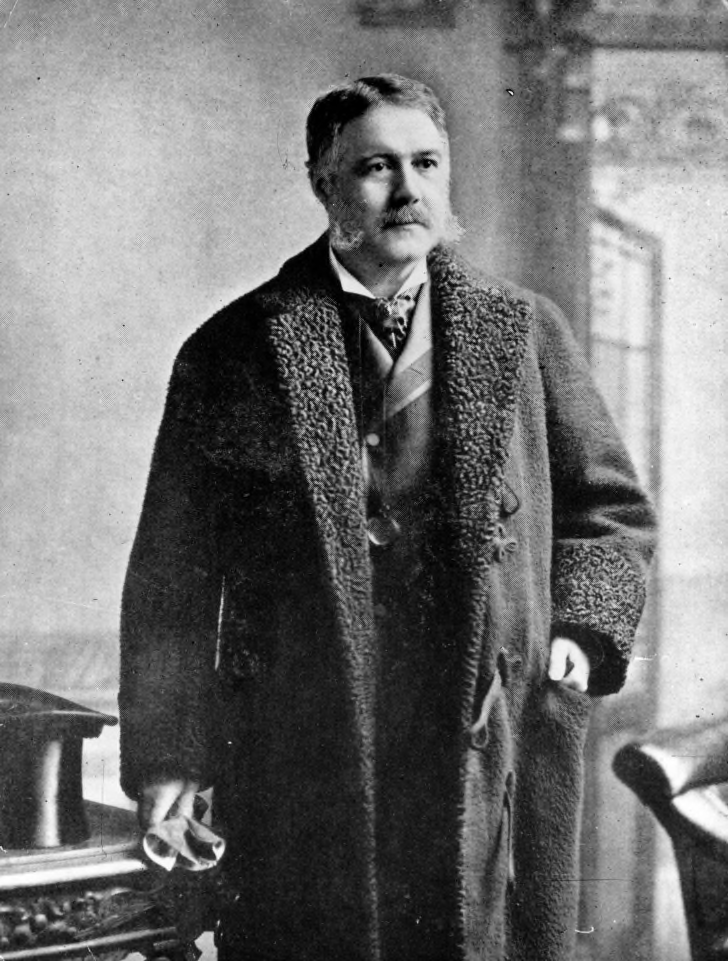 Chester A. Arthur oversaw a massive renovation of the White House and its private chambers. Arthur hired Louis C. Tiffany—Tiffany and Co.'s first design director and the man most known for his work with stained glass—to do all of the redesign. To help cover some of the costs, Arthur had 24 wagon-loads of old furniture, drapes, and other household items (some of which dated back to the Adams administration) sold at auction.
22. Grover Cleveland
He was born Stephen Grover Cleveland, but dropped Stephen before he entered into politics. He was affectionately called "Uncle Jumbo" by his younger relatives because he was nearly 6 feet tall and weighed about 270 pounds.
23. Benjamin Harrison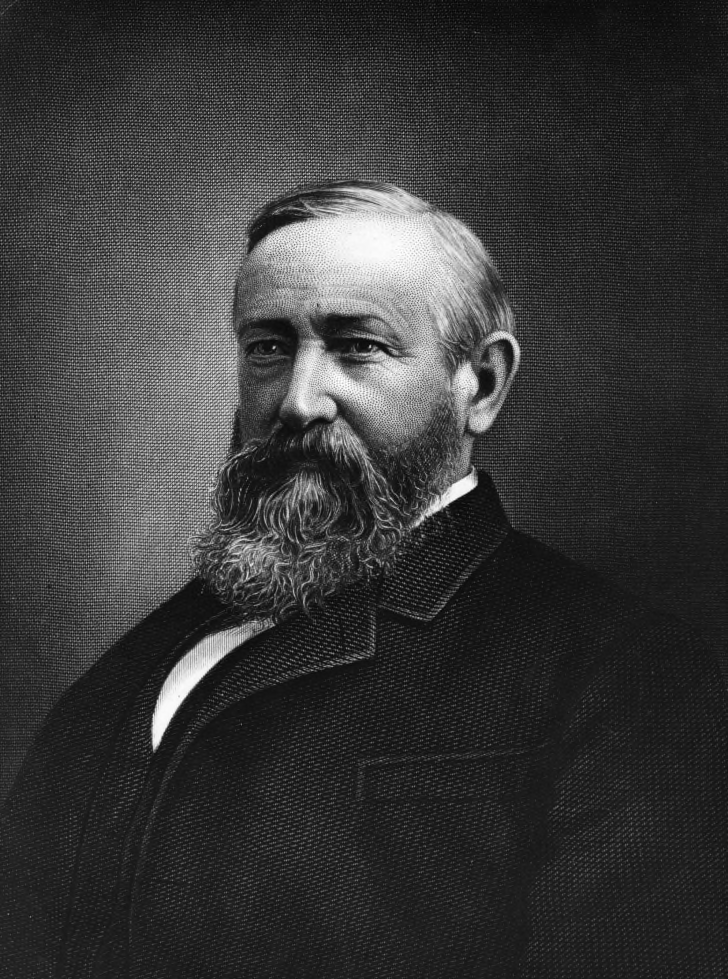 Benjamin Harrison had a tight-knit family and loved to amuse and dote on his grandchildren. He put up the first recorded White House Christmas tree in 1889, and was known to put on the Santa suit for entertainment.
24. Grover Cleveland
Grover Cleveland was also the first (and only) U.S. President to serve non-consecutive terms, so he makes this list twice. Between terms, he moved back to New York City, worked at a law firm, and his wife gave birth to their famous first daughter, Baby Ruth.
25. William McKinley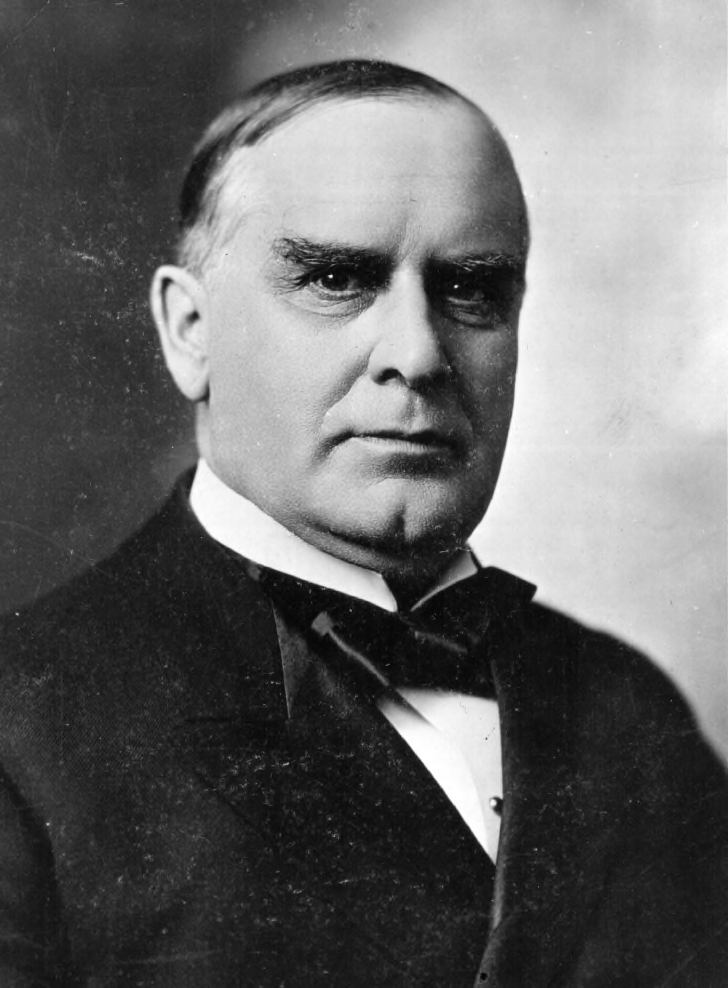 William McKinley had a double yellow-headed Amazon parrot named Washington Post who served in an official capacity as a White House greeter. The bird also knew the song "Yankee Doodle Dandy"—the president would whistle the first few notes, and then Washington Post would finish the rest.
26. Theodore Roosevelt
For his official White House portrait, Theodore Roosevelt chose the famed French portraiture artist Theobald Chartran, who had earlier done a portrait of the First Lady Edith Roosevelt. "It was difficult to get the president to sit still," The New York Times reported Chartran said before the painting was unveiled and displayed in France in 1903. "I never had a more restless or more charming sitter." Roosevelt, however, hated the painting, and after hiding it in a dark hall of the White House for years, he eventually burned it.
27. William Howard Taft
In 1910, William Taft became the first president to attend baseball's opening day and throw the ceremonial first pitch, a tradition that has been honored by nearly every president since (sans Carter and Trump, thus far).
28. Woodrow Wilson
Woodrow Wilson is among many U.S. Presidents known for their love of golf. Wilson enjoyed daily rounds to stay in shape and relax, particularly during World War I, when he even used black golf balls so he could play through the winter.
29. Warren G. Harding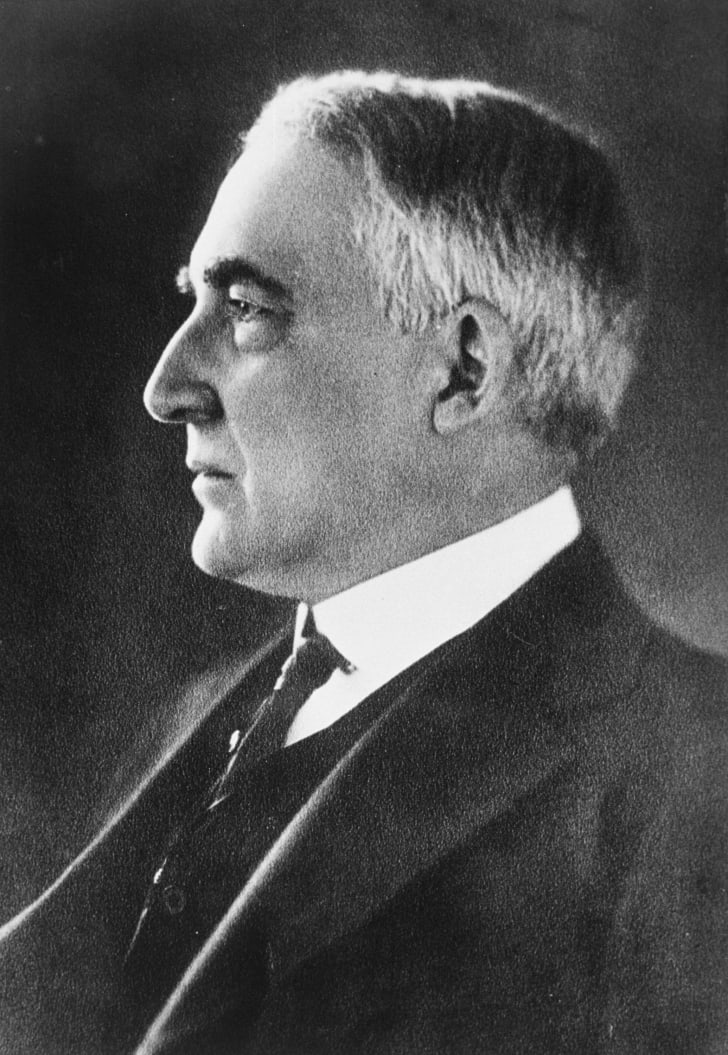 Warren G. Harding loved playing poker and held weekly games at the White House. Rumor has it he even bet, and lost, an entire set of official White House china.
30. Calvin Coolidge
Though three presidents (Adams, Jefferson, and Monroe) have died on the 4th of July, Calvin Coolidge is the only president to have been born on that date.
31. Herbert Hoover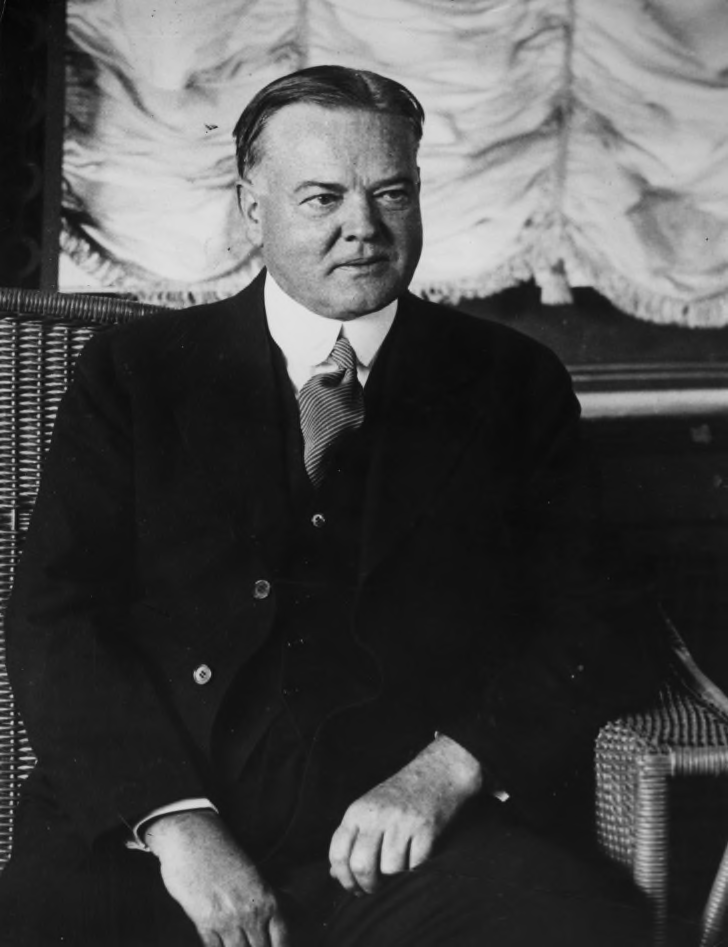 After he left office, Herbert Hoover wrote a number of books, including The Ordeal of Woodrow Wilson, the first biography of a president written by another president.
32. Franklin D. Roosevelt
When Franklin married Eleanor Roosevelt in 1905, they chose the date March 17 because President Theodore Roosevelt would be in New York City for the St. Patrick's Day parade, and he'd agreed to walk Eleanor, his niece, down the aisle. FDR and TR were fifth cousins.
33. Harry S. Truman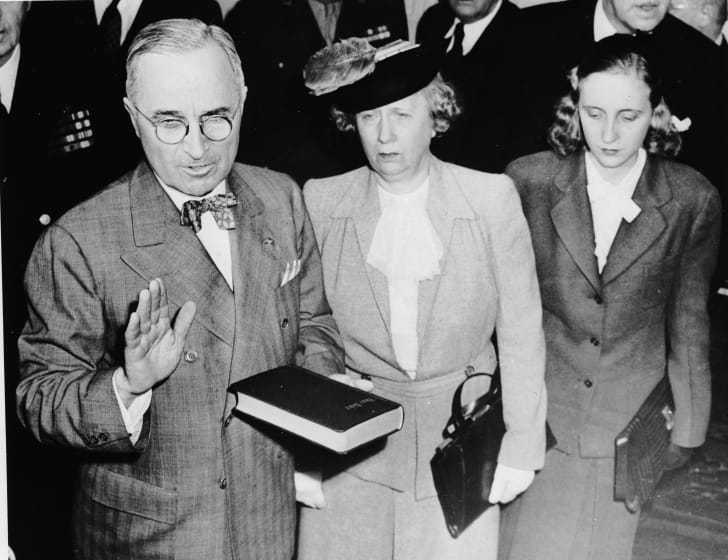 Though Harry Truman met his wife, Bess, in the fifth grade and they were high school sweethearts, they didn't marry until they were in their mid-thirties.
34. Dwight D. Eisenhower
Even though Ike's military career spanned both world wars and made him one of only nine men who have ever attained the rank of five-star general, he never once saw active combat.
35. John F. Kennedy
JFK lived off of his family's considerable trusts, so he donated all of his congressional and presidential salaries to charities like the United Negro College Fund and Boy Scouts and Girl Scouts of America.
36. Lyndon B. Johnson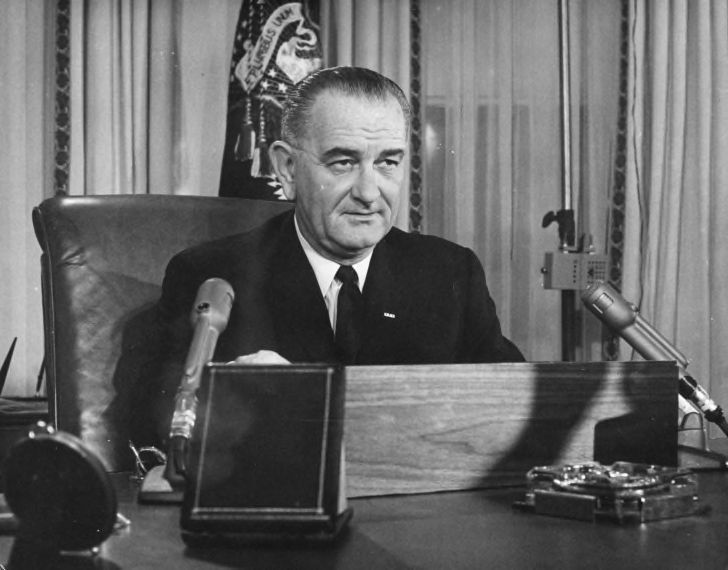 Lyndon Johnson had two beagles named Him and Her. The dogs became national celebrities after being frequently photographed with the president; they were heavily featured in a 1964 Life magazine profile that stated, "Not many dogs have been privileged to shoo birds off the White House lawn, get underfoot at a Cabinet meeting, or mingle with dignitaries at a state ball."
37. Richard Nixon
Nixon's mother encouraged him to play piano at an early age and he went on to learn violin, clarinet, saxophone, and accordion. In 1961, he even performed a song he wrote on The Jack Paar Program.
38. Gerald Ford
Ford attended the University of Michigan, where he was a star football player. The team won national titles in both 1932 and '33 (Ford's sophomore and junior years). After graduation, he turned down offers to play with both the Detroit Lions and Green Bay Packers; instead, he took a coaching job at Yale University because he also wanted to attend their law school.
39. Jimmy Carter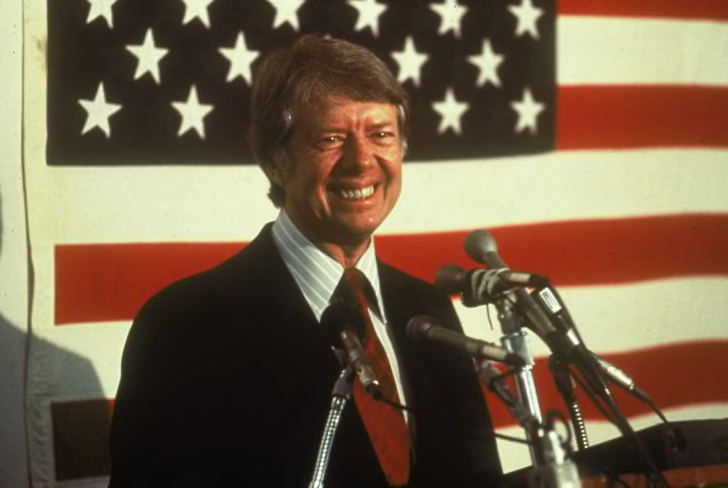 Jimmy Carter was known for his frugality, and he went so far as to sell the presidential yacht while he was in office. The USS Sequoia had been in use since the Hoover administration, but by 1977, it cost $800,000 a year in upkeep and staffing. Carter sold it for $236,000.
40. Ronald Reagan
Ronald Reagan's last acting role was also his first go as a villain. The film, 1964's The Killers, was based on an Ernest Hemingway story and was intended to be one of the first made-for-television movies. The network, however deemed it too violent for TV, so it was released in theaters instead.
41. George H.W. Bush
George and his wife, Barbara, met as teenagers in 1941 and were married just over two years later. They died within months of each other in 2018, and their 73-year marriage was the longest of any first couple. (The second-longest presidential marriage was that of John and Abigail Adams at 54 years. Adams was the only other president whose son also held the job.)
42. Bill Clinton
A 16-year-old Bill Clinton managed to shake hands with President John F. Kennedy at a Boys Nation event in 1963. This would take place just four months before Kennedy's assassination.
43. George W. Bush
In 1993—two years before he became the governor of Texas—George W. Bush ran the Houston marathon, finishing with a time of 3:44:52. He is the only president to have ever run a marathon.
44. Barack Obama
Barack Obama's love of basketball was well-documented during his presidency, but according to one of his high school teammates, he earned the nickname "Barry O'Bomber" because of all the tough shots he was known to take (and miss).
45. Donald Trump
Of the many commercial products that Donald Trump has put his name on, the Tour de Trump—a bike race meant to be the American answer to the Tour de France—might be the oddest. It was called that for its first two years (1989-'90) before being renamed the Tour de DuPont for its final six years as an event.
46. Joe Biden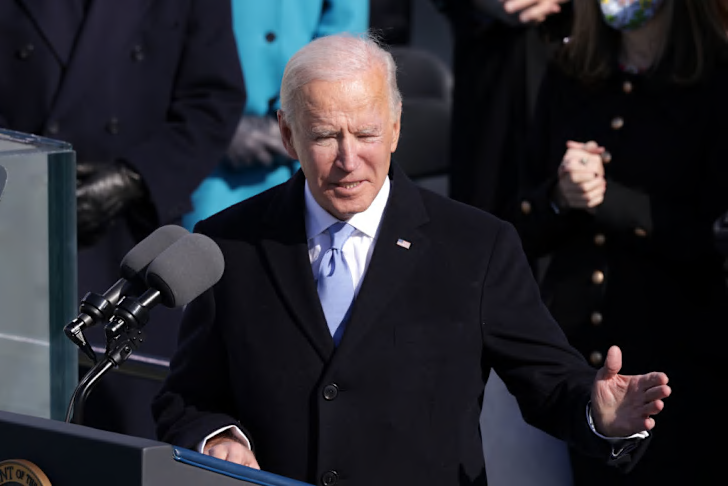 Among Joe Biden's family members making their way to the White House with him are two beloved German Shepherds, Champ and Major—and one of them is making history. Major, who was adopted from the Delaware Humane Association in Wilmington, Delaware, in 2018 will be the first shelter dog to ever occupy the position of First Pet.
This story has been updated for 2021.