25 Foreign Words With Hilarious Literal Meanings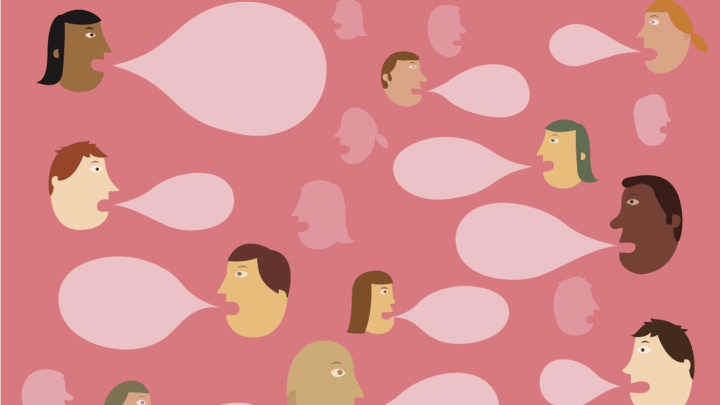 iStock / iStock
Anyone who has ever studied a foreign language knows that translator apps, while helpful, aren't always reliable. It's easy to tell when text has been fed through an online translator because certain words and phrases tend to get jumbled up in the process, as evidenced by the many mistranslations posted online every day. (See: The Iraqi hotel whose buffet sign misidentified meatballs as "Paul is dead.")
On the other hand, when done correctly, word-for-word translations—also known as literal or direct translations—can help language learners understand a word's origin while also providing interesting insight into how different cultures perceive ordinary objects. In this spirit, we've selected 25 of our favorite foreign words and their weird and wonderful literal translations.
1. CHUỘT TÚI// RAT POCKET
Meaning: Kangaroo
Language: Vietnamese
Many of the Vietnamese words for animals sound as if a group of comedians went to a zoo and started roasting every creature they saw. A shark is a "fat fish," a skunk is a "stink fox," and a baboon is a "monkey head dog," which sounds like a terrifying mythical creature you wouldn't want to cross paths with.
2. STROZZAPRETI // PRIEST STRANGLER
Meaning: A kind of pasta
Language: Italian
The legend of how this noodle got its name is just as twisted as the pasta itself. It allegedly stems from greedy priests who, upon receiving the dish from locals, scarfed it down so quickly that they choked, according to BBC Good Food.
3. SYUT GWAIH // SNOW CUPBOARD
Meaning: Refrigerator
Language: Chinese (Cantonese)
There's some crossover between Mandarin and Cantonese, two of the main languages spoken in China, but this term is solely used among Cantonese speakers, particularly in Hong Kong.
4. AMUSE-BOUCHE // MOUTH AMUSER
Meaning: A kind of appetizer
Language: French
This one doesn't translate perfectly into English because the French truly have a monopoly on food terminology, but an amuse-bouche is basically a bite-sized hors d'oeuvre (appetizer, but literally "outside of work"). It's also sometimes called amuse-gueule, meaning the same thing.
5. DEDOS DO PE // FOOT FINGERS
Meaning: Toes
Language: Portuguese
Why invent a new word when toes are basically the fingers of the feet? At least that seems to be the logic behind the conjoining of these two words in Portuguese, French, Arabic, and a number of other languages.
6. BRUSTWARZEN // BREAST WARTS
Meaning: Nipples
Language: German
While this may sound slightly off-putting to English speakers, many Germanic languages use the same word for "warts" and "nipples," according to The Economist.
7. SMÖRGÅS // BUTTER GOOSE
Meaning: Sandwich
Language: Swedish
The word gås literally translates to goose, but the Online Etymology Dictionary notes that it also carries a second meaning: a clump (of butter). (Smör also means butter, making smörgås mean either "butter goose" or "butter butter.") Smörgås is taken to mean "bread and butter," and thus a sandwich. Smorgasbord, which has been adopted into English, starts to make a little more sense when it's interpreted as a sandwich table, or more generally, a buffet offering various dishes. Are you following all this?
8. PAPIER VAMPIER // PAPER VAMPIRE
Meaning: Stapler
Language: Afrikaans
As The South African notes, there are several Afrikaans words that simply sound funny when they're translated directly into English. Popcorn is "jumping corn," a chameleon is "step softly," and a weed is "look around tobacco."
9. SURTAN ALBAHR // CANCER OF THE SEA
Meaning: Lobster
Language: Arabic
"Cancer of the sea" seems like a harsh moniker for a humble crustacean, but this appears to be another case of multiple meanings. According to the Hans Wehr Dictionary of Modern Written Arabic [PDF], the Arabic word for cancer stems from a root word meaning "to grab/to swallow," which yielded the word for lobster.
10. NACKTSCHNECK // NAKED SNAIL
Meaning: Slug
Language: German
Itchy Feet, a travel and language comic by Malachi Ray Rempen, illustrates some of the amusing results when German is translated word for word into English. There's "glowing pear" for light bulb, "go wheel" for bicycle, and "into-the-groundening" for funeral.
11. DIAN NAO // ELECTRIC BRAIN
Meaning: Computer
Language: Chinese (Mandarin)
Chinese can seem quite poetic to non-native speakers. This is partly because it's a logogram-based language, meaning that a character represents a word. Instead of inventing a new character to represent computer, pre-existing characters are combined to yield an entirely new concept. Hence, electric brain.
12. BERGMAL // ROCK LANGUAGE
Meaning: Echo
Language: Icelandic
As Iceland Naturally explained, this translation is fitting "because an echo typically is bouncing off surrounding rocks or walls, as if it were their way of communicating." If only someone could translate what they're saying…
13. TOILETBRIL // TOILET GLASSES
Meaning: Toilet seat
Language: Dutch
Alternate definition we're proposing: the figurative glasses you wear when you're half-asleep at 3 a.m., feeling your way through the darkness in search of the bathroom.
14. JOULUPUKKI // CHRISTMAS GOAT
Meaning: Santa Claus
Language: Finnish
Translating to Christmas Goat or Yule Goat, joulupukki was historically a very different character: a "troll who used to threaten children who were naughty," The New York Times reports. Over the years, the idea evolved and became conflated with Santa Claus, but the term stuck.
15. SCHLAGZEUG // HIT STUFF
Meaning: Drums
Language: German
According to Your Daily German, the word zeug ("stuff") originally meant "pulling something to you" in order to use it—or in other words, a tool. It's used to describe a number of things, including an airplane (flugzeug, or "flight stuff"), lighter (feuerzeug, or "fire stuff"), and toy (spielzeug, or "play stuff").
16. MONTAÑA RUSA // RUSSIAN MOUNTAINS
Meaning: Rollercoaster
Language: Spanish
Rollercoasters are called "Russian mountains" in Spanish and several other Romance languages because the early predecessor to the ride—a slide placed on an ice-covered hill—was invented in present-day Russia in the 15th century. In other languages, a rollercoaster is a "train of death" (Croatian), "wavy iron road" (Hungarian), and "American hills" (Russian).
17. SPOOKASEM // GHOST BREATH
Meaning: Cotton candy
Language: Afrikaans
To be fair, the English phrases "cotton candy," "fairy floss" (Australia), and "candy floss" (UK) don't make perfect sense, either. But ghost breath? It gets points for originality, at least.
18. GAESALAPPIR // GOOSE FEET
Meaning: Quotation marks
Language: Icelandic
Icelandic is notoriously hard to learn, and a look at some of its words seems to show why. A comic strip series on Bored Panda highlights some of the odder literal translations of the language, such as "animal garden" for zoo, "womb cake" for placenta, and "bride to buy" for wedding.
19. AIN HTAUNG // HOUSE PRISON
Meaning: Marriage
Language: Burmese
Speaking of marriage, Icelanders aren't the only ones to take a dim view of the institution—linguistically speaking, at least. Used as a verb, the Burmese word ain htaung can be understood as "fall into marriage" and is used in the same way as htaung kya, or "fall into prison."
20. NIU ZAI KU // COWBOY PANTS
Meaning: Jeans
Language: Chinese (Mandarin)
Chinese isn't the only language to associate blue jeans with American culture and the Wild West. In Spanish, they're called vaqueros ("cowboys") or tejanos ("Texans"), and in Danish they're cowboybukser, also meaning "cowboy pants," according to the Denim and Trousers ebook by Marquis Schaefer [PDF].
21. HABLEÁNY // FOAM GIRL
Meaning: Mermaid
Language: Hungarian
Haven't you ever seen The Little Foam Girl? It's a Disney classic!
22. KANTH LANGOT // LARYNX LOINCLOTH
Meaning: Tie
Language: Hindi
According to the book Chutnefying English, many Hindi words were introduced to push back against English terms that had been standardized under British colonialism:
"The admission of loanwords into the active lexicon of Hindi speakers has been patchy, with some of the more absurd formulations (such as lauh-path gaamini or 'iron-path traveller' for 'train,' and kanth-langot or 'larynx loincloth' for 'necktie') the butt of well-earned mockery."
23. STOFZUIGER // DUST SUCKER
Meaning: Vacuum cleaner
Language: Dutch
Laura Frame, an illustrator from Glasgow, Scotland, created the "Amusing Dutch Words" series to share some of her favorite literal translations of Dutch, including "mirror egg" for fried egg, "garden snake" for hose, and "wash bear" for raccoon.
24. JAGUCHI // SNAKE MOUTH
Meaning: Water faucet
Language: Japanese
This creative interpretation isn't too much of a stretch—a faucet does look a bit like a snake's mouth, if you use your imagination.
25. GAVISTI // DESIRE FOR CATTLE
Meaning: War
Language: Sanskrit
Popularized by a scene in the 2016 sci-fi thriller Arrival, audiences learned that one of the Sanskrit words for war (there are a few) has a peculiar literal translation. This dates back to the early Aryans, who sometimes carried out attacks against aborigines "for the purpose of getting cattle," according to an article published in The American Journal of Theology.