This Wall Chart Shows Every Oil Painting Vincent Van Gogh Ever Created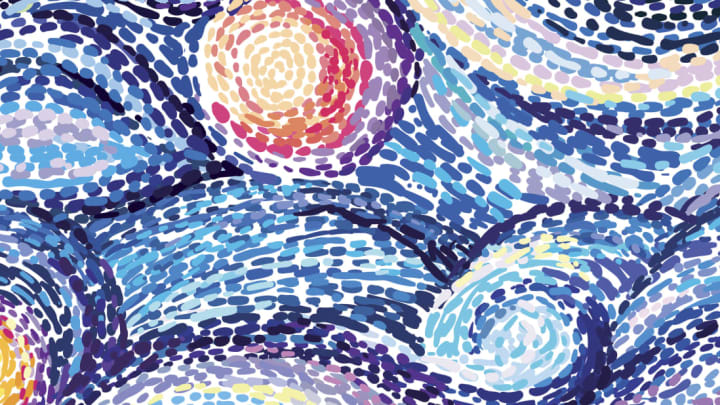 iStock / iStock
Vincent van Gogh, among other things, was a prolific painter. He created 85 oil paintings of women, 70 of flowers, 42 of wheat fields, and 38 of his own image. The Post-Impressionist master's nearly 900 oil paintings can now be seen all in one place, thanks to a new wall chart from Curious Charts.
Curious Charts
In this "Visual Taxonomy of Van Gogh," the painter's oeuvre is organized into a few categories, like still lifes and landscapes, and further broken down into subcategories such as water and bridges, wheat, and trees. Timothy Sanders, who runs Curious Charts with his wife, Aurélia, said he started out by organizing Van Gogh's works into categories in an Excel spreadsheet.
"When we had the idea of trying to fit all of Van Gogh's paintings, which is almost 900 in total, onto a single poster-sized chart, it was really exciting," he says in the video below. "But as we quickly discovered, there were a lot of challenges."
Size and spacing were the biggest issues, and the 24-inch-by-36-inch poster took three months to create. There are notations underneath each image specifying the title of the work and the year it was painted.
The Sanders duo is raising funds for the project via Kickstarter, and so far they've raised nearly $1500 of their $2000 goal. The fundraising campaign ends June 14.
Scroll down to see more photos of the chart, plus a video showing how it was made.
Curious Charts
Curious Charts