12 Facts About James Joyce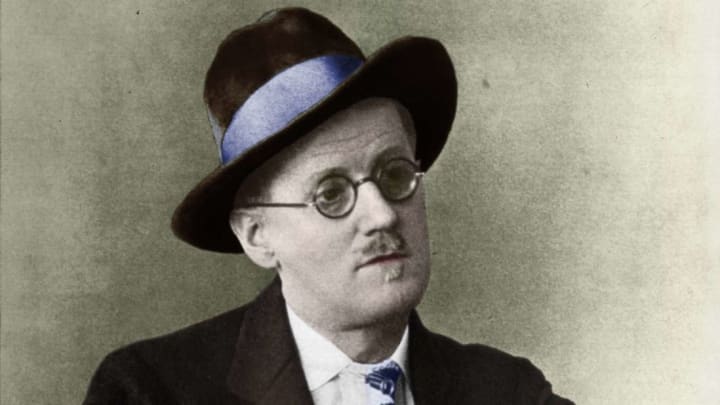 James Joyce remains an intriguing author. / Culture Club / Contributor / Getty Images
June 16, 1904, is the day that James Joyce, the Irish author of Modernist masterpieces like Dubliners and A Portrait of the Artist as a Young Man, and who was described as "a curious mixture of sinister genius and uncertain talent," set his seminal work, Ulysses. It also thought to be the day that he had his first date with his future wife, Nora Barnacle. To this day, fans around the world know June 16 as "Bloomsday," after one of the book's protagonists. 
But you don't need to wait until June to learn more about James Joyce. Here are 12 facts about the man who was as mythical as the myths he used as the foundations for his own work.
1. James Joyce was only 9 years old when his first piece of writing was published. 
In 1891, shortly after he had to leave Clongowes Wood College when his father lost his job, 9-year-old Joyce wrote a poem called "Et Tu Healy?" It was published by his father John and distributed to friends; the elder Joyce thought so highly of it, he allegedly sent copies to the Pope.
No known complete copies of the poem exist, but the precocious student's verse allegedly denounced a politician named Tim Healy for abandoning 19th century Irish nationalist politician Charles Stewart Parnell after a sex scandal. Fragments of the ending of the poem, later remembered by James's brother Stanislaus, showed Parnell looking down on Irish politicians:
His quaint-perched aerie on the crags of Time Where the rude din of this century Can trouble him no more
While the poem was seemingly quaint, young Joyce equating Healy as Brutus and Parnell as Caesar marked the first time he'd use old archetypes in a modern context, much in the same way Ulysses is a unique retelling of The Odyssey.
As an adult, Joyce would publish his first book, a collection of poems called Chamber Music, in 1907. It was followed by Dubliners, a collection of short stories, in 1914, and the semi-autobiographical A Portrait of the Artist as a Young Man (in which Clongowes Wood College is prominently featured) in 1916.
2. James Joyce caused a controversy at his college's paper.
While attending University College, Dublin, Joyce attempted to publish a negative review—titled "The Day of the Rabblement"—of a new local playhouse called the Irish Literary Theatre in the school's paper, St. Stephen's. Joyce's condemnation of the theater's "parochialism" was allegedly so scathing that the paper's editors, after seeking consultation from one of the school's priests, refused to print it.
Incensed about possible censorship, Joyce appealed to the school's president, who sided with the editors—which prompted Joyce to put up his own money to publish 85 copies to be distributed across campus.
The pamphlet, published alongside a friend's essay to beef up the page-count, came with the preface: "These two essays were commissioned by the editor of St. Stephen's for that paper, but were subsequently refused insertion by the censor." It wouldn't be the last time Joyce would fight censorship.
3. Nora Barnacle ghosted James Joyce for their first planned date.
By the time Nora Barnacle and Joyce finally married in 1931, they had lived together for 27 years, traveled the continent, and had two children. The couple first met in Dublin in 1904 when Joyce struck up a conversation with her near the hotel where Nora worked as a chambermaid. She initially mistook him for a Swedish sailor because of his blue eyes and the yachting cap he wore that day, and he charmed her so much that they set a date for June 14—but she didn't show.
He then wrote her a letter, saying, "I looked for a long time at a head of reddish-brown hair and decided it was not yours. I went home quite dejected. I would like to make an appointment but it might not suit you. I hope you will be kind enough to make one with me—if you have not forgotten me!" This led to their first date, which supposedly took place on June 16, 1904.
She would continue to be his muse throughout their life together in both his published work (the character Molly Bloom in Ulysses is based on her) and their fruitful personal correspondence. Their notably dirty love letters to each other—featuring him saying their love-making reminded him of "a hog riding a sow" and signing off one by saying "Goodnight, my little farting Nora, my dirty little f**kbird!"—have highlighted the NSFW nature of their relationship. In fact, one of Joyce's signed erotic letters to Nora fetched a record £240,800 ($446,422) at a London auction in 2004.
4. James Joyce had really bad eyes. 
While Joyce's persistent money problems caused him to lead a life of what could be categorized as creative discomfort, he had to deal with a near lifetime of medical discomfort as well. Joyce suffered from anterior uveitis, which led to a series of around 12 eye surgeries over his lifetime. (Due to the relatively unsophisticated state of ophthalmology at the time, and his decision not to listen to contemporary medical advice, scholars speculate that his iritis, glaucoma, and cataracts could have been caused by sarcoidosis, syphilis, tuberculosis, or any number of congenital problems.) His vision issues caused Joyce to wear an eye patch for years and forced him to do his writing on large white sheets of paper using only red crayon. The persistent eye struggles even inspired him to name his daughter Lucia, after St. Lucia, patron saint of the blind.
5. James Joyce taught English at a Berlitz Language School.
In 1904, Joyce—eager to get out of Ireland—responded to an ad for a teaching position in Europe. Evelyn Gilford, a job agent based in the British town of Market Rasen, Lincolnshire, notified Joyce that a job was reserved for him and, for two guineas, he would be told exactly where the position was. Joyce sent the money, and by the end of 1904, he and his future wife, Nora, had left Dublin for the job at a Berlitz language school in Zurich, Switzerland—but when they got there, the pair learned there was no open position. But they did hear a position was open at a Berlitz school in Trieste, Italy. The pair packed up and moved on to Italy only to find out they'd been swindled again.
Joyce eventually found a Berlitz teaching job in Pola in Austria-Hungary (now Pula, Croatia). English was one of 17 languages Joyce could supposedly speak; others included Arabic, Sanskrit, Greek, and Italian (which eventually became his preferred language, and one that he exclusively spoke at home with his family). He also loved playwright Henrik Ibsen so much that he learned Norwegian so that he could read Ibsen's works in their original form—and send the writer a fan letter in his native tongue. (One friend, however, insists Joyce's ability to speak 17 languages was a joke.)
6. James Joyce invested in a movie theater. 
There are about 400 movie theaters in Ireland today, but they trace their history back to 1909, when Joyce helped open the Volta Cinematograph, which is considered "the first full-time, continuous, dedicated cinema" in Ireland.
More a money-making scheme than a product of a love of cinema, Joyce first got the idea when he was having trouble getting Dubliners published and noticed the abundance of cinemas while living in Trieste. When his sister, Eva, told him Ireland didn't have any movie theaters, Joyce joined up with four Italian investors (he'd get 10 percent of the profits) to open up the Volta on Dublin's Mary Street.
The venture fizzled as quickly as Joyce's involvement. After not attracting audiences due to mostly showing only Italian and European movies unpopular with everyday Dubliners, Joyce cut his losses and pulled out of the venture after only seven months.
The cinema itself didn't close until 1919, during the time Joyce was hard at work on Ulysses. (It reopened with a different name in 1921 and didn't fully close until 1948.)
7. James Joyce turned to a completely inexperienced publisher to release his most well-known book.
The publishing history of Ulysses is itself its own odyssey. Joyce began writing the work in 1914, and by 1918 he had begun serializing the novel in the American magazine Little Review with the help of poet Ezra Pound.
But by 1921, Little Review was in financial trouble. The published version of Episode 13 of Ulysses, "Nausicaa," resulted in a costly obscenity lawsuit against its publishers, Margaret Anderson and Jane Heap, and the book was banned in the United States. Joyce appealed to different publishers for help—including Leonard and Virginia Woolf's Hogarth Press—but none agreed to take on a project with such legal implications (and in the Woolf's case, length), no matter how supposedly groundbreaking it was.
Joyce, then based in Paris, made friends with Sylvia Beach, whose bookstore, Shakespeare and Company, was a gathering hub for the post-war expatriate creative community. In her autobiography, Beach wrote:
All hope of publication in the English-speaking countries, at least for a long time to come, was gone. And here in my little bookshop sat James Joyce, sighing deeply. It occurred to me that something might be done, and I asked : "Would you let Shakespeare and Company have the honour of bringing out your Ulysses?" He accepted my offer immediately and joyfully. I thought it rash of him to entrust his great Ulysses to such a funny little publisher. But he seemed delighted, and so was I. ... Undeterred by lack of capital, experience, and all the other requisites of a publisher, I went right ahead with Ulysses.
Beach planned a first edition of 1000 copies (with 100 signed by the author), while the book would continue to be banned in a number of countries throughout the 1920s and 1930s. Eventually it was allowed to be published in the United States in 1933 after the case United States v. One Book Called Ulysses deemed the book not obscene and allowed it in the United States.
8. Ernest Hemingway was James Joyce's drinking buddy—and sometimes body guard.
Ernest Hemingway—who was major champion of Ulysses—met Joyce at Shakespeare and Company, and was later a frequent companion among the bars of Paris with writers like Wyndham Lewis and Valery Larbaud.
Hemingway recalled the Irish writer would start to get into drunken fights and leave Hemingway to deal with the consequences. "Once, in one of those casual conversations you have when you're drinking," Hemingway said, "Joyce said to me he was afraid his writing was too suburban and that maybe he should get around a bit and see the world. He was afraid of some things, lightning and things, but a wonderful man. He was under great discipline—his wife, his work and his bad eyes. His wife was there and she said, yes, his work was too suburban--'Jim could do with a spot of that lion hunting.' We would go out to drink and Joyce would fall into a fight. He couldn't even see the man so he'd say, 'Deal with him, Hemingway! Deal with him!'"
9. James Joyce met another modernist titan—and had a terrible time.
Marcel Proust's gargantuan, seven-volume masterpiece, À la recherche du temps perdu, is perhaps the other most important Modernist work of the early 20th century besides Ulysses. In May 1922, the authors met at a party for composer Igor Stravinsky and ballet impresario Sergei Diaghilev in Paris. The Dubliners author arrived late, was drunk, and wasn't wearing formal clothes because he was too poor to afford them. Proust arrived even later than Joyce, and though there are varying accounts of what was actually said between the two, every known version points to a very anticlimactic meeting of the minds.
According to author William Carlos Williams, Joyce said, "I've headaches every day. My eyes are terrible," to which the ailing Proust replied, "My poor stomach. What am I going to do? It's killing me. In fact, I must leave at once."
Publisher Margaret Anderson claimed that Proust admitted, "I regret that I don't know Mr. Joyce's work," while Joyce replied, "I have never read Mr. Proust."
Art reviewer Arthur Power said both writers simply talked about liking truffles. Joyce later told painter Frank Budgen, "Our talk consisted solely of the word 'No.'"
10. James Joyce created a 100-letter word to describe his fear of thunder and lightning.
Joyce had a childhood fear of thunder and lightning, which sprang from his Catholic governess's pious warnings that such meteorological occurrences were actually God manifesting his anger at him. The fear haunted the writer all his life, though Joyce recognized the beginnings of his phobia. When asked by a friend why he was so afraid of rough weather, Joyce responded, "You were not brought up in Catholic Ireland."
The fear also manifested itself in Joyce's writing. In Portrait of the Artist as a Young Man, the autobiographical protagonist Stephen Dedalus says he fears "dogs, horses, firearms, the sea, thunderstorms, [and] machinery."
But the most fascinating manifestation of his astraphobia is in his stream of consciousness swan song, Finnegans Wake, where he created the 100-letter word Bababadalgharaghtaka-mminarronnkonnbronntonnerronntuonnthunntrovarrhounawnskawntoohoohoordenenthurnuk to represent a symbolic biblical thunderclap. The mouthful is actually made up of different words for "thunder" in French (tonnerre), Italian (tuono), Greek (bronte), and Japanese (kaminari).
11. James Joyce is thought to be a genius, but not everyone was a fan.
Fellow Modernist Virginia Woolf didn't much care for Joyce or his work. She compared his writing to "a queasy undergraduate scratching his pimples," and said that "one hopes he'll grow out of it; but as Joyce is 40 this scarcely seems likely."
She wasn't the only one. In a letter, D.H. Lawrence—who wrote such classics as Women in Love and Lady Chatterley's Lover—said of Joyce: "My God, what a clumsy olla putrida James Joyce is! Nothing but old fags and cabbage-stumps of quotations from the Bible and the rest stewed in the juice of deliberate, journalistic dirty-mindedness."
"Do I get much pleasure from this work? No," author H.G. Wells wrote regarding Finnegans Wake. " ... Who the hell is this Joyce who demands so many waking hours of the few thousand I have still to live for a proper appreciation of his quirks and fancies and flashes of rendering?"
Even his partner Nora had a difficult time with his work, asking after the publication of Ulysses, "Why don't you write sensible books that people can understand?"
12. James Joyce's supposed final words were as abstract as his writing.
Joyce was admitted to a Zurich hospital in January 1941 for a perforated duodenal ulcer, but slipped into a coma after surgery and died on January 13. His last words were befitting his notoriously difficult works—they're said to have been, "Does nobody understand?"
For more fascinating facts and stories about your favorite authors and their works, check out Mental Floss's new book, The Curious Reader: A Literary Miscellany of Novels and Novelists, out May 25!
A version of this story originally ran in 2018; it has been updated for 2021.