Billion-Year-Old Rocks Reveal the First Color Ever Produced by a Living Thing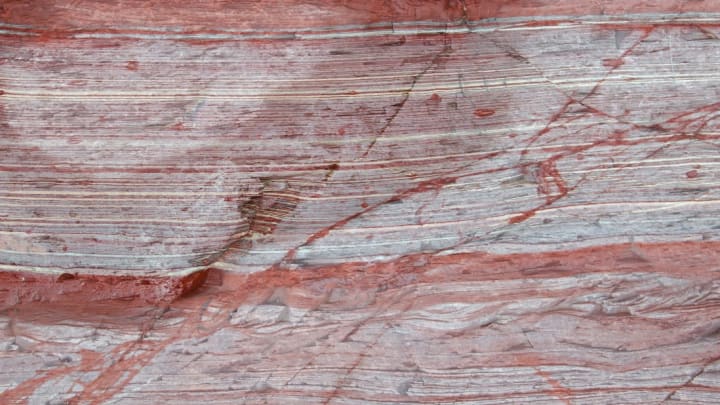 iStock / iStock
Billions of years ago, before there were plants and animals on Earth, there were rocks, tiny organisms, water, and not much else. It's hard to envision what our barren planet looked like back then, but scientists now have some idea of what colors dominated the landscape.
As Vice reports, a team of researchers from Australian National University (ANU) were able to pinpoint the oldest colors ever produced by a living creature: purple-red hues dating back more than 1.1 billion years. The pigments, which appear pink when diluted, were found in molecular fossils of chlorophyll that had been preserved in rocks beneath the Sahara desert. A billion years ago, though, this area was "an ancient ocean that has long since vanished," Nur Gueneli of ANU said in a statement.
Chlorophyll may very well be green, but these pinkish pigments are a result of "fossilized porphyrins, a type of organic compound that forms an atomic ring around a magnesium ion to form a chlorophyll molecule," Vice explains.
While this provides an interesting visual, the color itself is less important than what it reveals about some of the earliest life forms on Earth. Scientists determined that the chlorophyll was produced by ancient organisms called cyanobacteria, which derived energy via photosynthesis and ruled the oceans at that time, researchers wrote in a paper published in the Proceedings of the National Academy of Sciences. Larger planktonic algae—a potential food source for bigger life forms— were scarce, which may explain why large organisms didn't roam the Earth a billion years ago. That kind of algae was about a thousand times larger than the cyanobacteria.
"The cyanobacterial oceans started to vanish about 650 million years ago, when algae began to rapidly spread to provide the burst of energy needed for the evolution of complex ecosystems, where large animals, including humans, could thrive on Earth," ANU associate professor Jochen Brocks said.
So the next time you encounter algae, you can thank it for helping you secure a spot on this planet.
[h/t Vice]